ScreenDream virus is a search tool, designed for Google Chrome browsers. This plugin can be found in Chrome Web Store, but this does not mean that the extension qualifies to be considered reliable and useful. The controllers of this search engine have also introduced similar products like MySportTab. These owners have indicated to be from a company called Linkury, but now, the ScreenDream rogue add-on is said to be owned by The Whiz Ltd. from thewhizmarketing.com.
If users agree to install the ScreenDream browser extension, they will allow this app to have the following permissions:
1. Read and change content of all visited websites.
2. Change all browsers' preferences.
3. Read and chance browsers' history.
4. Manage downloads.
5. Control other programs, plugins and themes.
ScreenDream virus is not a reliable Chrome extension: it modifies browsers' settings, shows ads and initiates redirection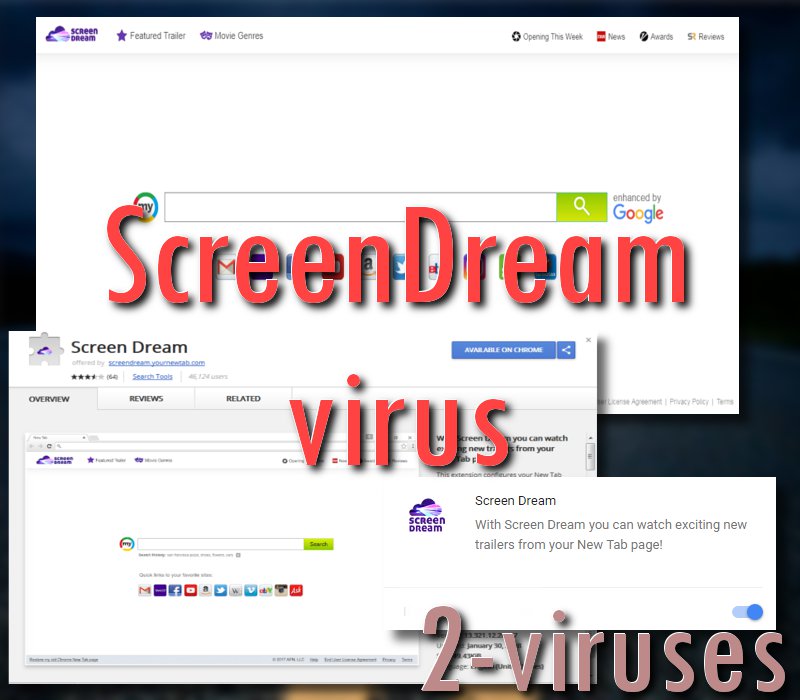 ScreenDream virus could also be referred to as Yournewtab.com virus. Once you will install the malicious browser extension, browsers' preferences will display Screendream.yournewtab.com or Hp.mysearch.com. The hijacker is the most active in Brazil, Indonesia, Turkey, India and Romania. Suggestions to install ScreenDream Chrome extension are featured in websites, specializing in online-streaming services. For instance, pages like Hdpopcorns.com and Voirfilms.ws have been noticed to initiate redirection to Screendream.yournewtab.com (Video streaming sites are malware breeding grounds).
During our analysis of ScreenDream virus, we also discovered that it is associated with a bunch of advertising companies, ready to serve their promotions thru this deceptive add-on. According to the statistical data, the extension will show online adverts from AdCash, AdBooth, Adk2, AdsTerra, Propeller Ads Media and other ad-servers. Even though these advertising companies are legitimate, it is difficult for them to make sure that their promoted contend would be 100% secure. Therefore, some of the ads can be malware-laden, deceptive or simply misleading (Google removed more than 3.2 billion ads in 2017).
While you are infected with ScreenDream virus, you can be automatically redirected to unknown websites. We noticed that the victims of this browser hijacker and its features are frequently redirected to Superappbox.com and Searchtuner.com websites. All of them promote other browser hijacker parasites and you should not install them. In other cases you might be introduced with ads that urge you to get other types of programs. For instance, a technical support scam could urge you to download an application completely for free.
ScreenDream virus won't be discrete when it comes to your browsing and privacy. It will collect info about the websites you visit the most frequently. In some cases, browser hijackers can be intrusive enough to reach your personally-identifiable information: names, email addresses, password or even banking account information.
How does ScreenDream virus enter my device?
Our article already included some of the methods that the ScreenDream can use to infiltrate browsers. First of all, you can install it voluntarily, either from Chrome Web Store or from the official website of this extension. We recommend selecting a different add-on. Please pay attention to the modifications that a plugin will be allowed to execute. In fact, many of the third-party applications are known to cause security issues.
Some unreliable freeware programs can come thru the bundling technique. Therefore, during installation processes, we hope you will always select advanced/custom modes. Refuse to get any additional programs.
Now, you should be interested to find out the ways this ScreenDream can be removed from your computer. First of all, please check the list of active plugins and remove the unwanted add-on. This should fix your browsers' preferences. However, if you still notice the browser hijacker, it could be that you should initiate a stronger elimination technique. We recommend installing Spyhunter and running a full scan. It will reveal everything that is wrong with your operating system and will offer quick removal option.
Automatic Malware removal tools