In this post we will be talking about 3 different malicious add-ons – VideoBox Search, FilmsApp Search and GetSongs search. You might be thinking why we didn't separated these PUP's (potentially unwanted programs) into 3 different blog posts. That's because they are all produced by SuperAppBox and are really similar to each other. Basically, the only differences among these 3 malicious add-ons are names and appearance.
We feel like it is important to inform users about dirty games played by these add-ons because they have over 450 installs on Google Chrome web browsers and that number is enormous. Even though this malware is only compatible with Google Chrome web browser, it is still infecting hundreds of thousands of users.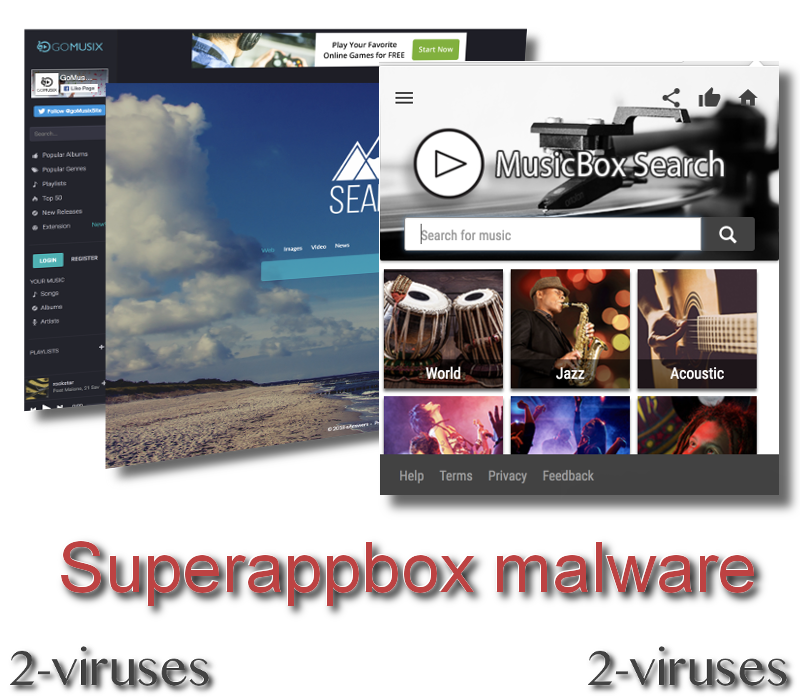 Superappbox network of malicious add-ons
So we have already disclosed that There are multiple malicious add-on distributed by Superappbox company and they all belongs to Superappbox malware family. You can access them and read short descriptions about every single one of them on their official website at superappbox.com: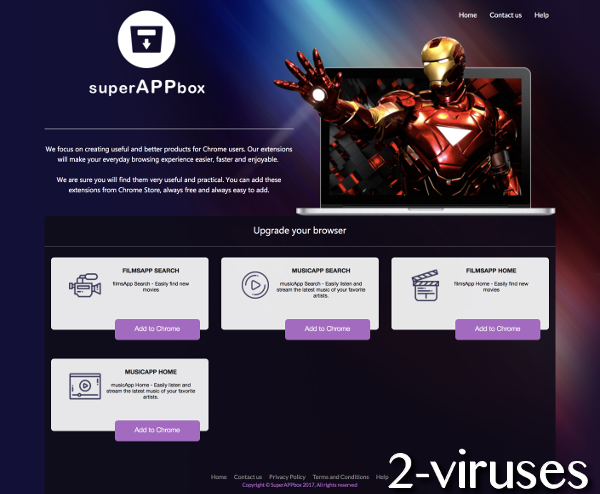 You might be wondering how those add-ons are operating and what is the purpose of all of this. The answer is absolutely clear – developers of SuperAppBox gets paid for redirecting web traffic to websites that they are affiliated with and also displays web advertisements that earn them additional income. So if one of these add-ons are are operating on your web browser, you will experience redirects to other websites as well as additional advertisements.
If you do not think that ads or some redirects are dangerous and can cause harm to you, think again – your private information is at risk.
Even all of those add-ons are really similar to each other, they are all distributed differently. Even though they are available for the download on their official website and Google Chrome extensions store, usually that's not the case. Most of the time those malicious add-ons are advertised on pop-up advertisements.
While browsing the Internet you might encounter a website that will display a pop-up window or simply redirect you to the website dedicated to this malware. Then you will be presented with this tool, such as: "Add MusicBox Search and enjoy the largest database for music albums, songs, videos all in one click." and offered the opportunity to add it to your Google Chrome web Browser.
So every single one of these add-ons are supposed to provide you with some kind of useful trait, for instance – to easily find new movies, to easily listen and stream the latest music of your favorite artists and so on. However, functionality of add-ons are really questionable and they will bring you traits that are unwanted.
In case you accept to add FilmsApp or Musicapp extension to your Chrome web Browser, it will automatically redirect you to Google Chrome extensions store, where you will be asked to add this extension: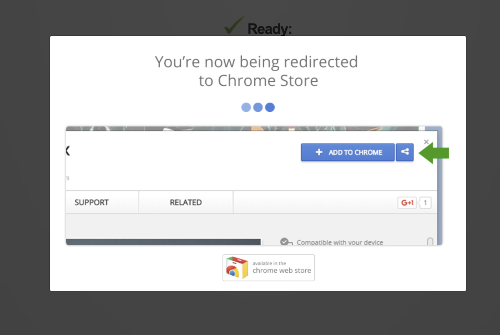 You will also be alerted that by installing this application you agree that this add-on will have the right to read and change all your data on the websites that you visit, display notifications and change search settings to: music.eanswers.com. In fact, this Url can be changed to films.eanswers.com or other similar names, it depends on the extension you are installing. By the way, we have already informed our users about eanswes.com browser hijacker, so you can take a look at it too.
After the installation your default search provider will be changed to eAnswers and every time you fill in search directly to the URL bar, your search will be tracked by eAnswers and results displayed through Yahoo search engine. It's worth to mention that SuperAppbox extensions doesn't hijack homepage, as it is done by eAnswers and other browser hijackers.
If you add, for instance, MusicBoxSearch add-on, it will place additional icon on your Chrome web browser and it will give you the promised access to various music. In reality, you will only be redirected to Gomusix.com (website aggressively promoted by www-searching.com virus) where you can listen to music from YouTube videos. What's the point of installing such add-on instead of heading directly to YouTube and watching music videos? That's right, there absolutely is no point.
Clean Superappbox add-ons from Google Chrome
You already know that add-ons delivered by Superappbox brings no value and can track your behaviour online, so you might want to get rid of it. Even though the add-on itself features a dedicated removal button, it can be not effective in some cases and the extension will be automatically activated after the restart of the web browser.
First of all, you should perform a scan of your computer with a decent anti-malware application, such as Spyhunter. Either one of those applications should be capable of detecting and automatically removing files associated with Superappbox.
After that, please take a look at manual removal instructions of Superappbox provided below and do your best to complete all steps.
TopHow To remove Superappbox malware from Google Chrome:
Click on the 3 horizontal lines icon on a browser toolbar and Select More Tools→Extensions

Select all malicious extensions and delete them.

Click on the 3 horizontal lines icon on a browser toolbar and Select Settings

Select Manage Search engines

Remove unnecessary search engines from the list

Go back to settings. On Startup choose Open blank page (you can remove undesired pages from the set pages link too).
If your homepage was changed, click on Chrome menu on the top right corner, select Settings. Select Open a specific page or set of pages and click on Set pages.

Delete malicious search websites at a new Startup pages window by clicking "X" next to them.

(Optional) Reset your browser's settings
If you are still experiencing any issues related to Superappbox malware, reset the settings of your browser to its default settings.
Click on a Chrome's menu button (three horizontal lines) and select Settings.
Scroll to the end of the page and click on theReset browser settings button.

Click on the Reset button on the confirmation box.

If you cannot reset your browser settings and the problem persists, scan your system with an anti-malware program.
Automatic Malware removal tools
Manual removal