Safefinderds.com virus refers to a hijackware parasite, changing Google Chrome's default search provider. This means that every time users type in a search query in the address bar, they will be presented with sponsored results. Search.softorama.com is also one of the browser hijackers that become the main search providers.
These parasites are sneakier because your home pages and new tab pages do not feature different websites. However, if you notice that results to search queries are presented to you in an unknown website, we urge you to check whether any suspicious browser plugins are not influencing your browsing (Look).
Safe Finder DS plugin will set Search.safefinderds.com website as your default search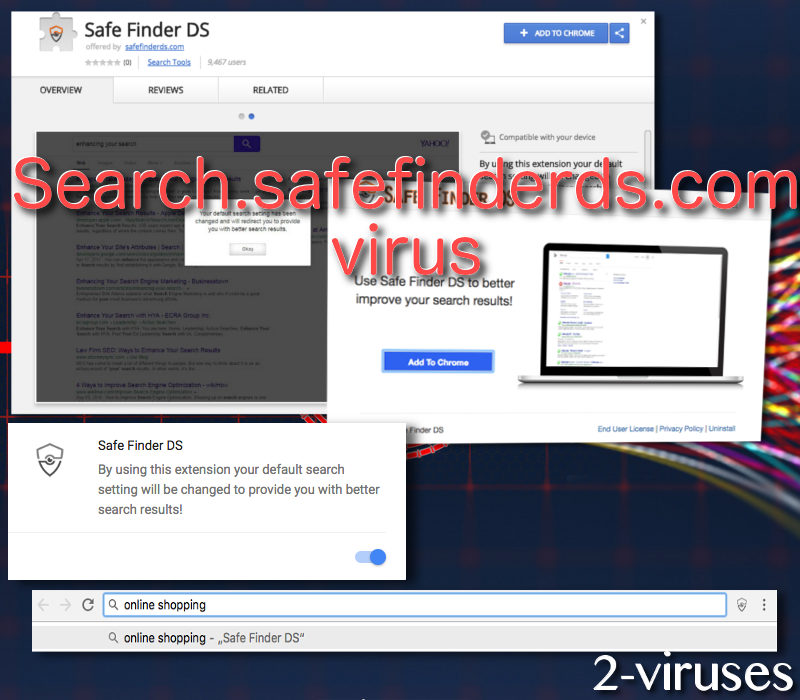 Before the Search.safefinderds.com website is set as your default search provider, users have to install the plugin called Safe Finder DS. The extensions is said to "configure your browsers default search setting to redirect your searches to Search.safefinderds.com. This extension works to provide you with improved search results and a better overall experience". However, we doubt that this plugin will in any way improve your browsing. The owners conceal their identities, and fail to explain the actual features of Safe Finder DS. How does it improve browsing? What are the benefits of this tool?
Currently, this question could be asked by approximately 10 thousand people. According to Chrome Web Store, over nine thousand people have assigned the Search.safefinderds.com virus as their main provider of search results. This extension could inject a lot of sponsored links among in the list of results. In the Privacy Policy, it is stated:
Third-party content providers may also use cookies, pixels, beacons, and similar tracking and data collection technologies to collect and store information about your use of the website such as web pages viewed, features and content you have accessed, advertisements you have seen, search queries you have run, referral URL information, links you have clicked on, and specific products, services or content you have used or viewed.
The owners of Safefinderds.com hijacker also state that information about users will be shared for the purposes of monetization. In order to provide and monetize the plugin, its creators use the collected information to deliver content or advertising; to perform market research; to analyze user interest. The plugin is said to work with search partners, third-party advertising networks and advertisers who help deliver content or advertising to users. In some cases, these advertisers could be transmitting malware-laden, deceptive or simply annoying advertisements (How).
If users wish to protect their privacy, we strongly encourage them to stop using unknown extensions and programs. Most of the add-ons hide obfuscated features, and some of them are just too intrusive to be regarded as reliable. Pay attention to your browsers' preferences to make sure that suspicious extensions would not influence your browsing.
Ways of getting infected with Safe Finder DS Search virus
First of all, the Safe Finder DS extension is available in the Chrome Web Store. However, this source of browser add-ons has become one of the sources of malware. Developers can easily submit their apps to the store. Therefore, many of the extensions, featured in Chrome Web Store, might be hiding obfuscated features. For instance, crypto-mining malware has become a popular threat, hidden in seemingly-harmless browser plugins. Therefore, please do not install unknown browser extensions because they might negatively influence your device.
If you notice that your search results are being delivered via the Safe Finder DS Search, please tak action to get rid of the malicious browser hijacker. The first thing to do is to find the list of active plugins in Google Chrome. Then, remove the suspicious extension. This modification should remove the Safefinderds.com virus from your device. However, if you notice that redirection and online advertisements are still bothering you, it could be that your device has been infected with malware.
Automatic Malware removal tools