Fake Playstation 5 giveaways are being used to steal people's personal information. They're also tricking people into installing unwanted apps, wasting their time on clickbait sites, and signing up for unwanted subscriptions.
While people and websites do organize real PS5 giveaways, scams are also spreading on the internet via email and social media spam and pop-up ads. These scams are genuinely dangerous, so it's best to not interact with them.
Playstation 5 Giveaway Scams quicklinks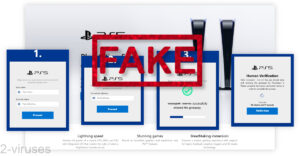 About the fake PS5 giveaways:
Classification
Phishing scam,

adware.

How to recognize fake PS5 giveaways
Giveaways that ask for a lot of personal data upfront,

no terms and conditions for the giveaway.

Dangers posed by the scam
Stolen personal data being used to send more spam,

stolen money and wasted time.

How to avoid being hurt by the PS5 scam
Protect your personal information,

secure your devices with antivirus tools (Spyhunter for PC, Combo Cleaner for Mac, others).
Dangers of fake Playstation 5 giveaways
Fake PS5 giveaways lead to scams
Scammers are creating websites that impersonate Sony and other companies to stage fake Playstation 5 giveaways (Spoofing and Phishing).
These fake giveaways aren't very elaborate. They're just webpages designed to look like they belong to reputable companies.
These fake PS5 giveaways are just phishing scams and adware schemes. They ask you to provide personal information, then to "verify" your participation in the giveaway. The "verification" can be a few things:
Reading articles on clickbait sites.
Installing unrelated apps.
Signing up for a subscription.
Tricking people into performing these activities is how the scammers behind the fake PS5 giveaways make money. Oh, and they might also sell the data that they collect – people's names, phone numbers, and email addresses – to marketers and spammers.
By the way, in case you downloaded and installed any app or program because of a giveaway scam, it's best to remove that software as quickly as possible.
You could use an anti-malware app, like Spyhunter for Windows or Combo Cleaner for macOS, to detect and remove suspicious items.
Automatic Malware removal tools
Data collected by the scam
Different PS5 giveaway scams ask for different info, but here's what they might ask for:
First and last name.
Online ID.
Email address.
Phone number.
Physical address.
Credit card details.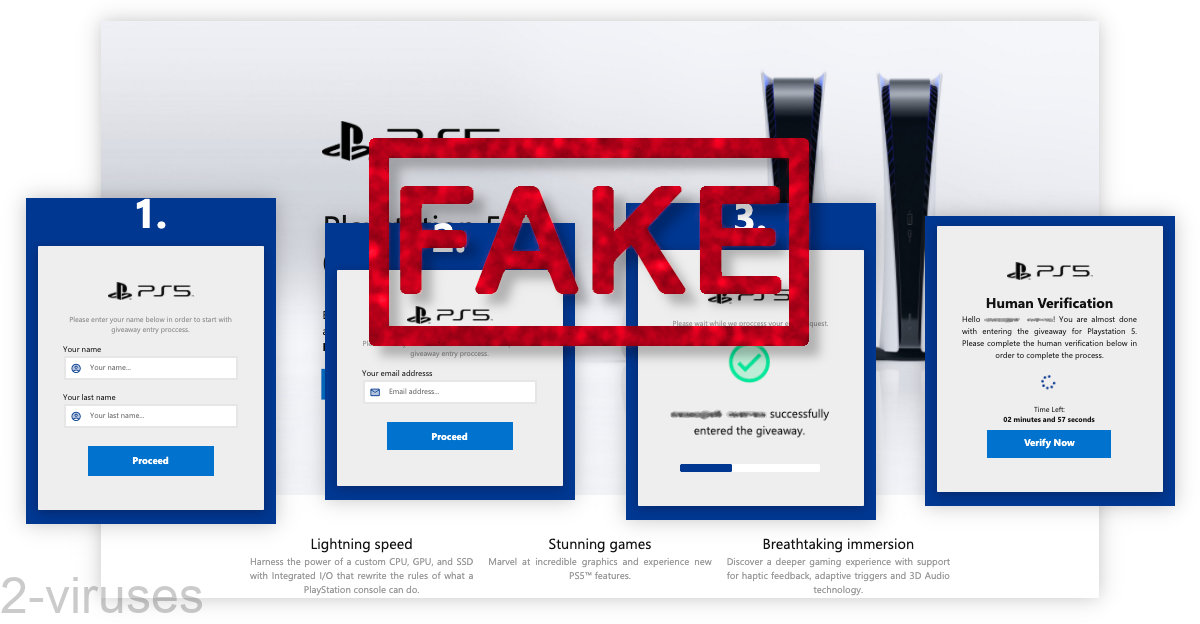 How to avoid the PS5 giveaway scam
Know how the PS5 prize scam spreads
There is a great variety of PS5 giveaway scams. They aren't limited to one group of scammers or to one method of distribution. Here are a few ways in which the fake giveaways might appear:
Email, SMS spam.
Malicious links in chat apps, social media posts, comments, DMs, video descriptions.
Pop-up ads and redirects online.
Iffy Facebook and other social media ads.
The malicious links lead to a page that claims to offer you an opportunity to win a valuable prize:
Enter our exclusive promotion giveaway and get your chance to win a new Playstation 5 device.
Fake PS5 and other prize giveaways ($1 phone scam, Amazon prizes, etc.) tend to also have a tight timer (2-5 minutes) counting down. This is to raise tension and force people to take risks.
Block malicious sites and programs
Scam sites often get flagged by anti-malware programs and ad blockers. You could use these tools to protect yourself online.
Malicious ads tend to show up on certain websites – sites that enable pirating (file download, movie streaming, video converter sites), as well as other controversial websites. Be especially careful on them.
Since the PS5 prize scam might try to get you to install potentially unwanted apps by claiming that this is a way to "verify" your participation in the giveaway, it's also helpful to have a security program on your device that could warn you about potentially unwanted apps.
Protect your personal information
Don't type out your email address, name, phone number, credit card details, or other valuable data on websites that you don't completely trust. This data could be abused by malicious actors to steal your money or to bombard you with more scams.
If you come across a PS5 giveaway or a similar giveaway, no matter how tempting, it's best to just close the site. If you don't interact with the giveaway scam, you won't be in danger.