Pdf2DocPro New Tab Hijacker – browser hijacker that is likely to change the way you are browsing the Internet if this infection is operating on your web browser. What does a new tab hijacker mean? While most of the browser hijackers are taking over most of the assets – homepage, new tab page and default search engine, this particular infection will only modify your new tab page and redirect you to their landing page.

Pdf2docpro New Tab Hijacker quicklinks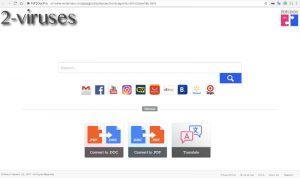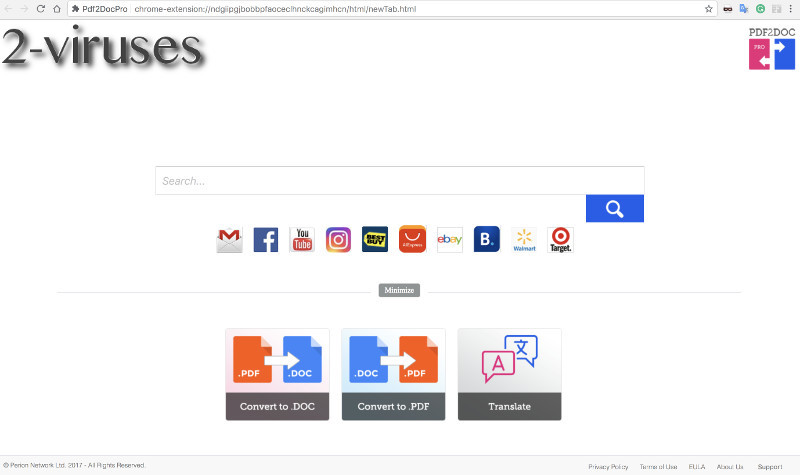 As you might guess, it's pretty easy to tell if your browser is infected – simply open a new tab and if Pdf2DocPro website appears, you definitely have this infection. Unless, of course, you have installed it yourself because you find this tool useful. However, that's unlikely to happen since Pdf2DocPro hijacker usually gets installed secretly and 
Without the consent of the user
. In addition to that, it is close to useless and will bring your various cyber security threats that can cause you a great deal of trouble in the future.
The good news is that we know how to deal with this malware. We have figured out and successfully removed hundreds of hijackers in the past and Pdf2DocPro doesn't look much different. So if you have the interest to remove it from your computer, please continue reading the article and learn the most effective ways to do that.
Why Pdf2DocPro Is Dangerous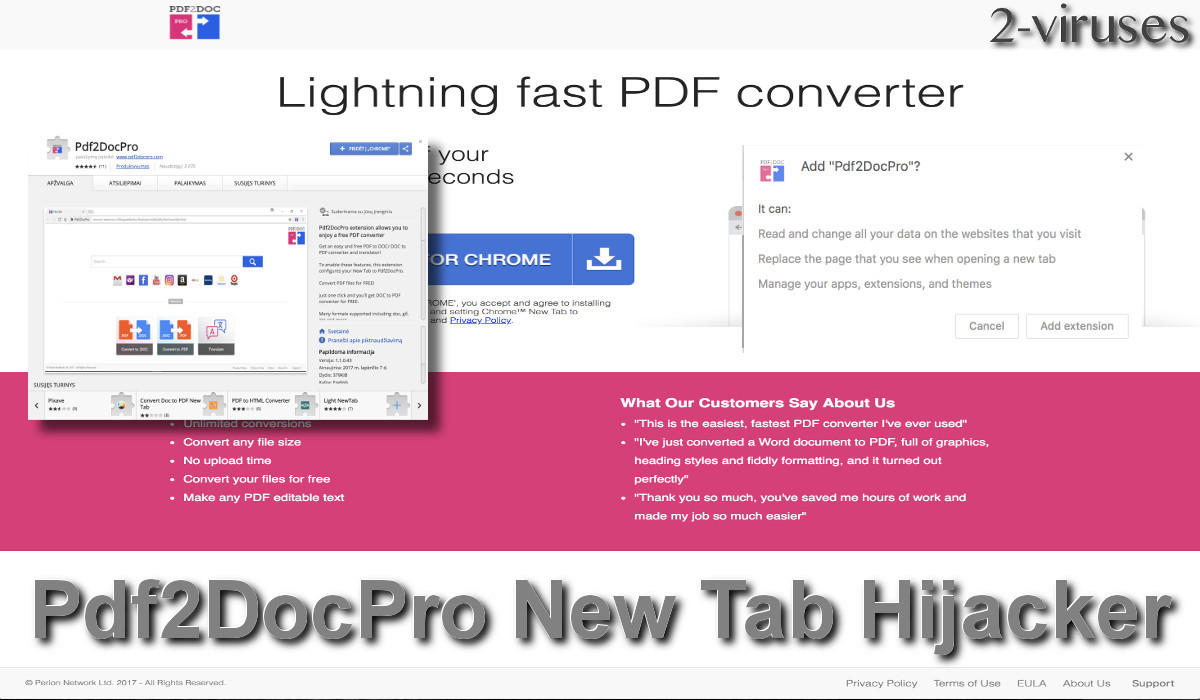 Before we start to name malicious features of Pdf2DocPro, you should know that it's dangerous to use the web browser that is infected with this virus. That being said, you should switch to an alternative one until the virus is completely removed from the system.
You already know that Pdf2DocPro is distributed using deceptive methods, thus it will come as a surprise. It will immediately modify your settings and you will be forced to use their website. It is a common practice employed by various hijackers, such as Webrowsenow.com, Search.pardessov.com or Lostrabbitmedia.com.
While most of the browser hijackers direct users to their particular websites, Pdf2DocPro features a rather uncommon url that looks like this:
chrome-extension://ndgiipgjbobbpfaoceclhnckcagimhcn/html/newTab.html
So what possible dangers Pdf2DocPro pose?
It might steal your private data and leak it to third parties;
It might infiltrate other viruses into your computer;
It will display additional advertisements on your web browser;
It will redirect you to other websites;
It will provide you with unreliable search results;
Your computer and web browser might work slower.
As you can see, there are a lot of reasons not to keep Pdf2DocPro installed on your computer. It won't do any good for you and there might be some severe consequences. It's recommended to remove this infection as soon as you notice it.
Pdf2DocPro Website
You should not confuse two different websites – homepage of Pdf2DocPro where they are promoting and distributing this extension and the actual landing page that will be set as your new tab page. Obviously, we are going to talk about the second one.
This free tool is supposed to provide you with the ability to easily convert files from .PDF to .DOC and vice versa. This feature is functioning and you can actually do that on their homepage, but you can also do that on one of Free online websites that offer this service, so what's the point of installing such tool?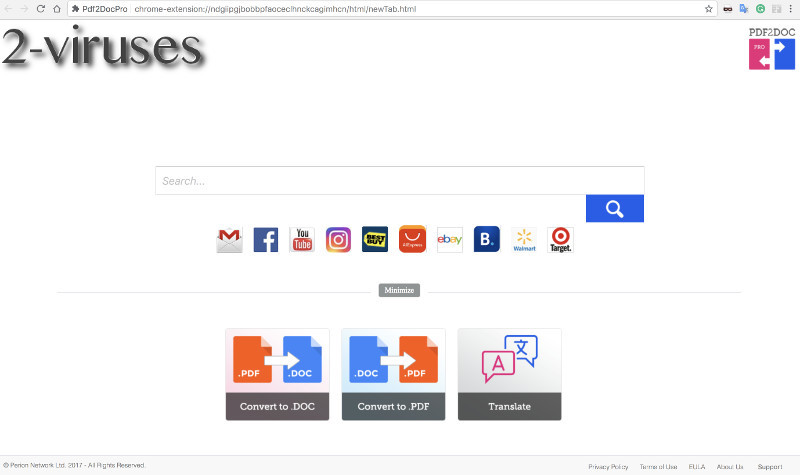 Besides that, there is a search field that allows searching the web. We highly recommend to avoid it because if you search for something using Pdf2DocPro, all your search queries will be recorded. All of the information, even if it is personal, might be transferred to third parties, so you can lose your data pretty easily.
Also, results delivered by Pdf2DocPro can be modified and they might implement links to websites that they are affiliated with. This way you can receive results that are not relevant to your search queries or even end up on a website that is owned by cyber criminals.
Last but not least, Pdf2DocPro might also deliver additional ads to your web browser, just like adware infections. They are not only annoying but also dangerous, thus make sure not to click on any of them.
How This Virus Infected Your Computer
This infection is based on a browser add-on and it needs to be added to the web browser in order to successfully infect the computer. To do that, cyber criminals behind Pdf2DocPro employ various distribution techniques.
Speaking of the developers of Pdf2DocPro, it's a company named Perion Network LTD. It is also responsible for notorious Conduit virus so it's not a new player in this game.
Most of the time Pdf2DocPro comes as a bundle to other free software. During the installation, you might be offered to install additional free tools that should enhance your web browsing. If you just agree with everything that is offered to you, Pdf2DocPro will eventually land on your computer and be installed in the background.
In addition to that, Pdf2DocPro is also distributing Switch2search.com extension which is also a browser hijacker that will take over your homepage. Immediately after the installation of Pdf2DocPro you will be offered to install Switch2search too, so in this case, you would end up with two computer viruses at once.

Obviously, there are other ways how your computer can get infected with this virus, so the best solution is to keep it protected with anti-malware program that features real-time protection. Probably the best option is free Plumbytes Anti-Malware software.
How To Get Rid of Pdf2DocPro New Tab Hijacker
Luckily, it's not that difficult to get rid of Pdf2DocPro New Tab Hijacker – you can do it yourself. However, so knowledge in this field is needed to successfully complete the task, therefore we will help you. Follow these steps to remove Pdf2DocPro New Tab right now:
Open extensions list on the infected browser. As you remember, Pdf2DocPro is installed on the browser so you need to access the extensions list to locate it;
Detect Pdf2DocPro extension/add-on. On the extensions list, locate the extensions that is called "Pdf2DocPro";

Disable and remove. Click on the switch icon to disable the extension and then select "remove' option;
Confirm your selection and click "Remove" again;

After that you will be redirected to the page that confirms successful removal:

Scan your computer. After removing it from the web browser, you have to get rid of all of the files that the virus left on the system. Do that by scanning your computer with Spyhunter for Pdf2DocPro detection" button below.
If you are still experiencing Pdf2DocPro problems after doing this, try advanced instructions provided below or contact us in the comments section for further assistance.
Automatic Malware removal tools
How to remove Pdf2DocPro New Tab Hijacker using Windows Control Panel
Many hijackers and adware like
Pdf2DocPro New Tab Hijacker
install some of their components as regular Windows programs as well as additional software. This part of malware can be uninstalled from the Control Panel. To access it, do the following.
Start→Control Panel (older Windows) or press Windows Key→Search and enter Control Panel and then press Enter (Windows 8, Windows 10).
Choose Uninstall Program (if you don't see it, click in the upper right next to "View by" and select Category).
Go through the list of programs and select entries related to Pdf2DocPro New Tab Hijacker . You can click on "Name" or "Installed On" to reorder your programs and make Pdf2DocPro New Tab Hijacker easier to find.
Click the Uninstall button. If you're asked if you really want to remove the program, click Yes.
In many cases anti-malware programs are better at detecting related parasites, thus I recommend installing Spyhunter to identify other programs that might be a part of this infection.