PCH Search aka newsearch.pch.com / search.pch.com is a search engine of Publisher Clearing House – a marketing company. This company started in 1953 and is a legitimate one. However, search engine hijack is quite annoying and under no circumstances beneficial to the end user or recommended. This is for 2 reasons. First, It is powered by InspeSearch/infospace, which is quite a different company infamous for quite a lot of hijackers distribution. Secondly, the search engine is changed without asking for a separate and clearly stated permission to complete the replacement.
Update of PHC Search engine hoax
The services that take place via Search.pch.com rogue search platform are still going strong. It has obtained popularity in United States, Puerto Rico, Canada, Netherlands and France. The profiting platform had been first introduced over 2 decades ago and tons of surfers have exploited the opportunities that the service supplies. Additionally, we have learned that Affftrack, Taboola, OpenX, ClixSense ad-networks will work together with this search platform.
While the Pch.com service and its Search.pch.com browser hijacker have received negative testimonials, and has been reported on multiple times, it has become known that are certain rules to be followed if a person wishes to explore this sweepstake (Thebalance).
Nevertheless, its search platform has been accused of redirecting clients to spam websites, tracking cookies, and downright fraudulent domains that engage in a variety of scams. No wonder why over 60% of web traffic is indicated from one specific source: email utility. Do not fall for Search.pch.com redirect virus as it can expose you to unknown websites, aiming to mislead you or cause other types of disruption.
We have to admit that people to engage in sweepstakes voluntarily, but the setback of this service is that many people have been exposed to spam which makes them feel as if they are walking through a minefield: one wrong click can infect them with viruses. Take a look at the negative feedback we detected:
"Do NOT TRUST PCH site!!!!
Before 'joining' PCH on my Yahoo account I had received perhaps ONE piece of SPAM per 2 or 3 months. Now I get 3 or 4 per/DAY! Do NOT be suckered into this preditory site.
The chance of ever winning anything from these predators is maybe 1 in 100 million billion chances!!!
DO NOT TRUST PCH AT ALL !!!!
Dump PCH if you were suckered in to them (like me)
THEY ARE DANGEROUS!!"

"This company is uses deceitful advertisement and they hid the truth in fine print. They just want to sell you magazines. You will be really really lucky if you win money from them."

"Usually arrives at my inbox via Doubleclick spam and no other way, hardly reputable though I don't suppose they worry too much where their 'leads' come from."

"I was on it everyday… ended up w Trojan and adware and spyeware virus! They just sell u off to 3rd partys .. ringing my phone off the hook! It just fills my email up w spam … hundreds and I have to individually unscribe to them all to stop them! PCH is a no!".
More details about PHC Search engine scam
PCH Search Engine is a program that is suppose to improve your search results and at the same time give you a chance to win some prizes just by using it. It is heavily ad-supported which makes using Internet very irritating because of regular popups, not to mention promotional links in the search results. Please note that the latter sites are not marked any different from those relevant to your search enquiry therefore you may easily click on the promoted link thinking you will open the page you looked for.
PCH Search Engine starts appearing on your computer if you download and install some freeware. We are not aware of malware distributing the hijacker actively, though this can not be ruled out.
The worst part is that most of the times you will not find PCH Search Engine in your downloads or add/remove programs list. This makes it very difficult to get rid of this program. You should be very careful when you are downloading anything to your computer in order to avoid programs like this one. Always do some research to make sure you are downloading a legitimate program and check what extra application you are offered during installations of the main software.
Search.pch.com virus generates search results with a surprising amount of advertisements. Just look at the screenshot that we made: the site contains some misleading banners with content, suggesting that you might have a possibility to win a prize. This type of alluring material is placed for the sake of tricking users and getting them to click on a banner which almost always tuns out to be clickable.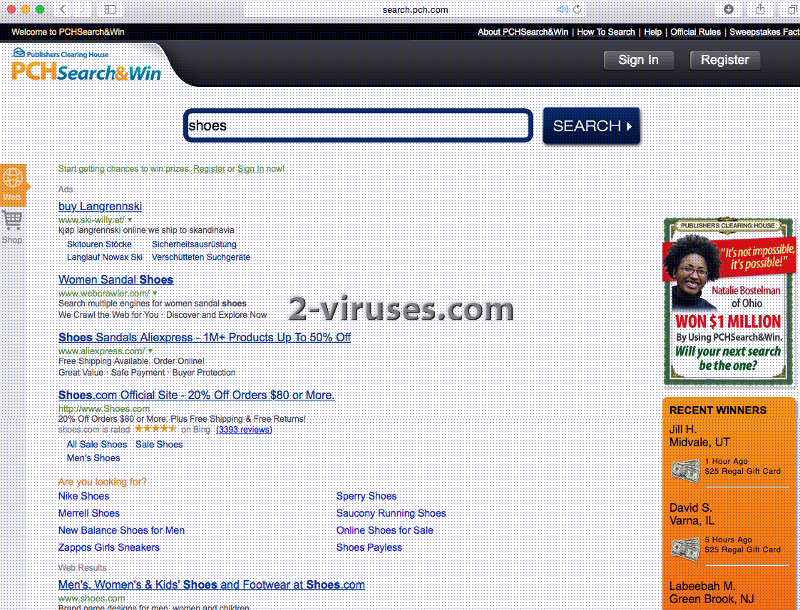 However, Search.pch.com surely is well built as it has a blog and even goes as far as to provide the photos of the winners that won the contest. Internet users also complained to receive email letters, urging them to participate in this possibly award-giving game. One of the online surfers noted that his/hers experience as quite unpleasant with this contest. The person stated that the creators were only interested in getting some personal information about users and transferring this data to their affiliates. Nevertheless, this is an arguable accusation as some people state that they have actually won money from this contest and have not experienced any sort of scamming.
You can remove PCH Search Engine from your computer using a reputable antispyware program, for example, Reimage. Don't forget to upgrade your security tool to its newest version before running a full system scan. If you want to remove the engine manually, follow the instructions:
Try uninstalling PCH Search. You should go to Control Panel Add and Remove Programs list, locate the application there and remove it. If you do not see anything Publisher clearing house related, use Spyhunter, it will detect any browser hijackers and adware that might have come with the hijacker or might have been hidden/saved under another name. Additionally, hijackers might have installed software that prevents browser settings from being changed. Such software ranges from legitimate on to trojan – based only. Make sure you scan your PC with anti-malware programs or your browser settings might revert to hijacked ones.
Check if there is no PCH left among browser extensions:

For Internet Explorer: Go to "Tools" (or gear icon in Internet Explorer 9), -> "Manage Add-ons". Look for Publisher Clearing House or similarly named extensions and disable these entries.
For Google Chrome: Click on the wrench or bars icon on the top right of the screen; go to "Tools"-> "Extensions". If you see any extensions related to PCH, click on a trash can icon next to them.
For Mozilla Firefox: Go to "Tools" -> "Add-ons" -> "Extensions". If you see any extensions related to PCH, disable them.

If your home page is still newsearch.pch.com, remove it manually:

For Internet Explorer go to Tools ->Internet Options. Remove newsearch.pch.com and replace it with your preferred webpage.
For Google Chrome click on the Customize icon -> Settings. Click Set Pages under the startup. Remove XXX and replace it with your preferred webpage.
For Mozilla Firefox go to Tools -> Options (or click Firefox in the top left corner and click Options). Under the General tab remove newsearch.pch.com and replace it with your preferred home page.

If your search engine is still newsearch.pch.com, reset it to the one you prefer:

For Internet Explorer go to Tools -> Manage Add Ons -> .Search Providers, Select Google or bing as default engine and remove the newsearch.pch.com search engine from the list.
For Google Chrome go to the customize icon (wrench or 3 bars) -> Settings -> Manage search engines -> select a new search engine as the default one -> click X next to newsearch.pch.com to remove it.
For Mozilla Firefox, click on the search magnify glass icon near the search box, click Manage Search Engines. Remove the newsearch.pch.com from the list of search providers by highlighting the selections and clicking Remove. Alternatively, you might have to perform these steps:

Close firefox, open %AppData% folder and search for user.js file. If it exists, rename it and relaunch firefox again. This prevents some hijackers that revert settings on each FF restart
Enter "about:config" in url bar. This will open settings page
Type "Keyword.url" in the search box. Right click it & reset it.
Type "browser.search.defaultengine" in the search box. Right click it & reset it.
Type "browser.search.selectedengine" in the search box. Right click it & reset it.
Search for 'browser.newtab.url'. Right-click and reset. This will make sure that the search page won't launch on each new tab.
If you did not scan your computer with in the first step, it is recommended to perform a full system scan after all the steps are completed. It will ensure all the remains of newsearch.pch.com are removed as well as any viruses that might have infected your system while this browser hijacker was active.
Automatic PCH Search Engine removal tools
We might be affiliated with some of these programs. Full information is available in disclosure
About the author