PC Purifier is one of many system optimisers ofered in today's market. As its official website states, the application should optimize and improve your PC's performance. It asks you to scan your PC after which a list of registry errors will be detected. The creators of PC Purifier, Gold Application Development, naming themselves a partner of Microsoft, promisse that after you get rid of all the registry errors, your PC will run faster and smoother. Sounds nice? Yet if you are searching for instuctions how to get rid of it, things are not as they were promissed, are they? PC Purifier is listed as a PUP or potentially unwanted program by many IT specialists. Some other well known examples of PUP registry optimizers are Tweakerbit Registry Optimizer, Adio Registry Optimizer  or CyboScan PC Optimizer. 
PC Purifier is a potentially unwanted program 
It displays registry errors on completely clean and freshly installed PC.
As you might have already heard, many system optimizers have a questionable reputation. Even if some of them might work to a certain extent, actually detect and eliminate some of regitry keys, these supposed to be effective fixes will not cause the expected effect. Your computer will not start to operate significantly better. This is how many system optimizers work: you find one on internet, stating that it will make huge difference on how your PC works, get tempted by these promisses and try it out. It's easy to click on a download button specially when the scan itself is free of charge. As a rule of thumb the scan results will show registry errors that should be removed. Alas, you will not be able to do this with a free version of the product. This is where the paid version comes in. All you have to do it to pay 39.95 USD. A nice deal when you get a discount of 20 USD plus another application – Photostudio – for free. But be cautious: many potentially unwanted programs travel together with bundles and the latter applications might cause problems to your computer which would make it difficult and even irritating to work with it. This is what one of users states about getting PC Purifier to his computer (source Microsofts forums):
I have been using WPS to write all of my documents for the past 2 years and have never had a problem printing them out. Now Windows 10 wants me to download a program called PC Purifier which I don't want. It won't allow me to print without the supposed "free" download. I downloaded it and now it wants me to buy it at 50 dollars or some ridiculous price. It's holding my documents basically hostage unless I purchase the program. How can I print my 2 years worth of work without having to dl or pay for this unwanted program?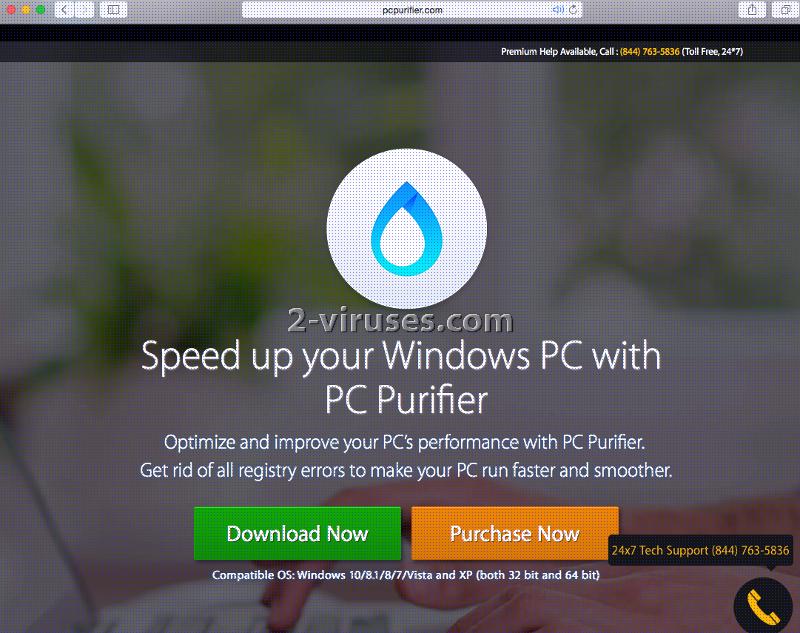 How to recognize that my computer is infected with PC Purifier?
Even if you did not download PC Purifier intentionally, it still might be operating on your system. You will know this when you see computer scan results with a list of warnings and a suggestion to purchase tool for their removal. Please note, these registry errors are not dangerous. If you notice any troubles while working with your PC, in most cases these might be the cause of PC Purifier or other tools that came with it. Getting a paid version of PC Purifier will not solve the issues. Please, follow the PC Purifier removal guide provided at the bottom of the article to get rid of this malicious application.
Tips on

protect

ing

computers from PC Purifier and similar infections in the future
First of all you need to understand how PUP like PC Purifier get installed in computers and be cautious when navigating online. Distributors of malicious applications have many tricks and a huge experience in deceiving people. For example, if you use a youtube converter or similar online tools, usually the most obvious download button is not the one you actually need but rather a PUP therefore always be very careful when clicking on such buttons and read the text attentively before going to the next step. Another way is to distribute PUP bundled to other programs. Once you select an automatic install, you will oten get some extra programs that you will not always be happy about. So here are some tips to follow:
always read carefully before clicking on anything. It is better to spend some time reading the small text rather than spending time searching for the solutions afterwards;

during any installation processes always choose

advanced/custom modes for the procedure.

This way you will avoid getting your computer infected not only with PC Purifier but also with many other PUP.

d

ownload applications from only reputable file-sharing centers.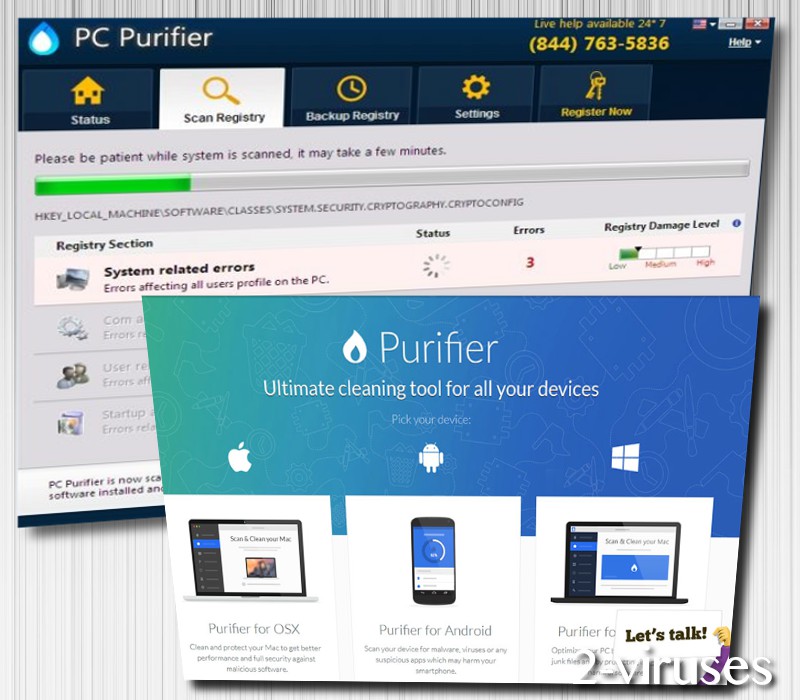 How to remove PC Purifier using Windows Control Panel
Many hijackers and adware like
PC Purifier
install some of their components as regular Windows programs as well as additional software. This part of malware can be uninstalled from the Control Panel. To access it, do the following.
Start→Control Panel (older Windows) or press Windows Key→Search and enter Control Panel and then press Enter (Windows 8, Windows 10).
Choose Uninstall Program (if you don't see it, click in the upper right next to "View by" and select Category).
Go through the list of programs and select entries related to PC Purifier . You can click on "Name" or "Installed On" to reorder your programs and make PC Purifier easier to find.
Click the Uninstall button. If you're asked if you really want to remove the program, click Yes.
In many cases anti-malware programs are better at detecting related parasites, thus I recommend installing Spyhunter to identify other programs that might be a part of this infection.
Automatic Malware removal tools