Newsfeedzscrollz.com is a website that uses notifications to send ads to web browsers. Although it shows advertisements, Newsfeedzscrollz.com does absolutely nothing useful. To someone whose browser got hijacked by Newsfeedzscrollz.com, it looks like they're experiencing an adware infection. Luckily, the ads are simple to block in your settings. You might also want to disable notification prompts for all sites.
Newsfeedzscrollz Com Ad Spam quicklinks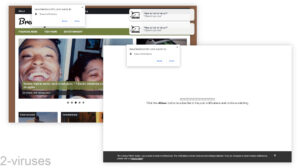 Newsfeedzscrollz.com in short:
Threat type
Adware.
Problems with Newsfeedzscrollz.com
It shows unwanted ads even when the site is not open,

it tricks people into subscribing to its ads.

How to avoid ad spammers
Block malicious sites and ads,

disable notification prompts.

How to stop ad spam by Newsfeedzscrollz.com
Disable notifications from sites that abuse them,

remove bad programs and browser add-ons (Combo Cleaner for Mac, Spyhunter for Windows, etc.).
What is Newsfeedzscrollz.com?
Advertising site
Newsfeedzscrollz.com is an advertising site. Its main function is to send ads to web browsers. The browsers that subscribed to its notifications start seeing little messages marked with "Newsfeedzscrollz.com". These messages include links and promos for various content.
If you visit Newsfeedzscrollz.com, you see a site full of articles taken from LA Times, Reuters, and other real news sites. The articles are missing formatting and fail to correctly display some symbols, which might show that they are copied automatically. I guess that these articles are only dummy content that's needed for Newsfeedzscrollz.com to appear as a real site. This helps with getting advertisements. (To show how easy it is for plagiarized news sites to get ad revenue, I made my own).
The ads that Newsfeedzscrollz.com shows tend to be more problematic than ads on mainstream sites. Some of the notifications lead to fake articles, scam sites, fake giveaways, and potentially unwanted programs (like MacKeeper – so many MacKeeper ads). Some users might also have problems with adult content and gambling sites which might be advertised by Newsfeedzscrollz.com.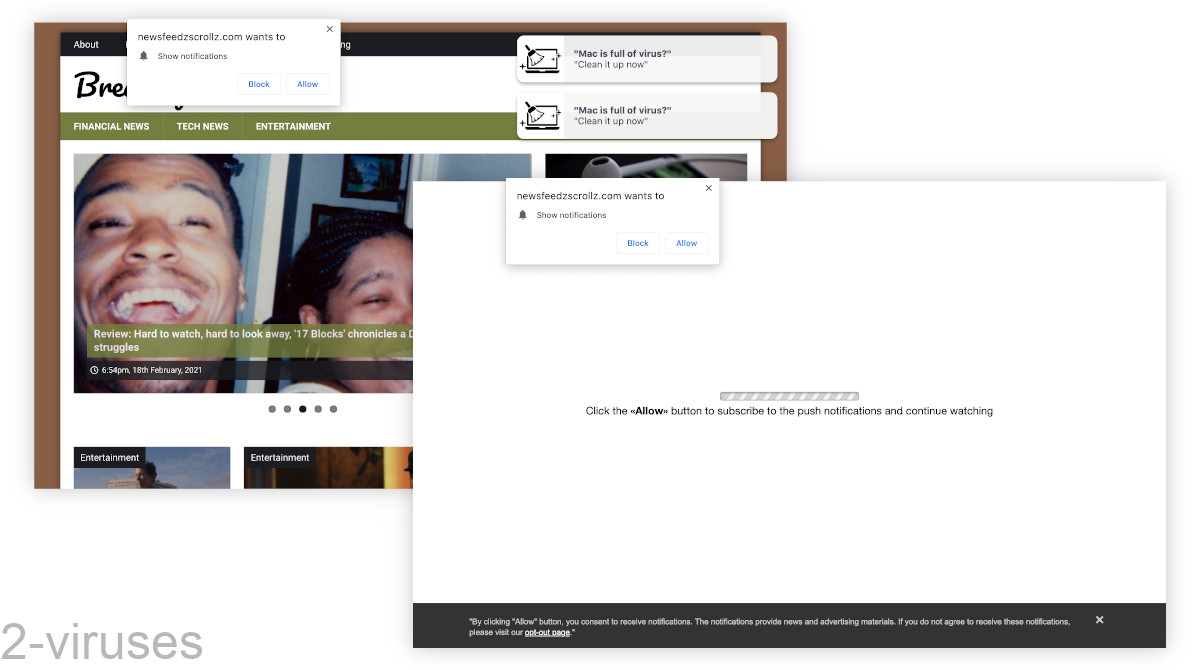 Browser hijacker
Of course, people don't voluntarily subscribe to Newsfeedzscrollz.com's advertising spam. Rather, they're tricked by clever (and deliberately misleading) ads.
Sites like Newsfeedzscrollz.com, Newblack.xyz, Coolnews.xyz, etc. are promoted online. They're advertised on free movie streaming websites, torrenting sites, file download sites, and similar websites. Often, they appear as pop-ups in a new browser tab when you click on a random spot on the page.
And they're designed to blend in with the site that you had just been browsing with deceptive messages like these:
Click the "Allow" button to play the video.
To start downloading the file, click Allow.
Click Allow to confirm that you just won a prize.
Newsfeedzscrollz.com sneakily offers you to subscribe to its notifications "and continue watching". This might lead to misunderstandings where people think that they have to accept the ads to continue browsing. But they don't, in fact, it's best to ignore Newsfeedzscrollz.com and just close its tab.
How to disable ads by Newsfeedzscrollz.com
Block unwanted notifications
Web push notifications are easy to sign up for, but they're also very easy to block.
Wait for an ad to come (from Newsfeedzscrollz.com or another spammer) and then click the gear icon or the Site settings button that's visible on the little pop-up. You'll be able to block the site's notifications from there.
Or find your settings and manage site permissions in your settings:
Chrome – open Settings, click Privacy and security,  Site settings, click on Notifications.
Edge (Chromium) – open Settings, click Site Permissions, Notifications.
Safari – in the Safari menu, choose Preferences, Websites, Notifications.
Firefox – open Settings, Privacy & Security, scroll down to Permissions, and click on Settings next to Notifications.
Each site that can send you messages is marked as "Allow". Click the little menu to the right of each address of an unwanted site. Select the "Block" option. This will prevent the site from sending you any more web push notifications and from asking you to enable them.
How to avoid notification hijackers
You can stop all sites from asking you to allow their notifications. This would help you avoid accidental subscriptions. Some browsers, like Firefox, already hide the notification pop-ups to be as unintrusive as possible because, as it turns out, around 99% of notification prompts dont get accepted.
Notifications still work (they can be very useful) and you can always manually allow a site to send them to your browser.
You can also use ad blockers and anti-malware apps to block malicious ads and websites, some of which lead to notification hijackers like Newsfeedzscrollz.com. Besides, anti-malware apps, such as Combo Cleaner for macOS, Spyhunter for Windows, and others, can check your device for harmful and low-reputation programs and warn you about them. This helps you stay safe and avoid bigger security problems.
Automatic Malware removal tools