Newblack.xyz is a website that might unexpectedly start showing ads on your screen. These ads are more persistent and intrusive than most advertisements. This is because Newblack.xyz uses web push notifications to deliver them. To get them to stop, you need to block Newblack.xyz from showing you notifications.
Newblack Xyz Ad Spam quicklinks
Newblack.xyz in short:
Threat type
Adware.
Newblack.xyz hijacking symptoms
Pop-ups that are labeled with "Newblack.xyz" appear on your screen,

they're ads that are displayed no matter what website you are on.

What enables notification spam
Sites lie to people in order to trick them into subscribing to notifications.
How to stop Newblack.xyz ads
Stop notifications from unwanted sites by blocking them in your settings,

remove all malware with antivirus apps (Combo Cleaner for Mac, Spyhunter for PC, others).
What causes Newblack.xyz ads?
Newblack.xyz displays unwanted ads
Newblack.xyz is a website that behaves like an adware infection. It can start showing ads as pop-up messages on the screen of your device. These ads can appear at any time that the browser is open, no matter what website you're on.
Newblack.xyz can do this with the help of web push notifications. Notifications are meant to be helpful little messages from websites. They can let you know about a new message in your inbox, about a discount on a wishlist item, and other urgent alerts (Web Push API Notifications best practices). But some websites, such as Thehypenewz.com, Uistration.work, and Newblack.xyz, use them to show advertisements.
These pop-ups might offer you ways to make free money, participate in giveaways, meet singles in your area, and similar scams. The ads that Newblack.xyz shows are similar to those that you might see on pirating websites, such as various free movie sites. This makes Newblack.xyz a little dangerous. It's recommended to avoid clicking on the ads that this site displays.
It tricks people
But how does Newblack.xyz make your browser display ads in the first place? In order to be able to send notification messages to your browser, websites have to ask your permission and you have to grant it.
Newblack.xyz does ask for permission, but it does this in a very deceptive way. It lies to people and tricks them.
Here are some of the messages that Newblack.xyz shows to visitors:
"Click Allow to play the video"
"Click Allow to start downloading"
"Press Allow to close the site"
Newblack.xyz is advertised online and appears as a pop-up, opening in a new tab of your browser. If you ever visited it, it was not intentional. So, if you did subscribe to its ads, you might not remember doing it. You could have done it completely unintentionally.
And after that, if you start receiving ads from Newblack.xyz, it might be a little difficult to figure out what's causing them. Luckily, you can block these ads relatively easily.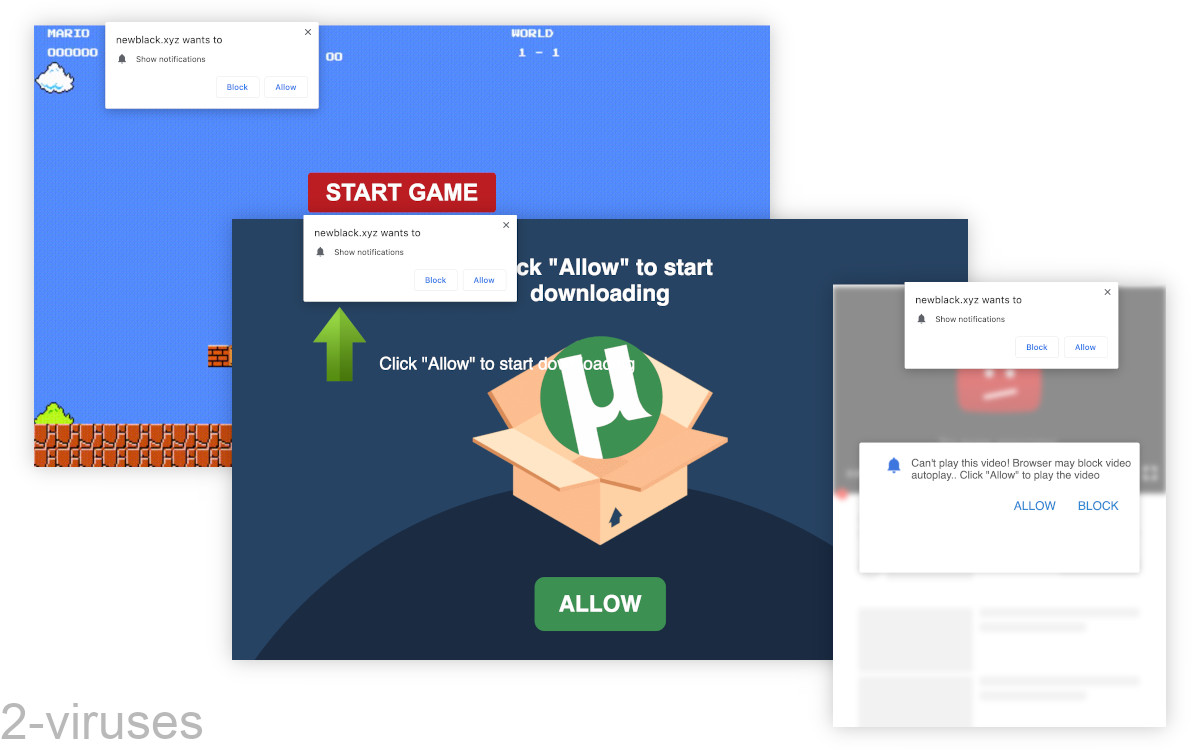 How to stop Newblack.xyz ads
Stop unwanted web push notifications
If Newblack.xyz is showing pop-up messages on your screen, then it's most likely using browser notifications. Whether you're on mobile or desktop, you can block unwanted notifications in your settings.
One way to do this is to wait for Newblack.xyz (or another spammer site) to show a message on your screen. Then, click the "Site settings" button or the gear icon on one of the ads. You'll be given the option to block all notifications from that website.
Alternatively, you can go into your browser settings:
Chrome – open Settings, click Privacy and security,  Site settings, click on Notifications.
Edge (Chromium) – open Settings, click Site Permissions, Notifications.
Safari – in the Safari menu, choose Preferences, Websites, Notifications.
Firefox – open Settings, Privacy & Security, scroll down to Permissions, and click on Settings next to Notifications.
Find Newblack.xyz and other sites under the "Allow" label. You can click the button to the right of each address and choose to Block the site's notifications.
Consider blocking all notification prompts. This will defang notification spammers like Newblack.xyz. And you can still manually enable a website to send you notifications when you want to do that.
Remove malicious apps
Newblack.xyz is just a website and, besides its name being in your browser settings, it doesn't have a presence on your devices. But it does promote some potentially unwanted programs. And it itself can be promoted by adware infections. So, it's good to check if there's malware on your device. You can use an anti-malware app, such as Combo Cleaner for macOS, Spyhunter for Windows. If there is a potentially dangerous (or even just a potentially unwanted) application on your device, anti-malware applications will tell you.
Automatic Malware removal tools