Have you recently had an experience where your homepage and the search engine has out of the blue changed into some strange looking new one, but you can't recall adjusting anything? Or have you noticed before entering any site words in a left corner box showing: Transferring/connecting/waiting for search.my-search.online? If yes, then you most likely have caught yourself a search.my-search.online browser hijacker virus created by Airfind Corporation, which 2-viruses.com team will help to understand and remove without a trace.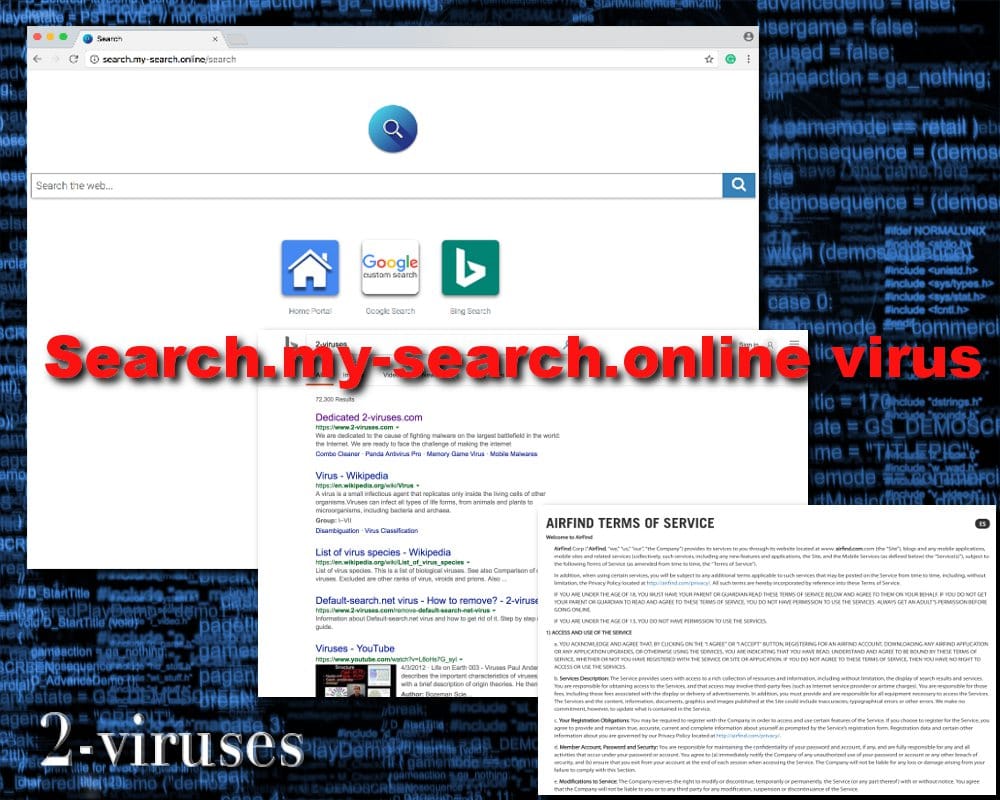 This search.my-search.online may not be the most harmful threat you can come across the virtual world but it is as crucial to remove as any other. Not only does it modifies your browsing experience to benefit hackers, but also tracks your personal data and shares it with third parties. Whether you have been infected by search.my-search.online or not it is important to read to learn about it so you would be informed and well prepared for this attack.
What you need to know about

search.my-search.online

virus?
There are several ways you can end up with the deceitful search.my-search.online browser hijacker and the worst thing is that majority of these times you won't even notice it until virus will already be progressed and in the final stages. Briefly, it installs as a browser's extension and then connects to search.my-search.online to download malevolent scripts so the system would recognize it as a default search engine.
Once search.my-search.online virus gets into your computer it will not take a long time to notice the first symptoms of this malware infection. It may not affect the rest of the operating system visibly, yet what you will notice in your browser will be obviously that something suspicious is up. After the final setup of Airfind's malicious creation, whenever you open your Mozilla, Chrome, Explorer or Safari you won't see your typical homepage, instead, you will be surprised with the persistent search.my-search.online which with the help of Javascript code has already set itself as your default search engine. The main question is why this and other browser hijackers like Smartsrch.com, Browserhome.net, Search.swiftsearch.co aim to do so?
The whole idea behind browser hijackers is to have the full control of your exposure to the internet, so cyber crooks could benefit from you visiting various sites bringing them additional traffic, accidentally clicking on hyperlinks and ads and buying sponsored products, services. They tend to combine various revenue-building techniques, but the main ones of search.my-search.online virus is pay-per, redirecting search engine results from Bing and featuring Sponsored links. This proves that Airfind works closely affiliated with third parties.
Even though after running a scan with the the search.my-search.online was not identified as a malicious threat, yet after researching the EULA the real face of Airfind's 'My-search' shows up revealing the typical malware behaviour: tracking personal data, credentials, browsing history, location, information about the type of browser and system used to access the website and sharing this data with third parties.
Airfind Discloses in their Privacy Policy :
We may use the Personally Identifiable Information we collect or receive to communicate directly with you. If you provide us with your phone number and contact names stored on your mobile device or tablet computer, we may store and use such Personally Identifiable Information for purposes of identifying and informing you of those contacts who have also registered to use the Services, along with such users full names and usernames. We may also send you emails containing newsletters, promotions and special offers. We also use your Personally Identifiable Information to provide the Services and send you Services-related emails or other emails that we believe may interest you (e.g., account verification, purchase and billing confirmations and reminders, changes/updates to features of the Services, technical and security notices). As discussed below, we may also combine your Personally Identifiable Information with third party analytics information to build a broader profile of our individual Users so that we can serve you better and provide custom, personalized content and information.
This and other frightening statements really makes you realize that there will no peace and privacy using search.my-search.online search engine. No matter for what reasons and how often you surf the internet there is no need to give out your information to the unknown third parties which can end up stealing your identity, accessing the bank account and other profiles and causing hard to fix problems. Instant search.my-search.online browser hijacker removal should be one and only decision this virus gets.
How does search.my-search.online virus spread over the internet and how to get rid of it?
Some inexperienced users download search.my-search.online virus as a browser extension. They fall for the convincingly written description of how this add-on will improve their browsing experience finding better results than the usual search engine and then decide to install it themselves. But still, the most common distribution of My-Search browser hijacker is secretly via bundling. Whenever you are downloading any freeware, torrents, updates, files from unauthorized websites you should be aware that these free programs usually contain malicious threats which one way or another benefit the developers, but detriment the user's PC and wallet. In this case, after installing one of these programs you will see Search.my-search.online as your main homepage despite it not asking for any permission.
If this all sounds familiar to you and you had/have the situation where you originally installed one software but it made changes to your browser as well, adding Search.my-search.online as your main homepage, then it's about time to remove this virus before it does more changes to your operating system. Despite it being one of the least dangerous threats on the internet the removal can be still overwhelming for a regular user. You can try deleting search.my-search.online from your browser's Plugins or Add-ons/Extensions sections and we advise you to follow our step-by-step guide for each browser separately, together with additional measures for manual removal. However the quickest and most reliable ways to delete Search.my-search.online browser infection is by using an automatic removal tool like Spyhunter 2-viruses.com team has tested both anti-spyware programs alongside with many others and can assure that they are one of the most optimal and effective towards protecting your computer against cyber threats, search.my-search.online included. And lastly, don't forget to be always Aware of your actions on the world wide web.
Automatic Malware removal tools