Counterflix is a DNS service provider holding the users captive by its high-sounding slogan – ''Access your favorite without restrictions''. It says to grant users access to geo restricted content, unblock websites and streaming services such as Pandora, Netflix, Hulu, BBC iPlayer, etc. No surprise that thousands of users have reported to be affected by this browser extension.
Counterflix Ads quicklinks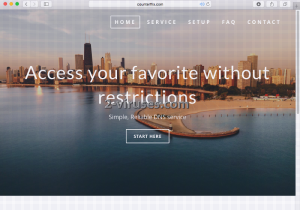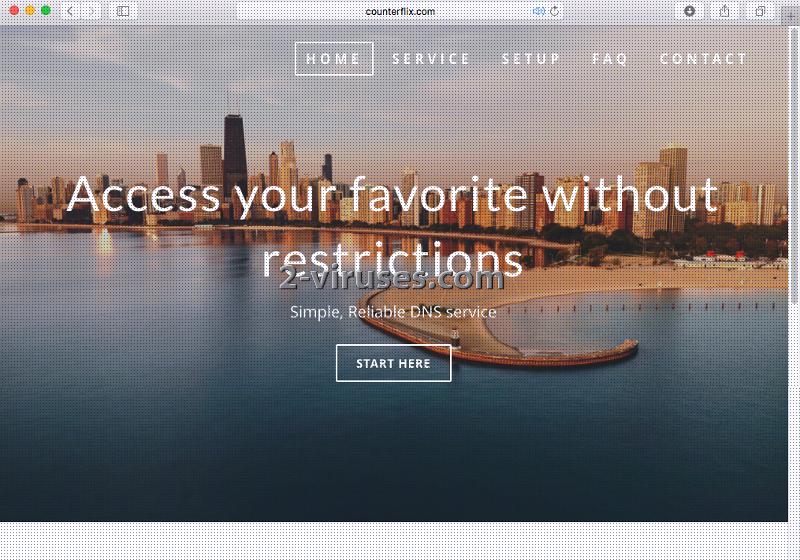 Many streaming video providers can't show all content everywhere due to licensing reasons. Thus Netflix might show different videos in USA, UK or Italy. For example, in there are 1300+ Tv series available on USA version of the site, and less than half of them are available on UK acording to this Netflix video availability report. And many other streaming services are not available outside USA/Canada or their country at all. Counterflix and many other services were created to overcome restrictions. This is done by masking the subscribers IP or redirecting them through servers showing content for other countries. The problem with this particular application is that it is ad-supported, difficult to remove and might be installed without full consent.
About Counterflix Adware
As you can see from the title of this paragraph, Counterflix is an adware program. This means that it is primarily ad-supported software and all its so-to-be functionalities are secondary, to say the least, and hardly true, to tell you the truth. Well, it might give you the permission to visit some domains which are restricted in your geographical location, but you will not avoid certain side effects. These side issues, as revealed above, are the ads Counterflix display. They can be labelled as, ''Ads by Counterflix'', ''Powered by Counterflix'', ''Brought to you by Counterflix'', etc. These advertisements can take any place of your browsing screen, even the entire window. As you can see from the labels, it is not the native advertising content of the websites you visit. So how do they know what is on the website? And how is it that ads by Counterflix exhibit the products and services which strangely allude to your previous searches?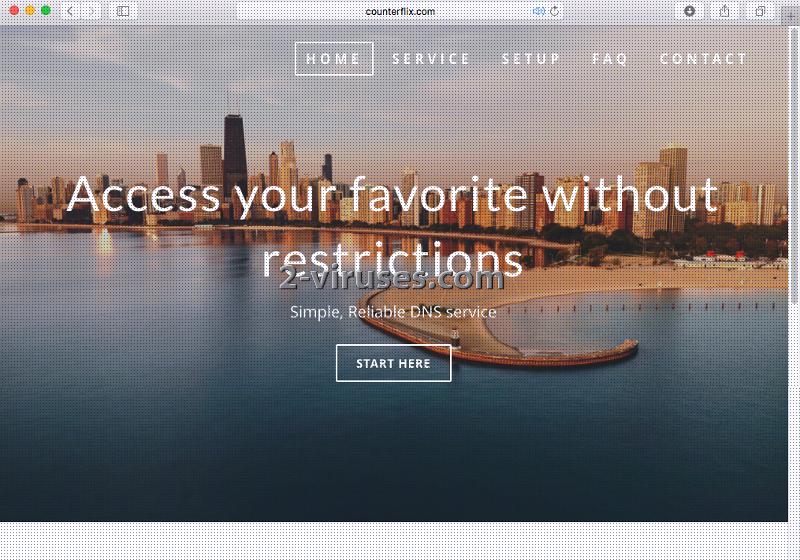 The answer is quite simple, Counterflix tracks you. Do not push a panic button, it is not a spyware and will not steal your banking account details or any other sensitive credentials. But it is still a violation of your privacy and online freedom. You have the right to be discontented with that. The more so as Counterflix extension provides 3rd party with this information since the personalized advertising content is generated by 3rd party. The diminished performance of your PC and your browser's sluggishness is not a coincidence either. What is more, the adverts redirect you to domains which sail you close to the wind, to put it figuratively.
How does Counterflix Adware Infect Your Computer?
Counterflix is distributed in several flavours. It might get installed from various browser bundles, it can be downloaded as Mac or Windows software from their website counterflix.com and it can be installed in the router to affect the whole network. It is as easy as changing DNS settings to Counterflix servers : 81.218.119.11 and 209.88.198.133 and installing additional software to control panel. Then all traffic sites you open might get passed through their servers and content can be added if they want to change something. For example, insert some ads.
While legality of breaking restrictions is beyond the scope of our site, services that modify website content are dangerous. Even the most harmless of such services reduce your privacy and create another access point for hackers to steal your important information. Differently from VPN based solutions, DNS based ones, like Counterflix adware, does not care about your privacy and security. Thus I recommend removing them. This adware is detected by anti-malware programs, and simple scan with Spyhunter should get rid of them. If ads persist, follow the manual removal instructions and change DNS settings back by hand.
Automatic Malware removal tools
How to remove Counterflix Ads using Windows Control Panel
Many hijackers and adware like
Counterflix Ads
install some of their components as regular Windows programs as well as additional software. This part of malware can be uninstalled from the Control Panel. To access it, do the following.
Start→Control Panel (older Windows) or press Windows Key→Search and enter Control Panel and then press Enter (Windows 8, Windows 10).
Choose Uninstall Program (if you don't see it, click in the upper right next to "View by" and select Category).
Go through the list of programs and select entries related to Counterflix Ads . You can click on "Name" or "Installed On" to reorder your programs and make Counterflix Ads easier to find.
Click the Uninstall button. If you're asked if you really want to remove the program, click Yes.
In many cases anti-malware programs are better at detecting related parasites, thus I recommend installing Spyhunter to identify other programs that might be a part of this infection.
Fix DNS settings affected by Counterflix Ads
1. Start->Control Panel -> View network adapter and tasks.
2. Press Change Adapter settins -> Internet Protocol version 4.
3. Set DNS Servers to auto-detect or 8.8.8.8 and 8.8.4.4 (Google Public DNS servers) .
4. Apply.
More detailed instructions, possible issues and how to solve them are available on Google Redirect virus guide.