MaxWebSearch - How To Remove?
MaxWebSearch is a browser hijacker that replaces your preferred search engine, home page and new tab page with its own. The web addresses you can be redirected to might be any of those belonging to MaxWebSearch domain (maxwebsearch.com), e.g. maxwebsearch.com, search.maxwebsearch.com, default.maxwebsearch.com, home.maxwebsearch.com, 1.maxwebsearch.com, start.maxwebsearch.com. If you try to reset your Internet browser settings and apply another search engine, you will see no changes at the end. MaxWebSearch browser hijacker is programmed to protect the web addresses it promotes from being replaced with anything else. If more than one Internet browser is installed to your computer, unwanted redirections will affect all of them including Google Chrome, Mozilla Firefox, and Microsoft Internet Explorer.
Although the search engine might look just like any other, the company behind it earns money for advertisements displayed. The difference from Google or Yahoo or similar legitimate search tools is that MaxWebSearch.com does not make it any different when displaying advertised sites together with the actual search results. When a person performs a search, she sees only a list of links and once she clicks on the one promoted, this generates money for MaxWebSearch.com owners. Moreover, this website does not take any responsibility for the third party promotions which means that after clicking a link you may easily be taken to a corrupted website and infect your computer with viruses.
Those that are concerned with their privacy will have one more reason for this browser hijacker's removal. The toolbar associated with it uses cookies and web beacons for collecting information about your Internet browsing habits. The data is used for displaying of targeted advertisements.
Constant redirections, a danger of getting infected with more viruses, breach of your privacy, unfair display of advertisements are more than enough reasons to wish to get rid of MaxWebSearch.com. Alas it is not as easy as it might seem. Browser hijackers and adware are programmed to be resistant to removal because the longer it stays on an infected computer the more money it earns for the owners of the application. Even if an uninstall wizard is included, it does not work properly and therefore redirections are not removed.
Most likely you will not see MaxWebSearch.com among Add and Remove Programs in Control Panel. If you do see it there, you may wish to remove it manually. After that uninstall all of unfamiliar browser extensions from all of the browsers you have in your computer. Yet if you want a quick and easy solution to the problem, you should use special antivirus tools, such as Spyhunter. The latter is effective with many browser hijackers and removes all of the files related to infection automatically. We recommend using this tool for several reasons: it might be that more than one unwanted application has been installed – Spyhunter will detect and remove them all; if any of viruses infected your computer and your current system security was deactivated, this tool will detect them as well. Please note, not all of antivirus programs can identify and delete this type of threats therefore if you use anything else, make sure it is capable of finding MaxWebSearch and any files related to it.
How To remove MaxWebSearch virus from Internet Explorer:
Click arrow on the right of search box
Do following: On IE8-9 choose Manage Search providers, On ie7 click change search defaults
Remove the MaxWebSearch.com from the list

How to remove %NAME% from IE 11:

Click on the Settings icon (top right)->Manage Addons;
Select Search Providers;
Change the default search engine to Bing or Google;
If any of these search providers is not available, follow "Find more search providers" in the bottom of the screen and install Google.
How To remove MaxWebSearch virus from Firefox :
Enter "about:config" in url bar. This will open settings page
Type "Keyword.url" in the search box. Right click it & reset it.
Type "browser.search.defaultengine" in the search box. Right click it & reset it.
Type "browser.search.selectedengine" in the search box. Right click it & reset it.
Search for 'browser.newtab.url'. Right-click and reset. This will make sure that the search page won't launch on each new tab.
If the settings revert and scan with anti-malware programs are clean: Close Firefox, open file explorer and enter %AppData% in the address bar. enter user.js in search box. If this file exists, rename it and start Firefox again. You will have to repeat the steps above.
How To remove MaxWebSearch from Google Chrome:
Click 3 horizontal lines icon on browser toolbar.
Select Settings.
Select Basics ->Manage Search engines.
Remove unnecessary search engines from the list.
Go back to settings. On Startup choose open blank page ( you can remove undesired pages from the set pages link too).
Automatic MaxWebSearch removal tools
We might be affiliated with some of these programs. Full information is available in disclosure
Manual removal
Important Note: Although it is possible to manually remove MaxWebSearch, such activity can permanently damage your system if any mistakes are made in the process, as advanced spyware parasites are able to automatically repair themselves if not completely removed. Thus, manual spyware removal is recommended for experienced users only, such as IT specialists or highly qualified system administrators. For other users, we recommend using Reimage or other tools found on 2-viruses.com.
Processes:
Files:
MaxWebSearch screenshots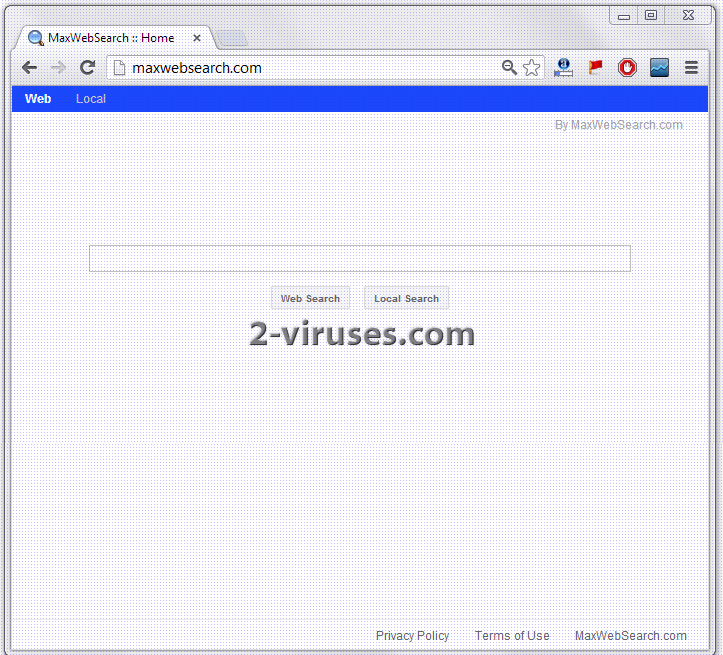 About the author