KCW ransomware is a new crypto-infection, controlled by an unexpected party. The creators of this ransomware are from the India-based team called Kerala "Cyber Warriors". This is a group of white hat hackers, hacking into services for a good purpose. In general, they attack websites that engage in immoral, illegal and disturbing activities like pornographic, violent content, sex chats (Team Kerala Cyber Warriors hack Ryan International School websites). Furthermore, they target perverted websites that distribute child pornography. Team Other specialists have indicated that this ransomware infection mostly targets websites in Pakistan. KCW crypto-virus is a PHP-based ransomware infection, which means that the crypto-virus can take web servers as hostages.
KCW crypto-virus is a PHP-based infection, designed to attack websites
After the KCW ransomware finds a path to specific websites, it will encrypt their files and then demand a ransom payment. As soon as the files are encrypted, the websites are going to be locked behind an intimidating lock-screen. In the message, Kerala Cyber Warriors announce that they have hacked into the compromised website, and have also encrypted files (Indian Hacking Group Claims Credit for Infecting Pakistan Websites with Ransomware). To accompany the message, the KCW crypto-virus will play an audio of a song. All of the encrypted files feature .kcwenc extension.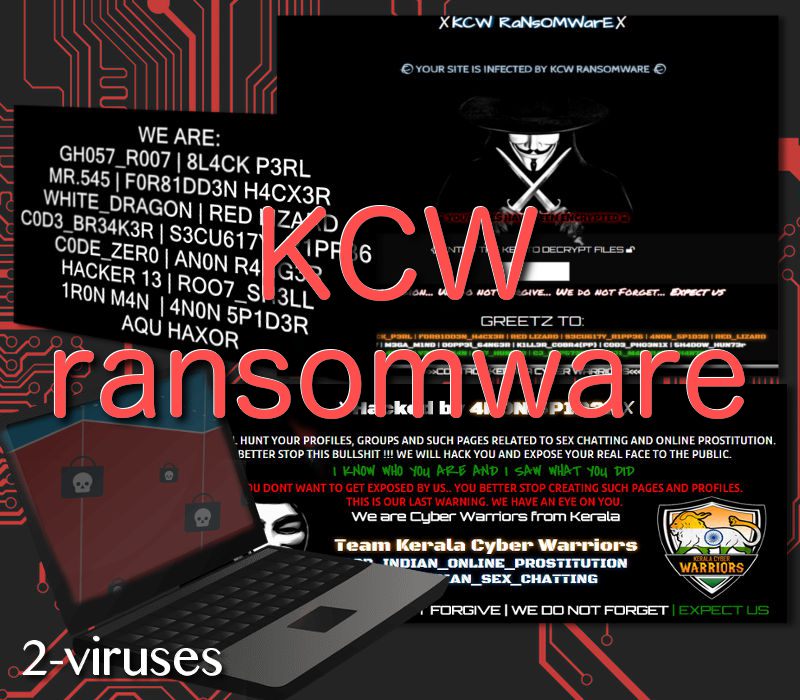 Therefore, if your website is displaying or distributing immoral and offensive material, KCW ransomware and the Kerala Cyber Warriors can definitely decide to intervene. These ethical hackers refer to themselves with specific codenames, and their goal is to take down illegal websites on the Internet. For instance, researchers have reported that Kerala Cyber Warriors are trying to track down perverts who exploit female profile photos for promotion of online sex chats and pornographic content.
Kerala Cyber Warriors have been strong advocates for the security and privacy for children. These white hat hackers aim to watch distributors of child pornography. The team is not afraid to criticize political figures: they team had hacked into the official website of Bhartiya Janata Party's Jammu & Kashmir unit Kerala Cyber Warriors Hack BJPs J&K Website, Demand Noose For Kathua Rape Accused). In this way, Cyber Warriors expressed disgust towards Indian politicians who attempted to protect eight men, accused of brutally raping and murdering an eight-year-old girl. Considering this, it is clear to say that KCW ransomware would not engage in opportunistic hacking. Instead, the crypto-virus attacks carefully selected targets.
How to protect yourself from infections like this KCW crypto-malware?
Website owners are under pressure to update their website and continue on improving its features and content. However, people should not forget that the security of a website is more important than a new font. First of all, you should always update your software. By keeping your websites updated, you will be able to avoid vulnerabilities that could be exploited by hackers. Of course, ransomware does not always target websites. In some cases, hackers take advantage of random opportunities and spread their viruses all over the Internet.
If you do not want to lose all your data to a virus like KCW ransomware, you should back up your files in online storages. By having spare versions of your files, you won't be as devastated when the original files become encrypted. On the other hand, you could also keep a part of your data in USB flash drives. Remember not to keep these devices plugged into your computer.
At the moment, there is no way of recovering data which is lost due to the KCW crypto-virus. However, we do not feel too bad for the victims of this ransomware. Kerala Cyber Warriors attack those who deserve a wakeup call. Therefore, we do not feel too bad for distributors of immoral and offensive content to have their websites locked.
If your files are encrypted by a ransomware infection, we do hope that you will decide to run a scan with Spyhunter. Both of these tools will detect the potentially dangerous files and offer their removal. By having such a tool in your operating system, your are making sure that malware would not compromise your files, and would not initiate intrusive activities. If you want to get rid of ransomware manually, follow this article.
Automatic Malware removal tools