ITL Driver Updater is a utility program for Windows PCs. It helps update device drivers and claims that this can improve system performance and stability.
However, some antivirus scanners warn their users about ITL Driver Updater being a potentially unwanted program. ITL Driver Updater is not dangerous, but it's good to think well about whether you really need it.
Itl Driver Updater quicklinks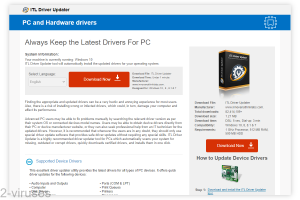 ITL Driver Updater in short:
Classification
Potentially unwanted program (PUP).
How ITL Driver Updater is promoted
It's advertised as being able to improve system performance,

it's presented as the best way to install new device drivers.

Problems and issues
It's not the best way to install new device drivers,

some anti-malware programs flag it.

How to remove ITL Driver Updater
Uninstall it manually,

configure your computer to download new drivers automatically,

find and remove other PUPs with anti-malware tools (such as Spyhunter).
Problems with ITL Driver Updater
It's detected by antivirus scanners
ITL Driver Updater is a Windows program for updating drivers. It scans your computer and finds outdated drivers. The paid version of ITL Driver Updater can also download and install new drivers.
Unfortunately, this program is detected by a few antivirus scanners as something to be avoided. Windows Defender constantly warns about it (though it doesn't stop the installation).
The installer for ITL Driver Updater is detected by a significant number of reputable antivirus scanners (13 at the time of writing): Virustotal.com. It's labeled as a Deceptor, Unwanted, even a Trojan.
The program itself is detected by far fewer scanners (only 5): Virustotal.com. It's considered to be potentially unwanted.

It's advertised as improving performance
In general, driver updaters aren't very well-liked. A lot of people consider them to be snake oil. For instance, ITL Driver Updater is presented on its home page as a tool that can boost your system's performance by up to 50% just by installing new drivers. You shouldn't expect it to actually do it.
Drivers are little programs that allow your devices to work with the rest of your computer. For instance, for a printer to work, it needs a fitting driver to be installed. With time and with operating system updates, device manufacturers release new drivers. Usually, these new drivers get installed with Windows updates.
This allows devices to remain compatible with your operating system. However, as your devices don't change, you can probably imagine that a new driver can't really add much performance. So, ITL Driver Updater's claims of being able to improve performance should be viewed with suspicion. Other driver updaters, like Ashampoo Driver Updater, TweakBit Driver Updater, and others, also sometimes imply that they can make your computer run faster. But that's not what drivers really do – they just make your devices function.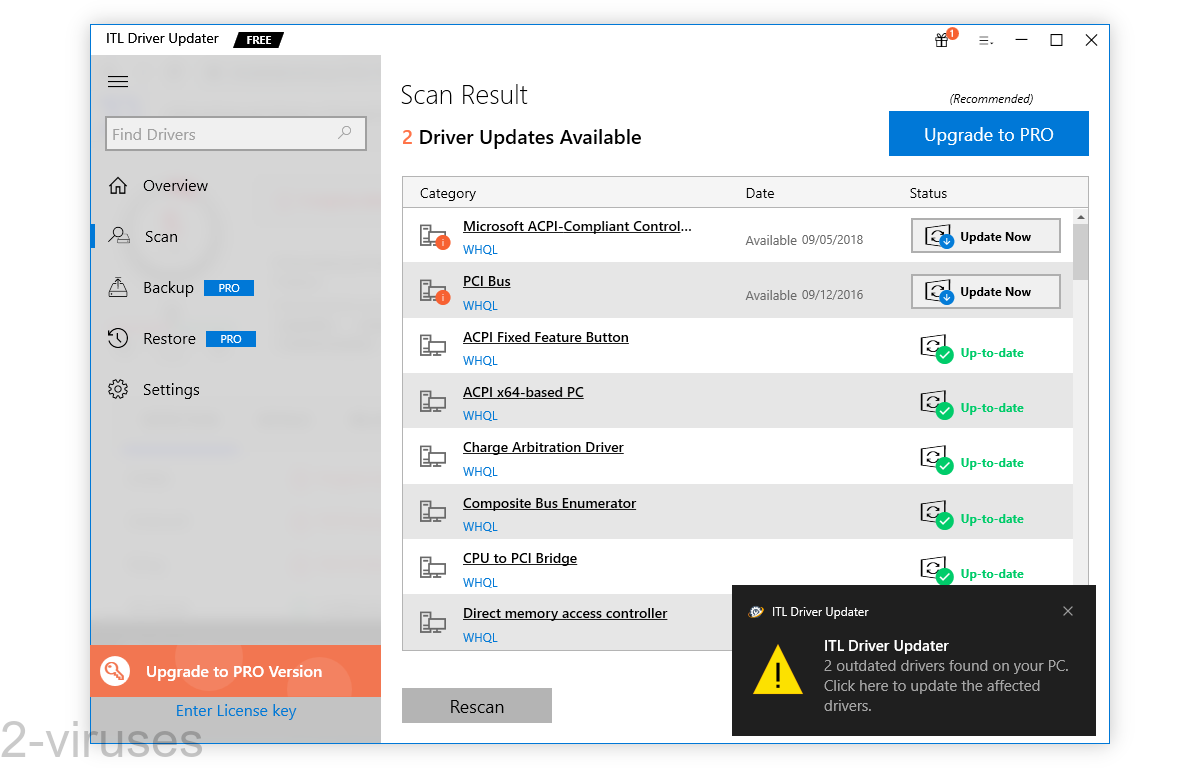 The user interface of ITL Driver Updater is very close to what Windows 10's Settings look like. The same font and layout.
In addition, ITL Driver Updater has ads for it that look like these impartial and objective recommendations to install it: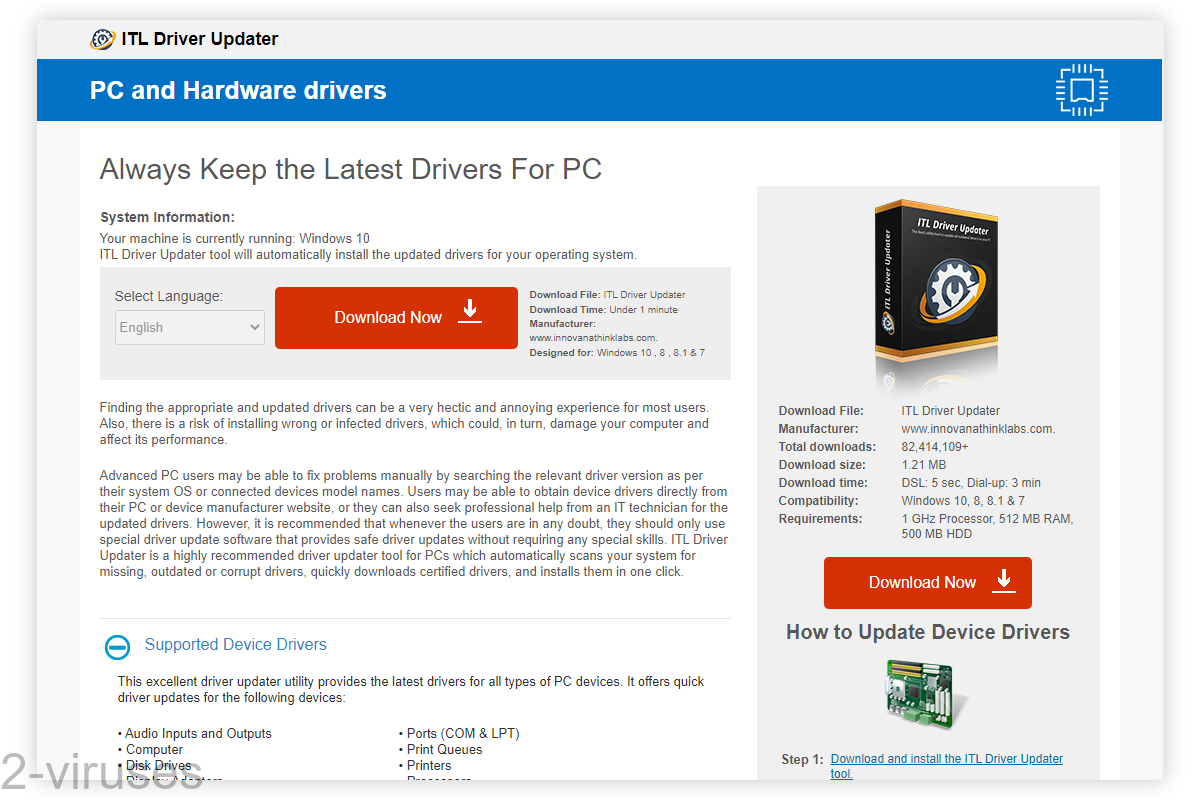 This is somewhat misleading. This webpage implies that the only way to get drivers on your computer is by installing them manually or with the help of a tool like ITL Driver Updater. It doesn't even mention Windows updates or device-specific driver updaters.
In reality, ITL Driver Updater is far from a necessary application. Driver updaters are not needed for keeping your computer running well.
How to remove ITL Driver Updater
You can keep using ITL Driver Updater if you wish, but know that it's not the only way to install new drivers. Windows updates are free. Besides, slightly outdated drivers aren't a big deal. You're not missing out on some performance updates by not using third-party tools like ITL Driver Updater.
You can uninstall ITL Driver Updater manually if you wish to remove it. There's also a 60-day refund period, if that's relevant to you.
Configure your Windows to install new drivers: Support.microsoft.com.
You might want to scan your device with your antivirus program, like Spyhunter or others, to make sure that no other potentially unwanted programs are present. They usually spread in similar ways, so if one is installed, it's possible that others are, as well.
Automatic Malware removal tools
How to remove ITL Driver Updater using Windows Control Panel
Many hijackers and adware like
ITL Driver Updater
install some of their components as regular Windows programs as well as additional software. This part of malware can be uninstalled from the Control Panel. To access it, do the following.
Start→Control Panel (older Windows) or press Windows Key→Search and enter Control Panel and then press Enter (Windows 8, Windows 10).
Choose Uninstall Program (if you don't see it, click in the upper right next to "View by" and select Category).
Go through the list of programs and select entries related to ITL Driver Updater . You can click on "Name" or "Installed On" to reorder your programs and make ITL Driver Updater easier to find.
Click the Uninstall button. If you're asked if you really want to remove the program, click Yes.
In many cases anti-malware programs are better at detecting related parasites, thus I recommend installing Spyhunter to identify other programs that might be a part of this infection.