Ashampoo Driver Updater is a driver updater, a PC utility. It is advertised as a helpful little program that optimizes PC performance by updating device drivers. Unfortunately, Ashampoo Driver Updater isn't quite as good as it presents. A few anti-malware programs flag it as a PUP (potentially unwanted program), while experts insist that driver updaters are little more than snake oil. Ashampoo Driver Updater is not malicious, but it's better to avoid it.
Ashampoo Driver Updater quicklinks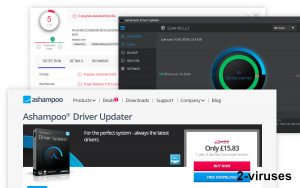 About Ashampoo Driver Updater:
Problems with Ashampoo Driver Updater
Drivers are little programs that allow hardware components (such as a mouse or a printer) to interact with your software. If a device suddenly stops working, drivers are the first to get the blame. The usual advice is to go to Device Manager and switch to an earlier version of the driver.
However, some people who look for answers to such an issue online find themselves being sold some driver-updating utility, a mostly unnecessary type of software.
Ashampoo Driver Updater can be downloaded from Ashampoo.com. The driver updater is only one of many utility programs for PCs that Ashampoo has developed. Others include a video editor, an optimizer, a PDF editor, etc. You can find its programs on giveaway sites and various websites for sharing cheap software.
However, some of Ashampoo's programs may be potentially unsafe. Some of Ashampoo's programs are labeled as adware for distributing the Conduit browser hijacker (Virustotal link) and other unwanted software.
Ashampoo Driver Updater is a driver updater and also a potentially unwanted program. Potentially unwanted programs are those that aren't malicious but have problems with unwanted installation and deceptive presentation. That's why some antivirus programs warn you about Ashampoo Driver Updater (VirusTotal link) by labeling it "Unwanted" or "PUA". It's not that it will hurt your computer (although it might – driver updaters don't have a good reputation), but you should be careful so that it doesn't install some junkware or mislead you about what features you can expect.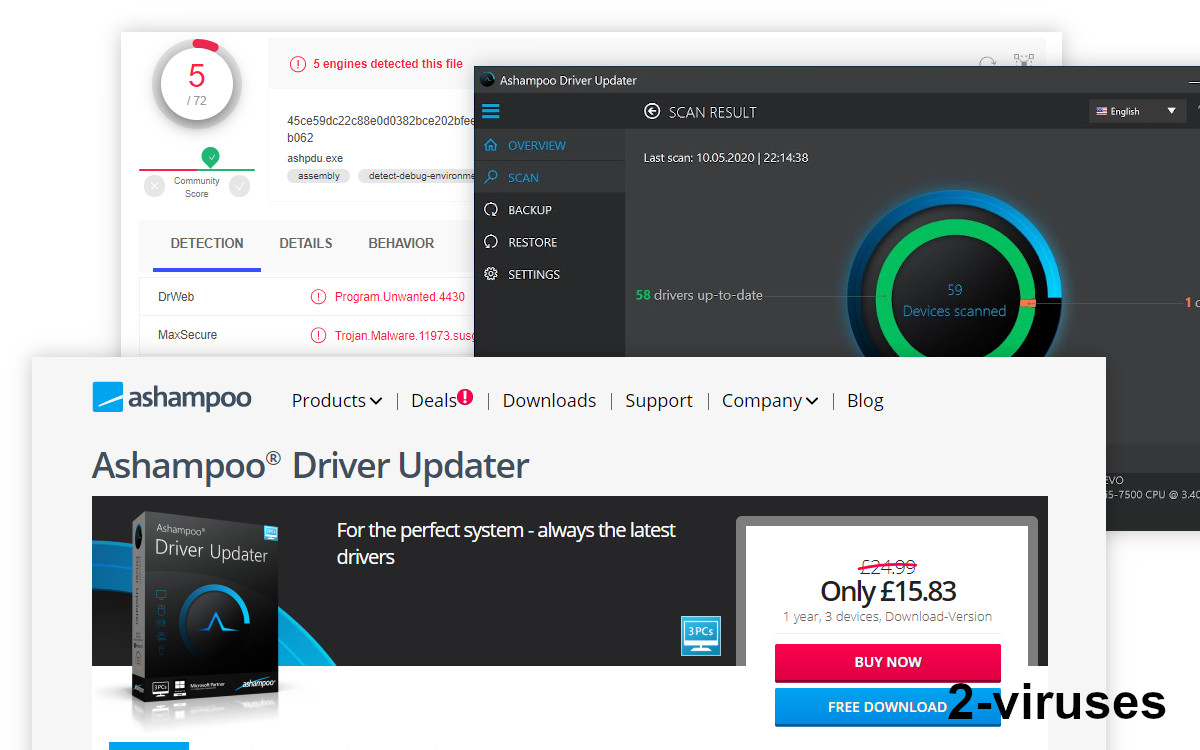 What Ashampoo Driver Updater does
If you read Ashampoo Driver Updater's description on the Ashampoo.com site, its promises are pretty modest:
to find and install up-to-date drivers,
to be easy to use and to give you control over how often it runs,
to keep a backup of the old drivers.
On the same page, Ashampoo claims the transition to the Windows 10 operating system causes issues with devices and that Ashampoo Driver Updater is supposed to fix that.
Ashampoo Driver Updater has the same problem that other driver updaters, like Quick Driver Updater, Tweakbit Driver Updater, DriverMax, and others have: it attempts to sell you something that Windows Update already does for free. Windows provides tested and safe drivers. So, people who sell driver updaters try to claim that Windows provides outdated and inferior drivers. Really, though, there's no benefit to installing the newest drivers. In the long run, a driver updater will cause more issues than it will solve because it can't match the testing and vetting process that Microsoft has.
It could be that Ashampoo Driver Updater is better than no driver updates. Just be careful and, if a device breaks, take advantage of the rollback function to go back to the old driver. If that happens regularly, maybe look for another way to get your new drivers. Try to stay away from driver updaters because many of them are little more than scams.
How to remove Ashampoo Driver Updater
It's not dangerous to use Ashampoo Driver Updater, but in the long run, just using Windows Update is better.
Although there are no Uninstall instructions on Ashampoo.com, you can easily uninstall Ashampoo Driver Updater by going to your Control Panel (instructions below). Just don't forget to ask for a refund if you're within the 30-day period where you're still eligible. Also, always remember to cancel your subscription when you're uninstalling a program that you have paid for.
It would be helpful to check your computer for other potentially unwanted programs. The quickest way to check is to scan your computer with an anti-malware program, such as Spyhunter (https://www.2-viruses.com/downloads/spyhunter2), Malwarebytes (https://www.2-viruses.com/downloads/mbam.exe), and others. If they find something suspicious on your device, the scan results will show it.
You can allow Windows update to install new drivers for your devices and you can also manage individual drivers in Device Manager.
Automatic Malware removal tools
How to remove Ashampoo Driver Updater using Windows Control Panel
Many hijackers and adware like
Ashampoo Driver Updater
install some of their components as regular Windows programs as well as additional software. This part of malware can be uninstalled from the Control Panel. To access it, do the following.
Start→Control Panel (older Windows) or press Windows Key→Search and enter Control Panel and then press Enter (Windows 8, Windows 10).
Choose Uninstall Program (if you don't see it, click in the upper right next to "View by" and select Category).
Go through the list of programs and select entries related to Ashampoo Driver Updater . You can click on "Name" or "Installed On" to reorder your programs and make Ashampoo Driver Updater easier to find.
Click the Uninstall button. If you're asked if you really want to remove the program, click Yes.
In many cases anti-malware programs are better at detecting related parasites, thus I recommend installing Spyhunter (https://www.2-viruses.com/downloads/spyhunter2) to identify other programs that might be a part of this infection.