InstallIQ (Install IQ) is a software bundler that can bring unwanted programs to your computer. It's not necessarily malicious, but it does have similarities to malware. If your antivirus detects InstallIQ on your computer, it's good to take this alert seriously.
Normally, InstallIQ is found with installers of various free programs. To avoid bundlers, look for official sources to download your software.
Installiq Adware quicklinks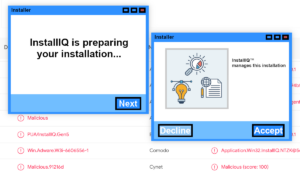 About InstallIQ:
Classification
Potentially unwanted program,

adware.

How InstallIQ works
InstallIQ is downloaded from the internet,

it offers users to install various programs.

Is it dangerous?
InstallIQ can cause potentially unwanted programs to be installed.
How to remove InstallIQ
Uninstall it and related programs,

find and remove malware with antivirus tools (Spyhunter, Malwarebytes, others).
What is InstallIQ?
InstallIQ bundles software
InstallIQ is a tool for software developers and distributors to use. It wraps program installers and shows ads (offers) for other programs. It's very similar to InstallCore and OfferCore.
InstallIQ allows software distributors to make a bit of money by showing ads with their installers. This helps the developers of free software to make a living.
Once on a computer, InstallIQ checks what programs are installed on it to decide what ads to show to people:
Our InstallIQ software presents only the most relevant and high-quality applications based on the relevant apps users are already running. Because it safely and securely determines which apps users own, we never offer anything they wouldn't want.
The problem is, some of these optional offers are presented in a way that makes them easy to miss or difficult to refuse. As a result of this dishonest presentation, many anti-malware programs flag installers that use InstallIQ as Malware, Riskware, Adware, Bundler, etc.
Here are a few examples of InstallIQ being detected by antivirus tools: Virustotal.com, Virustotal.com.
Not all implementations of InstallIQ are dishonest, but enough are. Because of that, bundling is considered to be a security problem.
InstallIQ is downloaded from the internet
Programs that use InstallIQ might be various utilities and entertainment programs:
animated desktop backgrounds and screensavers,
calendars and other desktop widgets,
card creators,
music and video players.
Such programs can be found online for free, mostly on freeware sites. Always be careful when downloading free programs, as some of them show ads in their installers.
InstallIQ Updater is a program that might get installed with InstallIQ bundlers. It also ought to be removed, there's no reason to keep it.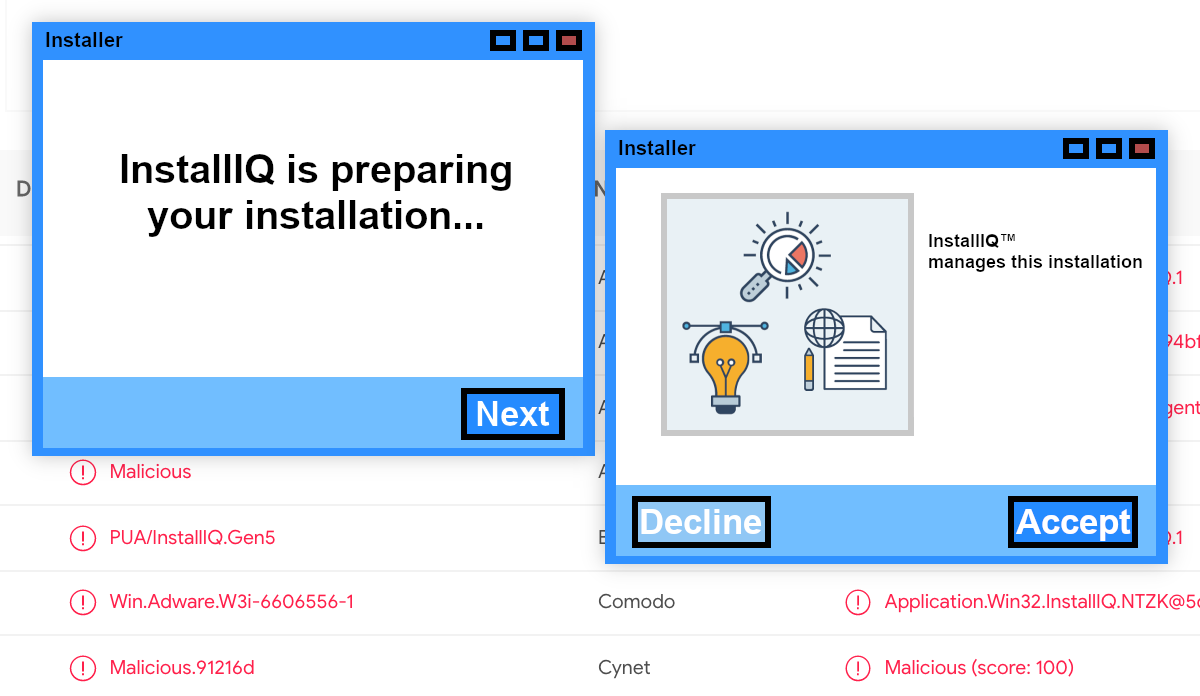 It's an old bundler
InstallIQ is quite an old bundler. For example, here's an article that mentions it from 2009: Howtogeek.com. So, I was surprised when I stumbled on a few recent downloads of it.
I don't believe that InstallIQ is still active. Even the developer's old site www.w3i.com is dead since sometime in 2015 (the company has become Nativex and seems to focus on the mobile market).
However, old versions of the InstallIQ bundler are still littering the web and are still available for download. Free software hosting sites might still have some old InstallIQ downloads.
How to delete InstallIQ
If you downloaded InstallIQ or InstallIQ Updater, you probably did it by accident.
Besides antivirus alerts, you might have noticed other problems. From what I saw, a lot of complaints about InstallIQ online also mentioned people's internet connection being unbearably slow. I doubt that this was caused by InstallIQ directly, but it's likely connected.
The thing is, InstallIQ appears to be dead. Even if an installer does get detected as InstallIQ, it might not actually show any optional offers or cause any problems.
At the same time, InstallIQ might be bundled with problematic programs. It's important to be careful with it.
Uninstall all programs related to InstallIQ as described in the instructions below. Also, remove suspicious programs that were installed around the same time as InstallIQ. You can also check for and delete junk files.
You can use anti-malware apps, such as Spyhunter or Malwarebytes, to check your computer for any adware and potentially unwanted programs.
Automatic Malware removal tools
How to remove InstallIQ Adware using Windows Control Panel
Many hijackers and adware like
InstallIQ
install some of their components as regular Windows programs as well as additional software. This part of malware can be uninstalled from the Control Panel. To access it, do the following.
Start→Control Panel (older Windows) or press Windows Key→Search and enter Control Panel and then press Enter (Windows 8, Windows 10).
Choose Uninstall Program (if you don't see it, click in the upper right next to "View by" and select Category).
Go through the list of programs and select entries related to Install IQ . You can click on "Name" or "Installed On" to reorder your programs and make InstallQ easier to find.
Click the Uninstall button. If you're asked if you really want to remove the program, click Yes.
In many cases anti-malware programs are better at detecting related parasites, thus I recommend installing Spyhunter to identify other programs that might be a part of this infection.