Incognito Searches (or IncognitoSearches), not to be confused with Search Incognito or Searchi Incognito, is a Chrome browser plugin and a type of Yahoo Redirect virus. It offers "guaranteed private search" and changes the default search settings. It redirects search queries typed in the omnibox through feed.incognitosearches.com and sends them to search.yahoo.com. It is considered a browser hijacker for unnecessarily modifying your browser settings for ultimately monetizing your visits by showing you ads.
Incognito Searches Hijacker quicklinks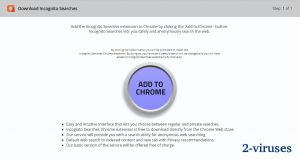 The symptoms of the Incognito Searches hijacker include these:
Search queries redirected to Yahoo regardless of which search engine was set as default.
The text "Search IncognitoSearches Search or type a URL" is in the address bar.
The Incognito Searches logo, when clicked on, pops up a search bar which opens an Incognito browser window.
Ads, including pop-ups and floating ads over your content, are seen frequently.
Despite claiming to be a privacy-focused browser add-on, Incognito Searches should rather be removed by those who care about their privacy:
Type of potentially unwanted application
Ways Incognito Searches is distributed

Ads on social media
Ads on filesharing sites
Redirects (malicious ads)
Adware virus redirects

Possible harm

Misunderstanding of Incognito Searches' limitations can lead to exposed personal information
Ads and replaced search engine make information searching less efficient
Excess power of the extension can breach a user's privacy

How Incognito Searches can be removed

Automatically remove adware, bundlers (SpyHunter (PC), Combo Cleaner (Mac))
Remove Incognito Searches and other hijackers from Chrome extensions
Is Incognito Searches good?
If you like the idea of "guaranteed private search", there are options online, but know that most of them are not going to be very private. For example, you could use a VPN service but most of those will still record your traffic, even some who say that they don't. And if you use a privacy browser like Tor, some websites will block you, and you'll have to deal with longer loading times. There is no perfect answer, but Incognito Searches is one of the worse ones.
Incognito Searches implies in its advertising that it offers quick access to private incognito search. Whats it actually does is open the Incognito tab and types in the search query. Whether that's worth an extension is up to you (though I don't know why so many people would use it when a keyboard shortcut can open an Incognito window), but know that all this does is hide your identity from the websites that you visit. Incognito mode still allows your history to be recorded. It's important to not overestimate what private browsing can do.
According to the privacy policy of Incognito Searches, the information it collects about you may include things like search logs, visited pages, and your internet service provider. Even though its promotional material will give some people the false impression that they won't be tracked, this is not surprising: most hijackers are able to track all of your search queries and use that data for advertising. People who don't want to be tracked should remove not just Incognito Searches but as many of their other extensions as possible because a lot of them probably track their activities.
How Incognito Searches is promoted
It's being actively promoted by adware online. People are redirected to the Incognito Searches installation page despite never looking for it, not clicking on any relevant ads. Sometimes they're redirected from another installation process, mistakenly believing that they're continuing that process. Some are roped into adding Incognito Searches to their browser because they don't see a way to quit or refuse it.
Malicious ads, bundling with other extensions (such as Pdf Maker, Stream All, Streaming Time) and junkware, email spam, adware — there are many ways that people are advertised Incognito Searches. Some of these ways reflect badly on the extension and its developers because few legitimate and safe applications use these methods to get more users. Normal programs rely on honest advertising and their own features to get users. But browser hijackers rarely have any valuable functions, which is why they tend to use the same distribution methods as malware.
It's possible to avoid installing unsafe extensions by being careful and avoiding red flags. For example, despite having thousands of users, Incognito Searches has almost no reviews — that's suspicious. The identity of the developer of the extension is also suspiciously out-of-the-way (it's probably Linkury, which happens to have already developed a lot of PUPs (potentially unwanted programs) and even has its own malware categories). Any lack of honesty and transparency is always a red flag.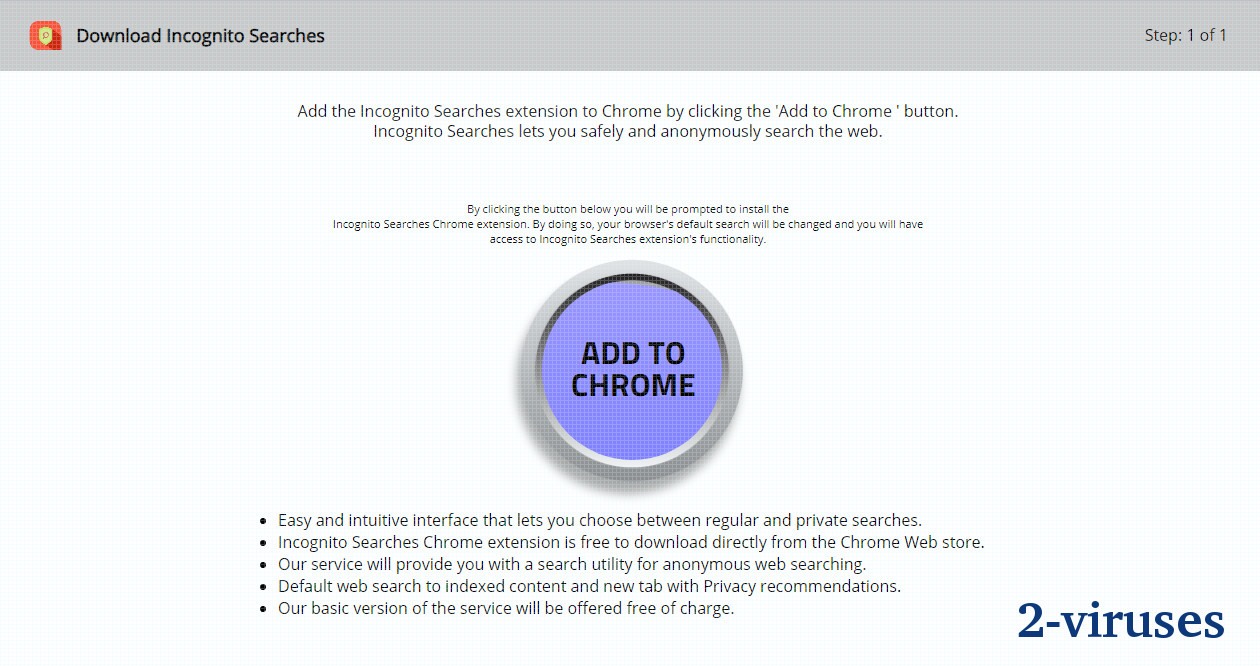 How to remove Incognito Searches hijacker
If you like the idea of Incognito Searches but don't like being forced to use Yahoo to search the Web, unfortunately, there is no way to separate these two things. That's the problem with search hijackers. Luckily, there are very easy ways to open a new Incognito browser window manually, so removing Incognito Searches is not a great loss for most users. The plugin can be removed from Chrome by right-clicking the extension's logo next to the omnibox and choosing the "remove" option.
If that doesn't work, malware on your computer must be interfering. To remove it or the adware that might have lead you to Incognito Searches, review the programs that you have installed. Experiment with removing them and see how that impacts your browsing experience. You can scan your computer with antivirus programs (Spyhunter for Windows, or Combo Cleaner for macOS) and see if they detect anything suspicious.
To avoid malicious ads, stay away from ad-filled websites. That might not be practical, but if you can find a safer alternative for any dubious sites that you use regularly, that would be great for your security. Bugs in outdated software are taken advantage of by some of the most malicious ads to automatically download viruses, so make sure to update your browser and other programs. And remove applications that are considered dangerous because they usually have a bad reputation for a reason.
Automatic Malware removal tools
TopRemoving Incognito Searches Hijacker from Chrome
Click on the menu button on the top right corner of a Google Chrome window. Select "Settings".

Click "Extensions" on the left menu bar.
Go through the extensions list and remove programs you do not need, especially similar to Incognito Searches. Click on the trash bin icon next to Incognito Searches Hijacker or other add-ons you want to remove.

Press on the "Remove" button on the Confirmation window.

If unsure, you can disable them temporarily.

Restart Chrome.
(Optional) Reset your browser's settings
If you are still experiencing any issues related to Incognito Searches, reset the settings of your browser to its default settings.
Click on Chrome's menu button (three horizontal lines) and select Settings.

Scroll to the end of the page and click on the Reset settings button.

Click on the Reset button on the confirmation box.

If you cannot reset your browser settings and the problem persists, scan your system with an anti-malware program.