IDP.ARES.Generic is a malware detection name used by Avast and AVG for malicious files. If you see a pop-up with a warning that IDP.ARES.Generic was detected on your computer, it's possible that your antivirus program just stopped some malware. It is also possible that a safe file was falsely detected. You might need the AVG/Avast support and other anti-malware scanners to help you figure out the problem.
Idp Ares Generic Detection quicklinks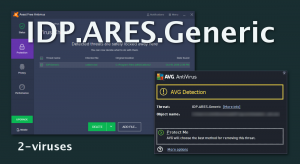 The IDP.ARES.Generic pop-up causes and solutions:
Causes of the detection

A program performed actions that were potentially malicious
A safe program accidentally triggered the detection
A malicious program was detected

Potential dangers of a IDP.ARES.Generic

The computer is slower
Ads and malicious sites opened in the browser
Passwords stolen and online accounts hacked
The computer can't be used normally

Find out if the detection is real

Contact support of your antivirus tool
Contact the developer of the file that was detected

Remove a real IDP.ARES.Generic threat

Use your antivirus program to remove the malware
Use other anti-malware tools (Combo Cleaner for MacOS, SpyHunter for PC)
Secure your computer and your online accounts
IDP.ARES.Generic is for malicious behavior
IDP.ARES.Generic is a version of the IDP.Generic detection name, which is also used by the same antivirus programs. Like it and URL:Mal, the IDP.ARES.Generic warning pop-up appears when performing an action, like updating or installing a program.
The designation IDP.ARES.Generic is for files that behave like malware and that are a type of the Ares Trojan. Behavior detection allows antivirus programs to recognize malware that is new and doesn't match old signatures. It also means that you might scan a file and it come up clean, but once you run it, a IDP.ARES.Generic pop-up shows up and the process is ended, the file moved to quarantine.
Not all IDP.ARES.Generic detections are for files that deserve it. Sometimes safe files are caught, too. No antivirus program is perfect, and it's better to err on the side of caution, so it makes sense that there are false detections for IDP.ARES.Generic.
If your case is a false positive, you can just make an exception for it. But is it safe? How to know if your computer really is infected with malware?
Generally, people whose computer is infected might experience some of these symptoms:
Slow computer.
System resources used more than normal.
Strange behavior in the browser, such as new tabs opening on their own, pop-up ads, redirects, changing the text that you type.
Random pop-ups with warnings and requests to allow access to some unknown process.
Unfamiliar programs being installed.
Your online accounts being hijacked.
Programs quitting on their own.
Being unable to create or delete files and install or remove programs.
Malicious files are sometimes programs downloaded from unofficial websites, pirated programs, files that you got in email, files with double extensions, and just normal-looking files. If you're not sure if an IDP.ARES.Generic file is actually dangerous, it's a good idea to scan it with other tools, upload it on VirusTotal, and contact your antivirus program's support. They should sort it out and let you know if the file is safe.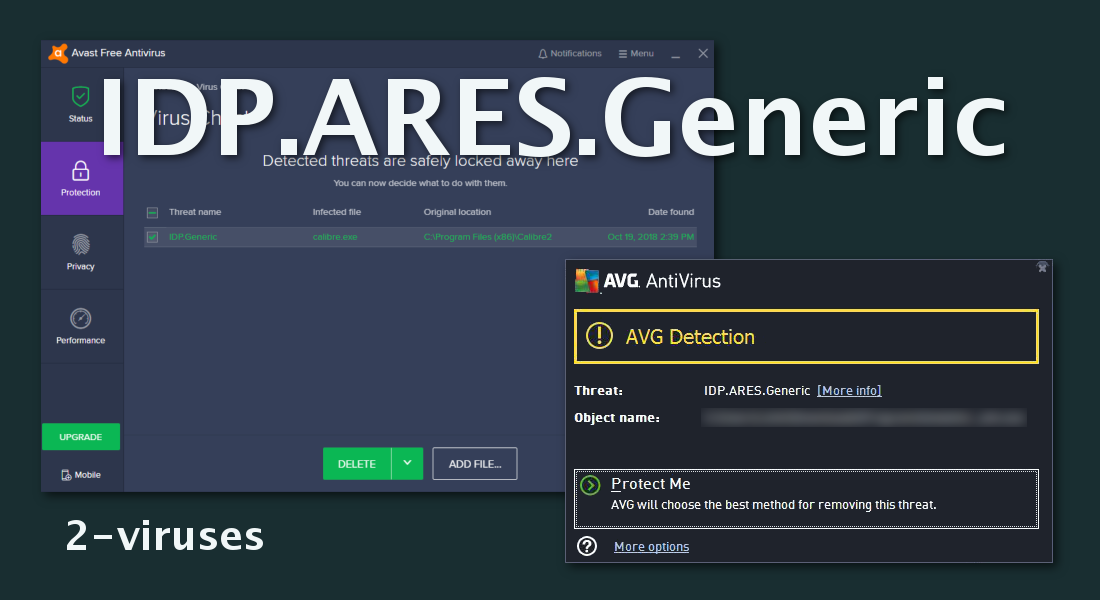 Sometimes it's a false positive
Although you should not assume this by default, there are plenty of cases when a program is detected as IDP.ARES.Generic falsely. There was a case when Discord was detected, as well as Dolphin. It's not malicious on the part of Avast or AVG, these programs are just trying to protect their users.
A known and safe program might get detected as IDP.ARES.Generic after an update of either the program, or your antivirus. The bigger and better-known a victim of the false positive detection is, the quicker the misunderstanding will be solved. But if a small and unpopular program is detected as IDP.ARES.Generic, you might need to contact AVG/Avast support yourself to figure it out. The file can be whitelisted if the antivirus vendors see that it is safe. Just take a screenshot of the IDP.ARES.Generic pop-up, go to your antivirus support forums and make a post with your case.
Remove IDP.ARES.Generic
If the IDP.ARES.Generic detection that you saw is the real deal, make sure to take some precautions. Let AVG/Avast get rid of the virus and figure out what infection it was. Your antivirus program might not know exactly, but you might be able to find out by scanning the file with other antivirus programs, like SpyHunter for PC or Combo Cleaner for Mac, and researching it. If you find good resources, they should give you an indication of what other harm might have been done.
You might need to uninstall other software. If your version of IDP.ARES.Generic was some kind of spyware, you might need to change your passwords and enable 2-step verification. If it was adware, you should probably keep an eye on your credit card to make sure no mysterious payments are made. You might have to reinstall software updates (including for your antivirus program) because some malware deletes it.
If IDP.ARES.Generic was a trojan (which is what the name indicates), it was possibly downloaded in email, from pirating sites, or by other malware already on your computer. It probably doesn't spread in your network and into your removable storage.
Automatic Malware removal tools
How to remove IDP.ARES.Generic Detection using Windows Control Panel
Many hijackers and adware like
ARES Detection
install some of their components as regular Windows programs as well as additional software. This part of malware can be uninstalled from the Control Panel. To access it, do the following.
Start→Control Panel (older Windows) or press Windows Key→Search and enter Control Panel and then press Enter (Windows 8, Windows 10).
Choose Uninstall Program (if you don't see it, click in the upper right next to "View by" and select Category).
Go through the list of programs and select entries related to IDP.ARES.Generic Detection . You can click on "Name" or "Installed On" to reorder your programs and make ARES Detection easier to find.
Click the Uninstall button. If you're asked if you really want to remove the program, click Yes.
In many cases anti-malware programs are better at detecting related parasites, thus I recommend installing Spyhunter to identify other programs that might be a part of this infection.