Search.searchddn.com virus is a malicious add-on that comes from a Polarity Technologies LTD. This company is well known for malware development and it is just another browser hijacker that will try to change the settings on your web browser.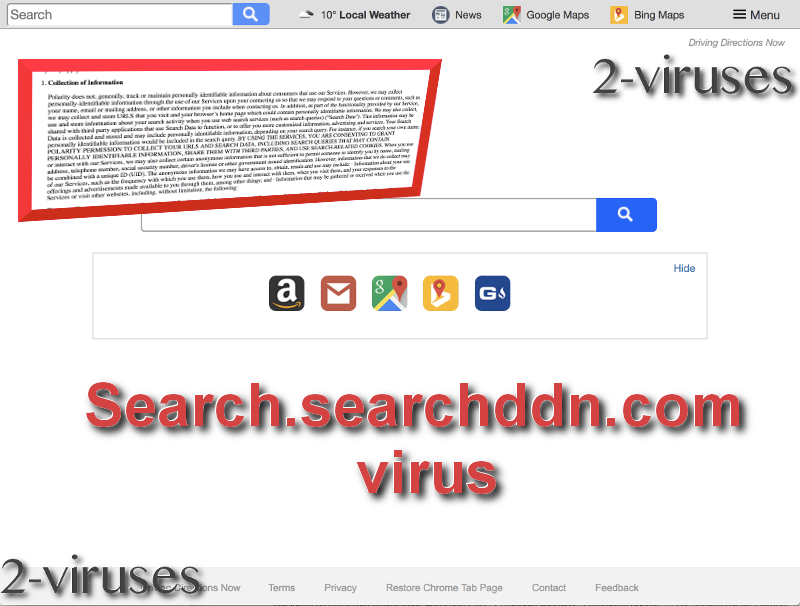 This specific infection is targeted to users of Google Chrome – it operates as browser add-on and is not compatible with any other web browser. If you think that your web browser is infected, there is a very easy way to check it – simply open a new tab and if www.search.searchddn.com website appears there, even though you haven't made this change yourself, it is clear that you are suffering from a computer virus.
Please proceed reading this post and we will teach you how to efficiently eliminate this infection and remove Search.searchddn.com from web browser for good.
Malicious new tab add-on
This add-on is described as a tool that will provide you with various maps and ability to get directions by simply opening new tab. In fact, maps theme is kind of popular among browser hijackers, as there are Home.mapsnt.com, Search.yourmapsnow.com, MapsEasy and other similar browser hijackers out there.
If you fall for these lies and install Search.searchddn.com add-on (or it gets installed without you even being aware of that), it will automatically make some changes on your web browser. It includes changing both new tab and default search engine websites to www.Search.searchddn.com.
However, Search.searchddn.com is not even a search engine. It's just a "smart" landing page that accepts search submissions, but all results are generated using Yahoo search engine, so there is literally no point in using this website as a middle man. Vice versa, using it can lead you to some issues related to your security.
It's even stated in the Privacy Policy document of Polarity Technologies LTD, that they are collecting your search queries and the data can be transferred to other parties. Even though they promise not to collect personally identifiable information, it might be leaked through searches and that's your own fault:
BY USING THE SERVICES, YOU ARE CONSENTING TO GRANT POLARITY PERMISSION TO COLLECT YOUR URLS AND SEARCH DATA, INCLUDING SEARCH QUERIES THAT MAY CONTAIN PERSONALLY IDENTIFIABLE INFORMATION, SHARE THEM WITH THIRD PARTIES, AND USE SEARCH-RELATED COOKIES.
As you probably understand, it's a huge threat to your privacy and security, so the use this add-on should be considered as risky.
Besides that fact that it puts you and your data in danger, Search.searchddn.com it is also useless. Even though developers of this extension promises you to give easy and effortless access to various maps online, in reality all you are going to get is an additional toolbar with links to Google and Bing maps. Again, you can simply navigate to any of those websites without the help of Search.searchddn.com, there is absolutely no point to use it.
Fast removal of Search.searchddn.com infection
Probably the best thing about this unwanted tool is that it's easy to get rid of. However, certain programs are needed to help you do that.
Firstly, you have to remove Search.searchddn.com  from Google Chrome web browser by right-clicking on their icon that is placed on a toolbar and selecting "Restore Chrome Tab Page" option. After this, the extension should be already disabled and your old browser settings restored. That is not it – you also have to make sure that no files that are associated with this virus are left on your computer.
Even though it is possible to do that manually, it can be really complicated if you are not an experienced computer user. That's why you need to scan your system with either Spyhunter. Both of those programs feature a huge virus database and will be able to detect all malicious files that are stored on your hard drive.
Automatic Malware removal tools