Search.searchemailo.com might also go by the name Email Access – that's the name of the extension that causes all the fuss once added to the Google Chrome we browser.
That's right, this malware which is categorised as browser hijacker, is only compatible with Google Chrome and is operating as browser add-on. We have decided to inspect it further and provide our readers with valuable information how to remove Search.searchemailo.com from a web browser and how to avoid infections like this in the future.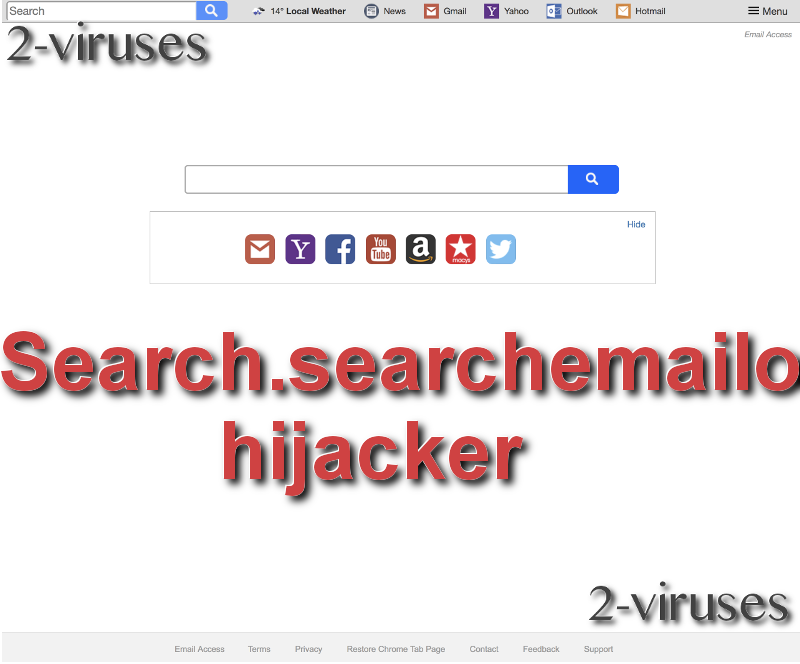 How Email Access extension was added to your web browser?
An obvious question is – how this malicious extension managed to land on your web browser? As most of viruses of this type, it is traveling as a bundle to other software that can be downloaded from the internet. For that matter, when you download and install some sort of free media player, flash game or other freeware, during the installation an offer to add additional tools might pop-up.
Moreover, those offers usually are default, i.e. if you don't change any preferences on the installation window, Search.searchemailo.com will be automatically added to Google Chrome. We don't have the information about specific software that is distributing this add-on, therefore you should be careful all the time. It would be even better to protect your computer with anti-malware software which features real time protection and can detect infection on the go.
Why Search.searchemailo.com is considered to be browser hijacker?
Well, this extension was developed by the notorious Polarity Technologies LTD – company which is creating almost exclusively only malware. Also, this extension will act as an actual browser hijacker once installed on your Internet browser.
Speaking of symptoms delivered by Search.searchemailo.com, they are almost identical to the ones brought by search.yourspeedtesthub.com or search.dsearchm3f2.com viruses – both of them were also developed by Polarity. You definitely can't say that those cyber criminals are very creative, since they only change names and marketing strategy, but always use the same technical approach.
This is the chart of traffic sources for search.searchmailo.com delivered by SimilarWeb analysis. Every user that this website gets come directly to the website. That is a clear sign that the website itself is used by browser hijacker which redirects traffic to it. To be more exact, searchemailo will set www.search.searchemailo.com as your default new tab page, so you will be visiting this website more than often.
It kind of looks harmless, however, there are some bad things about it. The main purpose of this extension is to compliment users with an easier access to their e-mail accounts. For that reason you will see a new toolbar with links to Gmail, Yahoo, Outlook and other popular e-mail services providers. However, that's not really helpful as you can just visit those websites directly anyways.
One of the most unwanted traits of this hijacker – it will definitely track your web searches. That is very dangerous because some of your private and sensitive information might be revealed to third parties this way. Until this extension is not removed from your computer, we do not recommend to search the web at all.
Also, Search.searchemailo.com can implement other malware into your computer and cause unwanted symptoms, such as additional advertisements, redirects and so on.
Should I remove searchemailo and how to do that?
Yes, you definitely should get rid of Search.searchemailo.com as soon as possible. And it's not that hard – open a new tab page and select "Restore Chrome Tab Page" option in the footer. Then, download anti-malware application (if you don't have one yet) and scan your computer with it. Some of the malicious files related to Email Access extension might be stored on your computer, therefore they should be detected and removed.
If you don't know which anti-malware to use, take a look at our reviews section. The ultimate tool to deal with browser hijacker would be either Spyhunter. Of course, you can try other tool of your choice too.
TopHow To remove Search.searchemailo.com hijacker from Google Chrome:
Click on the 3 horizontal lines icon on a browser toolbar and Select More Tools→Extensions

Select all malicious extensions and delete them.

Click on the 3 horizontal lines icon on a browser toolbar and Select Settings

Select Manage Search engines

Remove unnecessary search engines from the list

Go back to settings. On Startup choose Open blank page (you can remove undesired pages from the set pages link too).
If your homepage was changed, click on Chrome menu on the top right corner, select Settings. Select Open a specific page or set of pages and click on Set pages.

Delete malicious search websites at a new Startup pages window by clicking "X" next to them.

(Optional) Reset your browser's settings
If you are still experiencing any issues related to Search.searchemailo.com hijacker, reset the settings of your browser to its default settings.
Click on a Chrome's menu button (three horizontal lines) and select Settings.
Scroll to the end of the page and click on theReset browser settings button.

Click on the Reset button on the confirmation box.

If you cannot reset your browser settings and the problem persists, scan your system with an anti-malware program.
Automatic Malware removal tools