HDD Fix - How To Remove?
HDDFix is a scam tool, computer virus which will be presented as a powerful hard disk defragmenter. However, this is not true as this malware is even incapable to detect any error and solve the problems connected with your hard disk. Even more, HDD Fix is dangerous because it will aggressively try to steal your money after its trickily designed campaign based on fake system scanners and alerts. Being created by the same cyber terrorists who released Quick Defrag, Easy Scan, Full Scan or HDD Low, HDD Fix must be removed from the system as soon as possible, so get a reputable anti-spyware if you notice this scam.
HDD Fix enters computers or PC networks with the help of trojan horses that mostly use security vulnerabilities for getting inside undetected. Once this scam has accomplished its intrusion, it will start playing havoc with your computer like interrupting into your browsing or disabling all security programs found. The one and only reason why it displays all these errors is trying to make you start thinking that your computer is in danger and you need some "licensed" software from fixing it. However, it must be understood that HDD Fix reports only invented errors that mostly don't even exist:
Requested registry access is not allowed. Registry defragmentation required
Read time of hard drive clusters less than 500 ms
32% of HDD space is unreadable
Bad sectors on hard drive or damaged file allocation table
GPU RAM temperature is critically high. Urgent RAM memory optimization is required to prevent system crash
Drive C initializing error
Ram Temperature is 83 C. Optimization is required for normal operation.
Hard drive doesn't respond to system commands
Data Safety Problem. System integrity is at risk.
Registry Error – Critical Error
Critical Error!Windows was unable to save all the data for the file [random name]. The data has been lost. This error may be caused by a failure of your computer hardware.
Windows detected a hard drive problem.
A hard drive error occurred while starting the application.
Critical Error
RAM memory usage is critically high. RAM memory failure.
Critical Error
Windows can't find hard disk space. Hard drive error
Additionally if not removed from the system, HDD Fix will keep running just after you reboot your computer and will always return the same exaggerated results. You must realize that this software is not real defragmenter and you must remove HDD Fix. Use the instructions given below and get rid of this scam immediately.
Automatic HDD Fix removal tools
We might be affiliated with some of these programs. Full information is available in disclosure
Manual removal
Important Note: Although it is possible to manually remove HDD Fix, such activity can permanently damage your system if any mistakes are made in the process, as advanced spyware parasites are able to automatically repair themselves if not completely removed. Thus, manual spyware removal is recommended for experienced users only, such as IT specialists or highly qualified system administrators. For other users, we recommend using Reimage or other tools found on 2-viruses.com.
Processes:
Files:
Dll:
Registers:
HDD Fix screenshots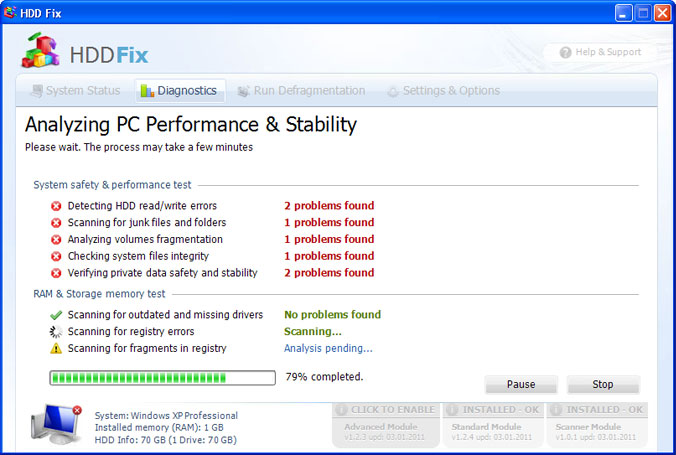 About the author