GorillaPrice is an advertising program that shows annoying ads when browsing most popular shops and other websites. It hijacks advertisements from Ebay, Amazon and other sites in hopes that one would press on these ads instead of the regular ones. It uses Yontoo platform for the promotion display. While they claim that this "helps" in searches for the best price, GorillaPrice collects your browsing information, causes a risk to your privacy and steals advertisement money from websites you visit.
One gets Gorilla Price installed together with "free" programs from various websites. Typically, it is a marginally useful program that can not hope someone will buy it, so the owners of it agree to bundled their software with adware and hijackers. Quite typically, other programs included in the same bundle are Optimizer Pro and Delta Search virus. Depending on the aggressiveness of these installers there might even be no way to refuse installing GorillaPrice or more dangerous programs. Even if you are ok with the breach of your browsing privacy and  popups caused by GorillaPrice, you will most likely not want to ignore much more annoying functioning of other programs that came bundled with it. Thus it is obvious, that you should clean your PC in this case.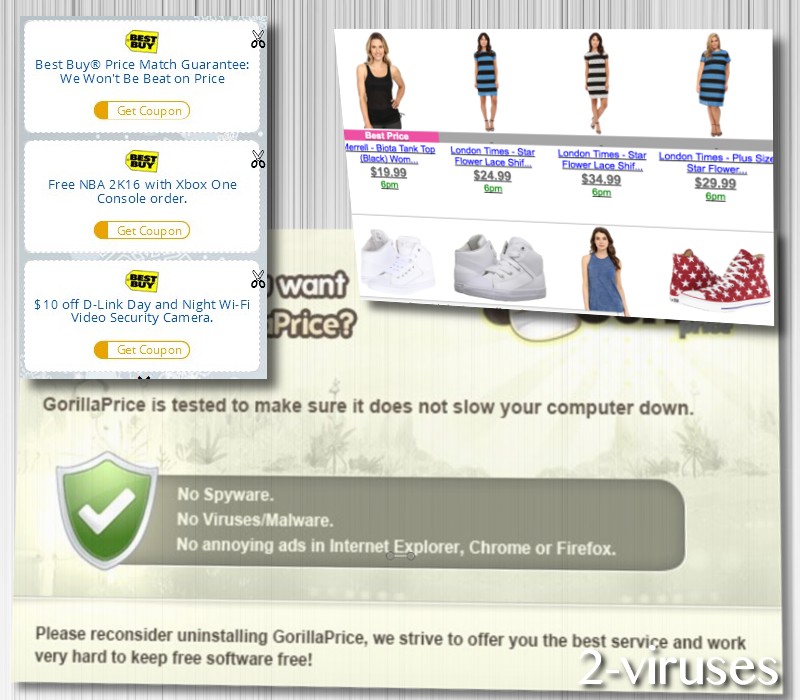 Another problem is GorillaPrice adware uninstall process. In many cases the uninstaller is not working or flagged as malware. So you might have to resort to RevoUninstaller or (even better) anti-malware tools like Spyhunter which can remove both GorillaPrice and related hijackers. Keeping antivirus up to date would help to prevent such infections.
If anti-malware programs are not available, a temporary fix is to disable Yontoo in all browsers. This would prevent GorillaPrice from working.
Google Chrome:
Press 3 horizontal lines -> Settings -> Extensions -> Remove Yontoo and everything GorillaPrice related.
Mozilla Firefox:
Firefox ->Add-ons, go through pluggin and extension list and delete everything Yontoo and Gorilla Price related.
Internet Explorer:
Open IE -> go Tools -> Manage Add-ons -> Remove everything Yontoo and Gorilla Price related from there.
Automatic Malware removal tools
Manual removal