GetFormsOnline is a Chrome browser extension that helps you find your government form PDF files. It also happens to be an advertising platform that takes over the search engine and fills your search results with ads.
Getformsonline Hijacker quicklinks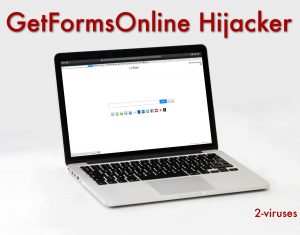 If you want to get rid of the GetFormsOnline toolbar, you only need to go to your browser settings. The developer, Mindspark, is known for distributing potentially unwanted programs (PUPs) and most of their products collect information about their users' browsing habits in order to advertise to them.
Details about GetFormsOnline
The description of this extension starts like this:
Find essential government forms for taxation, healthcare, travel, immigration, power of attorney, and more!!
The Google Chrome has the permission system which limits how much an app or an extension can do to a browser or a mobile OS. According to Chrome,
Permissions help to limit damage if your extension or app is compromised by malware.
We can look at the permissions that GetFormsOnline has declared:
Read and change your data on a number of websites
Replace the page you see when opening a new tab
Read your browsing history
Manage your downloads
Manage your apps, extensions, and themes
Unlike the extensions that don't rely on ads, GetFormsOnline declares that they need your browsing history. And it's the same with most of the extensions which declare that they need your data for advertising in their Privacy Policy. Your browsing history and even specific search terms, your IP, your demographic info is collected by GetFormsOnline.
This is not necessarily malicious, but if this information is leaked or sold to the wrong people, it could be used in malicious ways. Besides, it's risky to grant excessive permissions to any extension that asks for them. Flawed extensions can poke security holes in your browser, enabling malware, like adware, to infect the browser.
The GetFormsOnline extension is associated with Ask and MyWay (that's the search engine that's forced on the users of GetFormsOnline). GetFormsOnline was developed by Mindspark, a company that has already developed many clone browser hijackers, like AnytimeAstrology, TotalDatingGuide, and Myfashiontab.com.
What does GetFormsOnline do?
GetFormsOnline is supposed to help you more easily find government forms, so it puts a few links to a website which has a collection of various government forms, getformsonline.com.
GetFormsOnline does more than just add links to the new tab — it replaces the whole page with one of its own. And it modifies browser settings to replace the search engine — without even warning the user. Now, when you search for things using the search bar provided by GetFormsOnline, you will see a lot of ads in the results page. That's what the new search engine is for — to be able to advertise the users of GetFormsOnline. Not just advertise, but also collect information about the users and share it with advertisers to be able to advertise more effectively. It might be more appropriate to call GetFormsOnline adware, as its reason for hijacking the browser is to be able to advertise to you.
Are there alternatives?
Modify your new tab page yourself! All that GetFormsOnline does for the forms is put a few links to getformsonline.com. You can do that, too — and more. Chrome, Safari, Firefox and other browsers usually have some options for customising your new tab page. Take advantage of these options. If you like getformsonline.com, add it to the new tab page. Set whichever search engine you like as your default one. The GetFormsOnline toolbar is ugly and outdated, and you can do better.
How to remove GetFormsOnline
Access your browser settings and remove any extensions that you don't want in your browser. If you want to make sure that no adware is on your computer afterward, you can use an antivirus program like Spyhunter, but if you did not accidentally download or install anything, removing GetFormsOnline should get rid of the excessive ads and restore the search engine and the new tab to normal.
Automatic Malware removal tools
TopHow To remove GetFormsOnline Hijacker from Google Chrome:
Click on the 3 horizontal lines icon on a browser toolbar and Select More Tools→Extensions

Select all malicious extensions and delete them.

Click on the 3 horizontal lines icon on a browser toolbar and Select Settings

Select Manage Search engines

Remove unnecessary search engines from the list

Go back to settings. On Startup choose Open blank page (you can remove undesired pages from the set pages link too).
If your homepage was changed, click on Chrome menu on the top right corner, select Settings. Select Open a specific page or set of pages and click on Set pages.

Delete malicious search websites at a new Startup pages window by clicking "X" next to them.

(Optional) Reset your browser's settings
If you are still experiencing any issues related to GetFormsOnline Hijacker, reset the settings of your browser to its default settings.
Click on a Chrome's menu button (three horizontal lines) and select Settings.
Scroll to the end of the page and click on theReset browser settings button.

Click on the Reset button on the confirmation box.

If you cannot reset your browser settings and the problem persists, scan your system with an anti-malware program.