Fake online scans are being used to promote deceptive and scammy tech support companies. This time, they're abusing the name of McAfee, a cybersecurity firm.
Websites are created and advertised online that perform fake scans, pretending to find "security risks" and "threats" on your computer. Then, in order to solve these imaginary problems, you're encouraged to call a phone number that's displayed prominently on the webpage.
The fake scan is not harmful in itself, but it's very dangerous to call the phone number or to install software based on the instructions given by the deceptive website.
Fake Mcafee Online Scans quicklinks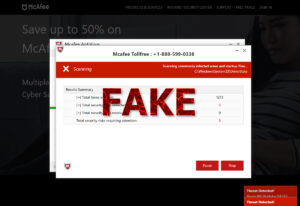 About the fake McAfee scans:
Type of threat
Tech support scam,

phishing scam.

How the fake McAfee virus scans work
Scammers impersonate McAfee because it is a trusted brand,

the scammers then pretend to detect problems on your computer and to fix them,

they charge high fees for these fake services.

How to avoid the fake McAfee scans
Close the malicious page,

if needed, check your computer for adware.

How to deal with tech support scams
Restore your computer to an earlier copy,

remove all software that was installed by the scammers by scanning your computer with antivirus programs (Combo Cleaner for Mac, Spyhunter for PC, etc.).
What is behind the fake McAfee scans?
McAfee didn't create this fake online scan, but its name is well-known and trusted. Founded in the 1980s,  McAfee is one of the earliest antivirus companies and there are few people unfamiliar with it.
So, when scammers look for company names to take advantage of, McAfee is right there with Microsoft, Apple, Google, and Amazon.
Scammers create and use these fake virus alerts in order to deceive people into calling scam call centers that provide fake tech support services. The technicians who work in these call centers pretend to fix the problems raised by the fake McAfee scan. Then the scammers charge people money for these "services". Like McAfee says, that sum ends up being hundreds of dollars (How To Spot Tech Support Scams).
The same scammers may also steal files, install spyware, steal money from the victims' bank accounts by manipulating the appearance of their bank's webpage, etc. The fake McAfee scan itself is not very dangerous, but it can lead to a very dangerous place (FBI informant provides a glimpse into the inner workings of tech support scams).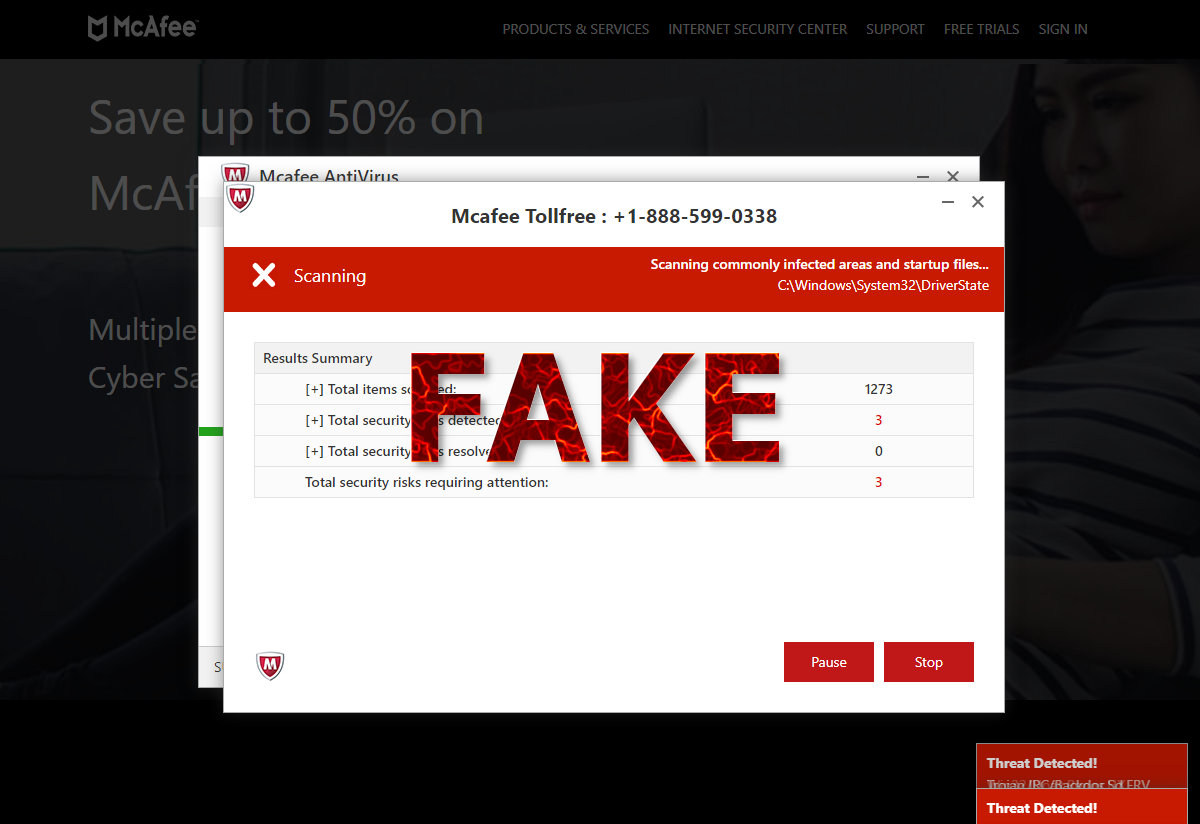 How the fake scans spread
Malicious ads and redirects are used to promote the fake McAfee virus scans:
Ads on pirating websites, free movie sites, file download sites, and other controversial websites may open pop-ups that lead to the fake McAfee scan sites.
Vulnerable (old, abandoned) websites may get infected with malicious redirects that cause visitors to be randomly forwarded to fake virus scans and other dangerous websites.
Adware infections and notification hijackers also cause malicious ads, including fake virus alerts, to appear.
Websites that host these fake McAfee scans tend to quickly get flagged as dangerous. For example, here's a scan of one on VirusTotal – five scanners flag it as Malicious or Phishing (five is a relatively high number of detections for a malicious website).
Unfortunately, new malicious pages quickly replace those that are taken down. As a result, it's not easy for antivirus programs and malicious site blockers to effectively block all the fake scans.
How to protect yourself from the fake McAfee virus scans
Close the malicious page
The fake McAfee scan and similar fake alerts are supposed to make the people who see them think that their computer is infected with malware.
Don't ever believe an online virus alert. Websites cannot see inside your computer. They can't know if your PC is infected. This is why websites like VirusTotal require you to upload your files manually.
Close the page and don't worry yourself about it. Most likely, you just happened upon a malicious redirect – as long as your operating system is up-to-date, you're fine.
If you experience excessive ads, it can be helpful to check your computer for adware infections. Still, it's possible to see malicious ads even when your PC is clean.
Undo the harm done by the scammers
In case you did call the technicians behind the fake McAfee virus alert, the situation is a bit more serious:
It's recommended to disconnect your computer from the internet so that the scammers can't connect to it.
Restore an earlier image of your computer or uninstall all programs that were installed by the fake tech support.
If you revealed your payment details to the scammers, call your bank and tell them everything that happened. They will know what to do.
We recommend scanning your computer with an antivirus program (Combo Cleaner for macOS, Spyhunter for Windows, and others). Remove all malicious and potentially unwanted programs that get detected.
Automatic Malware removal tools
Remove unwanted programs and apps
How to remove Fake McAfee Online Scans using Windows Control Panel
Many hijackers and adware like
Fake McAfee Online Scans
install some of their components as regular Windows programs as well as additional software. This part of malware can be uninstalled from the Control Panel. To access it, do the following.
Start→Control Panel (older Windows) or press Windows Key→Search and enter Control Panel and then press Enter (Windows 8, Windows 10).
Choose Uninstall Program (if you don't see it, click in the upper right next to "View by" and select Category).
Go through the list of programs and select entries related to Fake McAfee Online Scans . You can click on "Name" or "Installed On" to reorder your programs and make Fake McAfee Online Scans easier to find.
Click the Uninstall button. If you're asked if you really want to remove the program, click Yes.
In many cases anti-malware programs are better at detecting related parasites, thus I recommend installing Spyhunter to identify other programs that might be a part of this infection.
How to remove Fake McAfee Online Scans from macOS
Delete
Fake McAfee Online Scans
from your applications.
Open Finder.
In the menu bar, click Go.
Select Applications from the dropdown.
Find the Fake McAfee Online Scans app.
Select it and right-click it (or hold the Ctrl and click the left mouse button).
In the dropdown, click Move to Bin/Trash. You might be asked to provide your login password.