"Edge update" prompts are fake update warnings that want to get you to install an app or a browser extension. In reality, they're just deceptive advertisements for a potentially unwanted program.
The "Edge update" alert looks like a Windows box and appears on a deep blue background. It says: "Important Edge update available. Click Install to continue.", but if you agree to install it, you just get a search hijacker installed on your browser. Your search results will look different, with too many ads and low-quality results.
The extension that the "Edge update" prompt was promoting needs to be removed in order to restore your browser's normal behavior.
Fake Edge Update Pop Ups quicklinks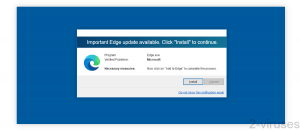 About the "Edge update" warning:
Threat type
Browser hijacker,

scam.

How "Edge update" spreads
Pop-up ads and malicious redirects on websites,

adware viruses.

How to avoid malicious ads
Block malicious sites,

disable notification prompts,

close suspicious pop-ups without interacting with them.

How to remove "Edge update" hijackers
Remove unwanted browser extensions,

remove adware and malware with antivirus scanners (Spyhunter for PC, Combo Cleaner for Mac, others)
What causes the "Edge update" pop-ups?
Fake update prompts
The "Important Edge update available" pop-up is an ad very similar to the fake Chrome and Firefox updates. It's a box that claims that a new update for Edge was released y Microsoft.
Installing new software updates is very important for cyber security, however, Edge and other browsers usually install updates in the background, without even asking you or telling you. Update prompts like this don't really appear anymore. Not real ones, at least.
Scammers create webpages that look just like real Windows message boxes (you can even drag them around the page!) that ask you to install an update. They look very realistic, but they're entirely fake. The "Edge update" pop-ups are basically just ads.
Ads online
The "Edge update" pop-ups appear on websites as pop-up ads. There are a few kinds of websites that display these sorts of ads:
torrenting, video streaming, converting sites that open new webpages in your browser randomly,
small, niche, or old sites that got malicious code injected into them by cybercriminals, causing redirects to malicious sites against the wishes of the sites' administrators.
In the latter case, like if your favorite site suddenly started opening "Edge update" and other bad ads, write a message or an email to its administrators. They probably don't want their site to be hurting visitors with "Edge update" viruses. They'll remove the infection right away.
It is also possible that adware viruses got into your computer and started displaying bad ads in your browser. If every other website is showing pop-up ads (more than usual), then an adware virus might be the cause of "Edge update" pop-ups.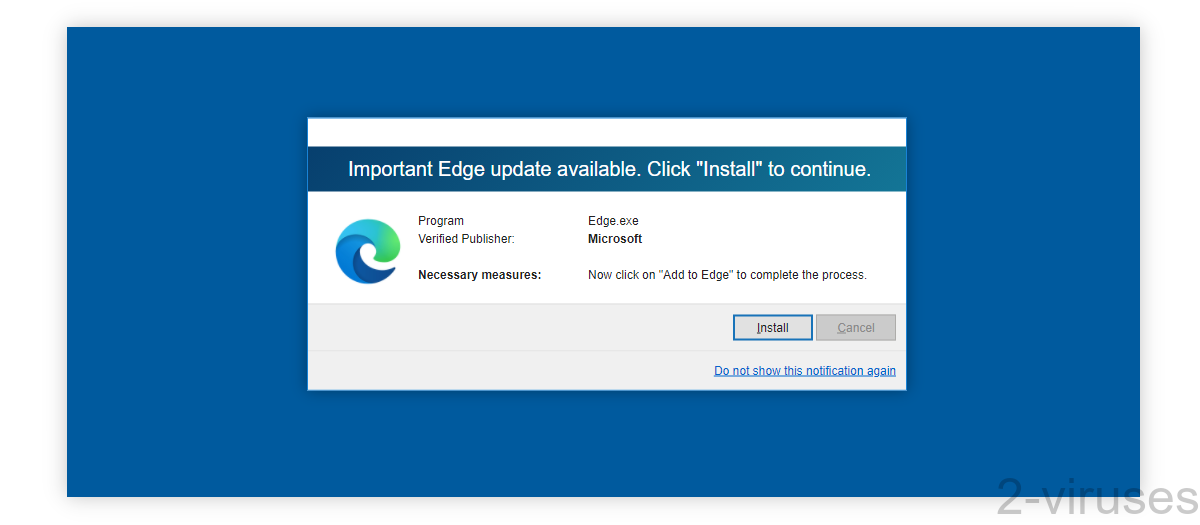 What do the "Edge update" pop-ups do?
Replace the search engine
If you see the "Edge update" pop-up, close its browser tab. No matter which button on the "Edge update" window you click, it'll begin its hijacker installation process.
The "Edge update" pop-ups just want you to install random browser extensions. In my case, it was an "Emoji" extension that hijacked my search engine (the site that displays web search results) and replaced it with Websearches.club, a search engine that has almost no features that would make it worth using.
The simple reason why "Edge update" is used to hijack your search results is that Websearches.club shows a lot of ads above its results. In fact, it sometimes shows more ads than search results. It makes money from those ads, but only if a lot of people visit the site.
"Edge update" and other scams are used to infect people's browsers with Websearches.club and to force people to use the site.
In my case, the "Edge update" scam was being promoted by the site Edgeupdate.xyz. The same site also shows fake Flash Player update messages that also spread search hijackers.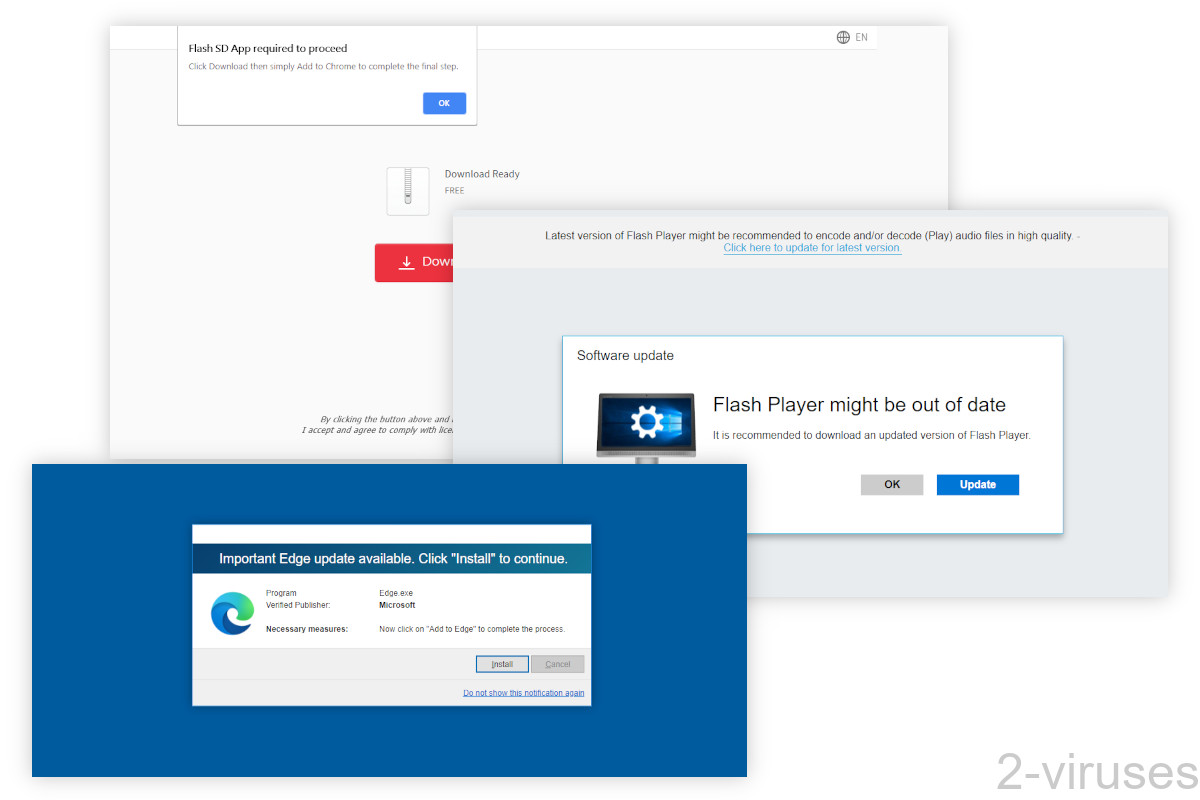 The "Edge update" scam reminds me of the recent case of a bunch of Edge extensions being removed from the web store for hijacking searches with Oksearch.org. Remember – if your browser starts misbehaving, it's probably the fault of one of the extensions that are installed in your browser. Even trusted and reputable extensions turn evil sometimes.
How to remove "Edge update" ads
Luckily, some sites already detect the site spreading the "Edge update" scam as malicious: Virustotal.com. So, if you use an anti-malware program that blocks malicious sites from being opened, then you might avoid some infections.
Another thing that helps avoid malicious ads is keeping an eye on the health of your computer and your web browser.
Check your device with antivirus programs, such as Spyhunter for Windows, Combo Cleaner for macOS, and others. If any potentially unwanted apps or adware are found, remove them.
Check your notification settings and hide notification prompts.
Finally, check your browser extensions as described below. Remove those add-ons that you didn't mean to install and that you don't use. You can also report them for malicious behavior.
Automatic Malware removal tools
How to restore browser settings
How to remove Fake "Edge Update" Pop-Ups from Microsoft Edge:Top
Click on the menu button on the top right corner of a Microsoft Edge window. Select "Extensions".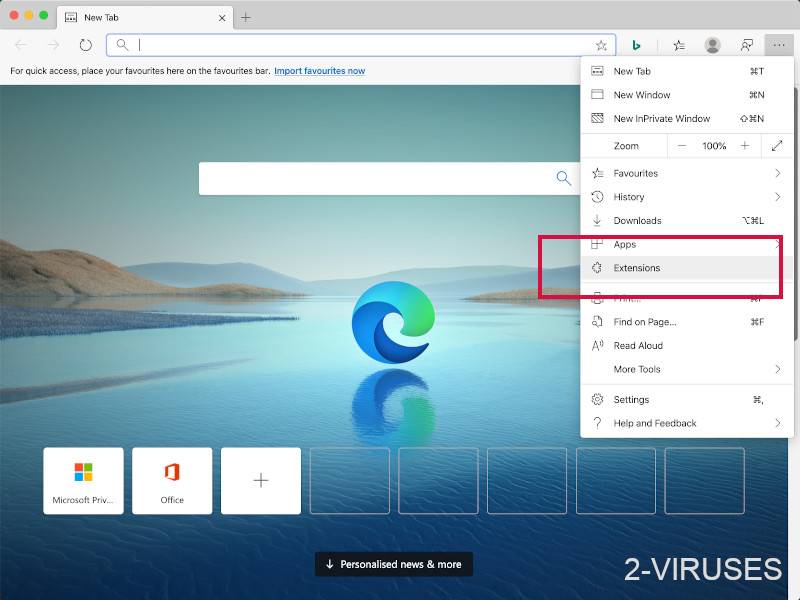 Select all malicious extensions and delete them.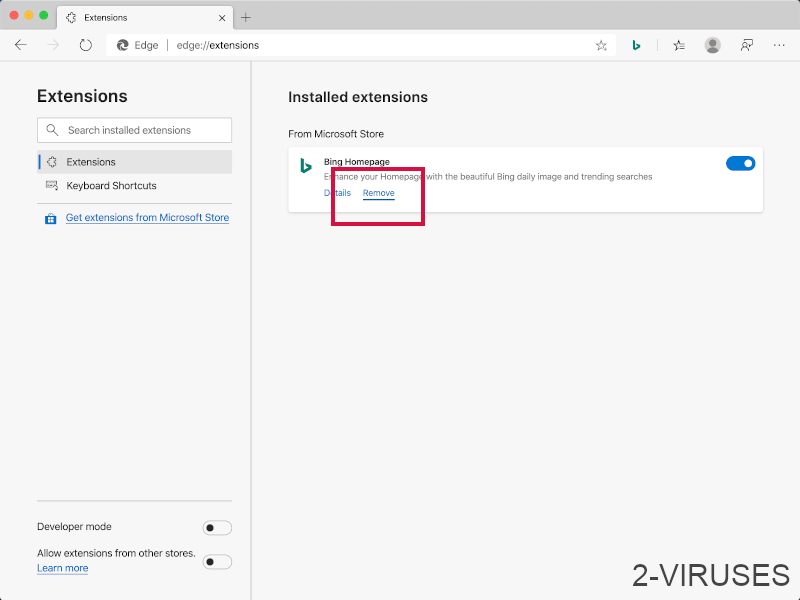 Click on the three-dot menu on the browser toolbar and Select Settings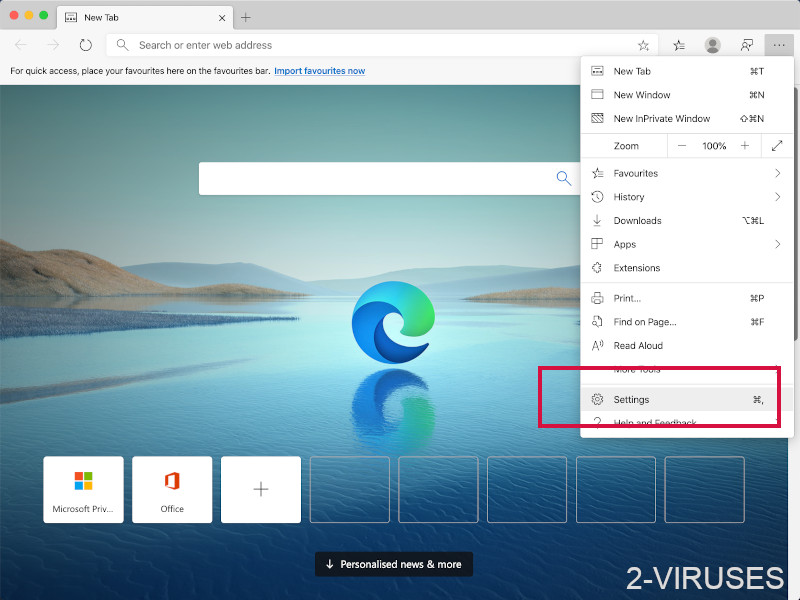 Select Privacy and Services and scroll down. Press on Address bar.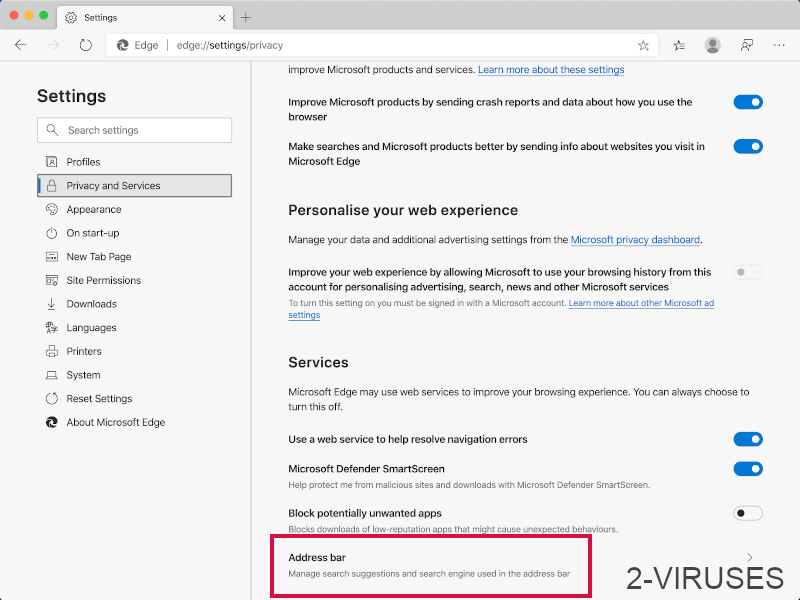 Choose Manage search engines.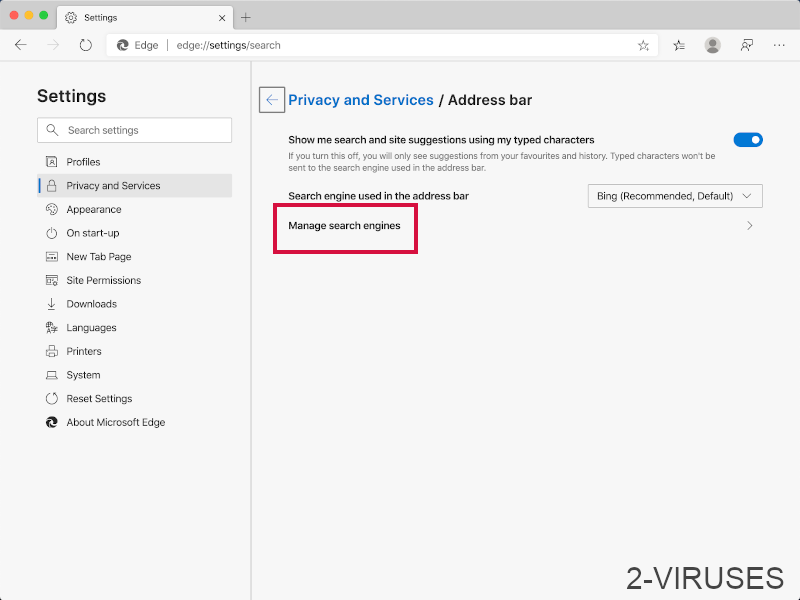 Remove unnecessary search engines from the list: open the three-dot menu and choose Remove.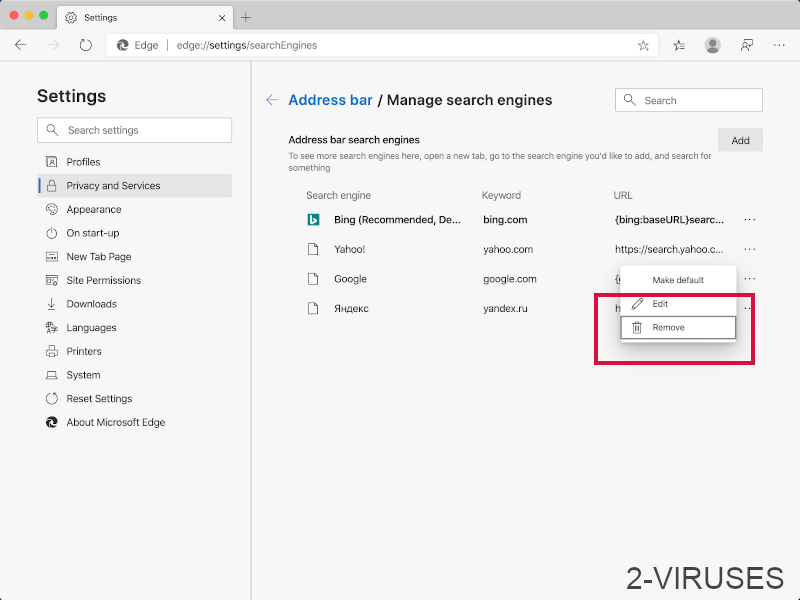 Go back to Settings. Open On start-up.
Delete malicious search websites at Open specific page or pages by opening the three-dot menu and clicking Delete.
(Optional) Reset your browser's settings
If you are still experiencing any issues related to
Fake "Edge Update" Pop-Ups
, reset the settings of your browser to its default settings
Click on Edge's menu button and select Settings. Click on the Reset Settings button on the left.
Press the Restore settings to their default values option.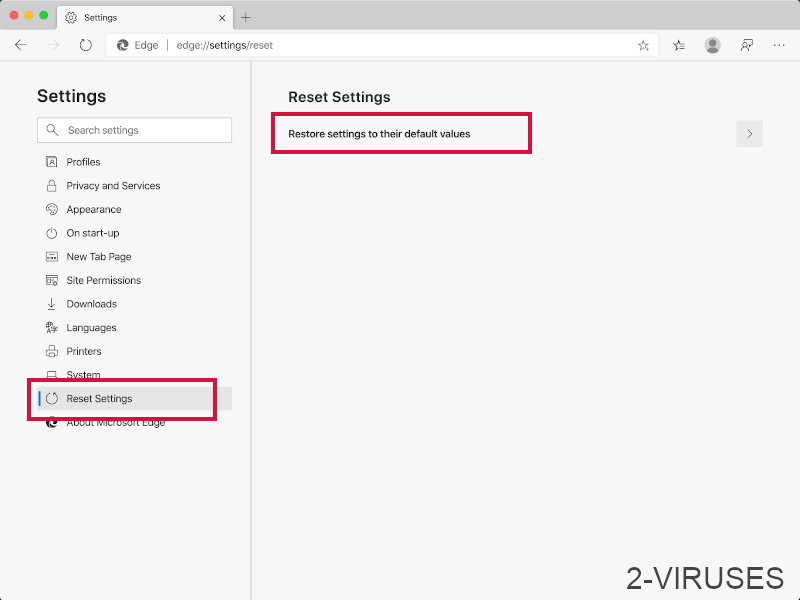 Click on the Reset button on the confirmation box.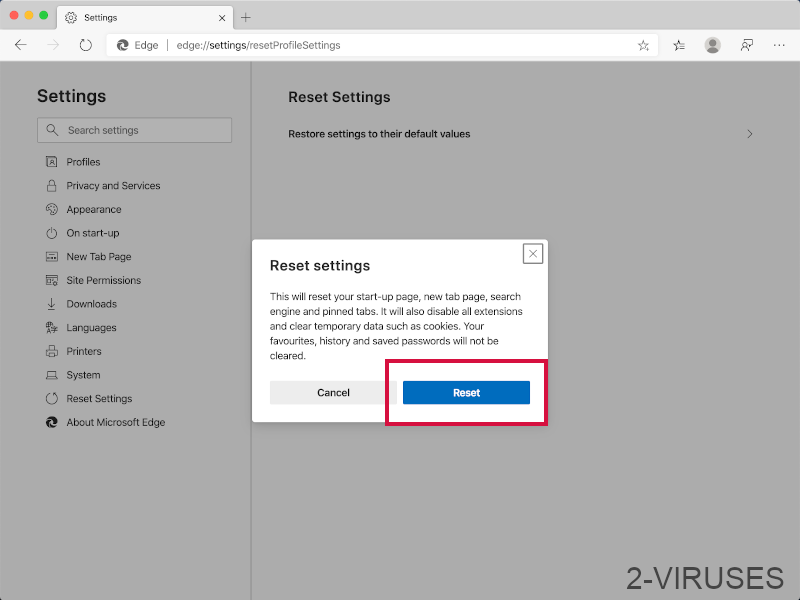 If you cannot reset your browser settings and the problem persists, scan your system with an anti-malware program.