"Firefox requires a manual update" scam is a well-designed landing page which urges people to install an update for their Mozilla Firefox browser. However, this is nothing but a hoax, and it can be presented in English, Spanish,, Italian, French and other languages. It actually tries to install an add-on that would hijack the browser for malicious activities.
Firefox Requires A Manual Update Scam quicklinks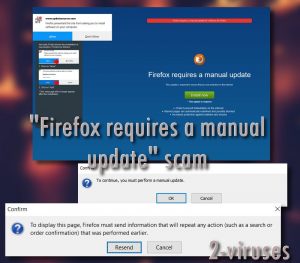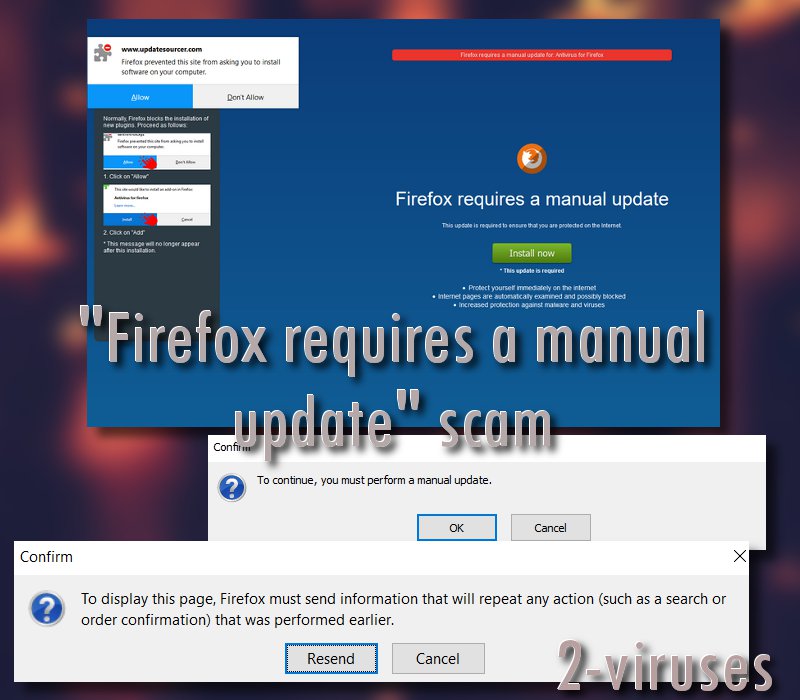 We have observed quite a few similar fake notifications, like "Urgent Firefox Update" and "Firefox need to update immediately". The new "Firefox requires a manual update" scam is a fresh scam and many people might believe it to be legitimate, especially when it more sophisticated that the fake updates before (Dont Fall For Fake Browser Update Warnings).
"Firefox requires a manual update" scam installs a malicious extension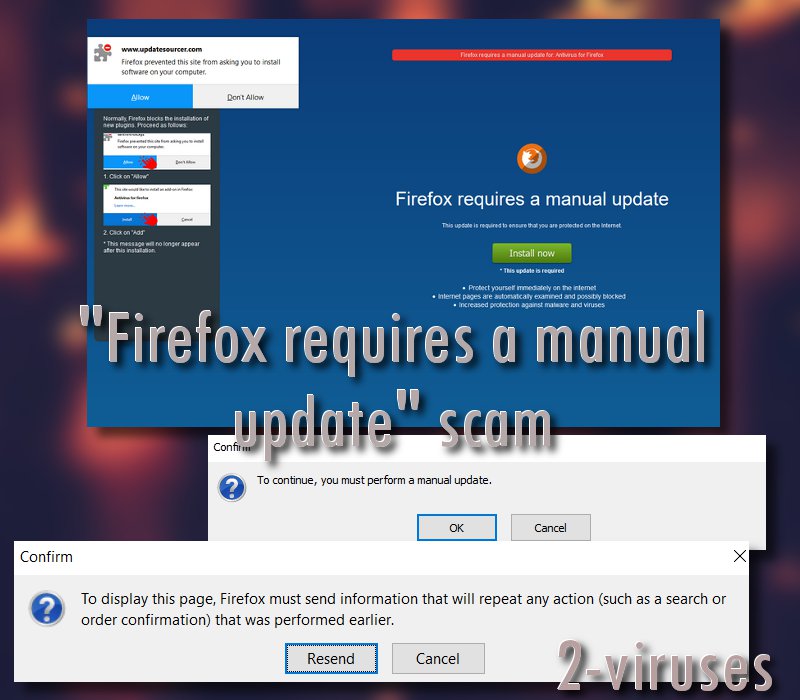 Recipients of this "Firefox requires a manual update" fake update said that it was extremely difficult to escape this website. This is because the script is reloading an iframe, automatically sending a post request to another page. Because of this feature, users will not be able to leave the deceptive message. In addition to this, Mozilla Firefox might be targeted because some browser extensions or other applications can be installed into computers without authorization. Also, the unknown extensions/programs will be intrusive and violate your privacy (Browser Extensions Are a Privacy Nightmare: Stop Using So Many of Them).
If user accidentally clicks anywhere on the "Firefox requires a manual update" scam, the message will be displayed on full screen and the installation of the malicious extension will take place. Only then can people leave the website for good. The rogue update tries to install v15_15.0.xpi add-on which is currently not detected by many anti-malware applications. Once the extension is installed, it will redirect all their users through their affiliate links. It means that when someone clicks on a promoted website, controllers of the extension make money.
Disturbingly, we also figured out that the extension, installed from "Firefox requires a manual update" scam, can start crypto-mining — an activity which can cause your computer to be sluggish, as its processing power is hijacked by the malicious extension. This means that your Mozilla Firefox will silently mine crypto-currencies for the suspicious hackers. Using extensions for mining is not a brand new strategy. We have discussed a similar situation, but then Google Chrome was targeted.
Lastly, it has been noticed that "Firefox requires a manual update" fake update will also insert cookies into computers. After this, your online activities will be tracked, and your personally-identifiable information might leak to suspicious sources. This could be used for more than just by advertisers to show you more effective ads. Criminals use personal information for phishing attacks which could effectively steal your passwords.
You would ask: why would hackers go through so much trouble to install a browser extension? Well, the suspicious add-on will be able to show ads, mine Crypto-currencies, track your online activities and make modifications to the websites you visit, possibly even get access to your credit card. This illegal activity will definitely make crooks a lot of money. Therefore, we hope that you will find this article in time. If you encounter this rogue message, please do not click on it as that will automatically start the installation process.
How to avoid scams like "Firefox requires a manual update"
How and why to remove the "Firefox requires a manual update" malicious extension:
Harm

Exposed private information could be abused later
Computer hijacked for cryptomining

Origins
Solution

Remove v15_15.0.xpi extension
Remove adware (Spyhunter)
Avoid websites which publish malicious ads
Fake update scams don't just affect Firefox — there exist hoaxes for Chrome (Updates were released for your version of Chrome), Flash (Lp.flashupdate.club), and many other types of popular software. "Fake update" scam is a popular and active threat online that we need to be careful of.
First of all, to avoid scams like "Firefox requires a manual update", do not install unknown programs as they might be the ones generating deceptive online content. You should also try to avoid bundles of programs. For this purpose, please select advanced/custom modes for Setup Wizards and refuse to install more than one program.
However, "Firefox requires a manual update" scam might be presented to you because you have visited a rogue domain. This could include pornographic, gambling, online streaming websites that frequently feature ads from suspicious advertisers or even hackers. There is no good way to avoid malicious ads, as some even find a way around AdBlockers. Still, it is worth it to be cautious, not click on suspicious ads, and avoid unfriendly websites as muh as possible.
How to remove "Firefox requires a manual update"
In order to escape "Firefox requires a manual update", please open your Windows Task Manager and kill the Mozilla Firefox process. Then, you should install a reliable AdBlocker to avoid this type of advertisements. Then, you should also check whether an unknown program is not generating this message. Look for suspicious programs in your computer and remove them from Control Panel. Guidelines are left below.
However, we encourage you to protect your computer device from malicious software. Security researchers recommend users to get a trustworthy anti-malware program in order to keep operating systems virus-free. Please consider getting Spyhunter for the purpose of detecting malware and removing it. If you value your privacy and security, this is a necessary precaution to be taken by all online surfers.
How to remove "Firefox requires a manual update" scam using Windows Control Panel
Many hijackers and adware like
"Firefox requires manual update" scam
install some of their components as regular Windows programs as well as additional software. This part of malware can be uninstalled from the Control Panel. To access it, do the following.
Start→Control Panel (older Windows) or press Windows Key→Search and enter Control Panel and then press Enter (Windows 8, Windows 10).
Choose Uninstall Program (if you don't see it, click in the upper right next to "View by" and select Category).
Go through the list of programs and select entries related to "Firefox requires a manual update" scam . You can click on "Name" or "Installed On" to reorder your programs and make "Firefox requires manual update" scam  easier to find.
Click the Uninstall button. If you're asked if you really want to remove the program, click Yes.
In many cases anti-malware programs are better at detecting related parasites, thus I recommend installing Spyhunter to identify other programs that might be a part of this infection.
Automatic Malware removal tools