Epingi.com is a fake game pirating website. It says that it offers free game downloads, but it certainly does not. Epingi.com is an advertising site that tricks users with a fake installation process.
Instead of downloading the promised games, Epingi.com promotes ads, including some very deceptive ones. Be careful to not end up with unwanted subscriptions and junkware on your device.
Epingi Com Scam quicklinks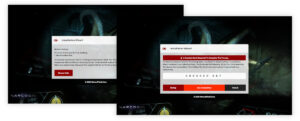 Epingi.com in short:
Classification
Scam,

adware.

How Epingi.com spreads
It appears in web search results,

it lures people with promises of games that are not available anywhere.

Dangers posed by the site
Epingi.com advertises scams and potentially unwanted apps.
How to avoid being scammed by Epingi.com
Don't install anything advertised by Epingi.com,

don't reveal personal information to any sites promoted by Epingi.com,

find and remove malware with antivirus apps (Spyhunter for PC, Combo Cleaner for Mac, etc.).
How Epingi.com scams people
Epingi.com appears in web search results
Epingi.com is presented as a blogging, news, and game pirating site. It has a catalog of games that are supposedly available for anyone to download for free.
Like many fake pirating sites, Epingi.com offers some impossible games, such as Sea of Thieves and Halo for Playstation and Bloodborne for Android and Xbox. That's one of the biggest red flags that something is very wrong with the site.
Unsurprisingly, Epingi.com fails to download any of the files that it promises. But being fake doesn't stop it from getting traffic – it's estimated to get around 2 hundred thousand visits per month.
People from all over the world find Epingi.com in web search results when they search for free games to download. Epingi.com can easily appear at the top of Google search results together with other fake sites, such as Gamefabrique.com.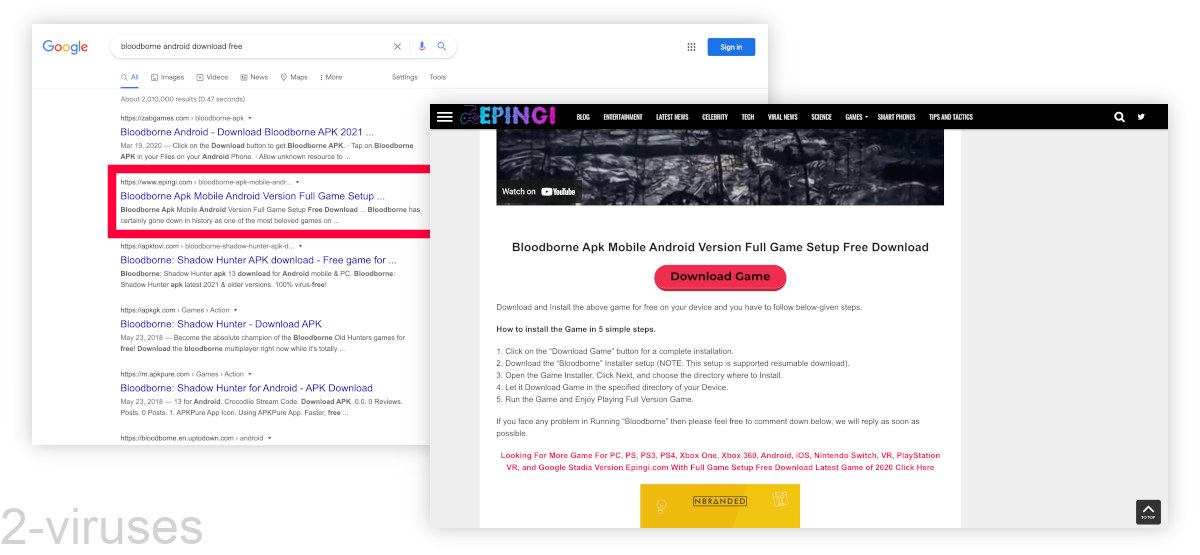 It pretends to install a game
If you try to "Download Game" from Epingi.com, it actually shows an installation process. It allows you to choose an installation folder and even shows a download process that takes a good while.
In reality, no file is being downloaded or installed from Epingi.com. In that sense, it's much less dangerous than sites like Reworkedgames.eu which actually download adware on your computer.
So, what does Epingi.com do?
First, it claims that, to complete the process of game installation, I have to do a bunch of tasks to verify that I'm human. Epingi.com went to Dwnlds.co or Cpbild.co to show links to various promoted websites. What these sites are depends on your location and other features, but here are some examples of the kinds of ads that Epingi.com/Dwnlds.co exposes you to:
get-rich-schemes, fake articles promoting crypto investment scams,
premium mobile services and subscriptions presented in a dishonest way,
useless apps with high subscription fees (Fleeceware apps),
iffy browser add-ons (Myprivacykeeper.com) and similar programs,
junkware apps,
other pirating websites,
clickbait quizzes and other time-wasting activities.
While Epingi.com doesn't download anything malicious, it does expose users to potentially dangerous websites – scams, junkware, etc.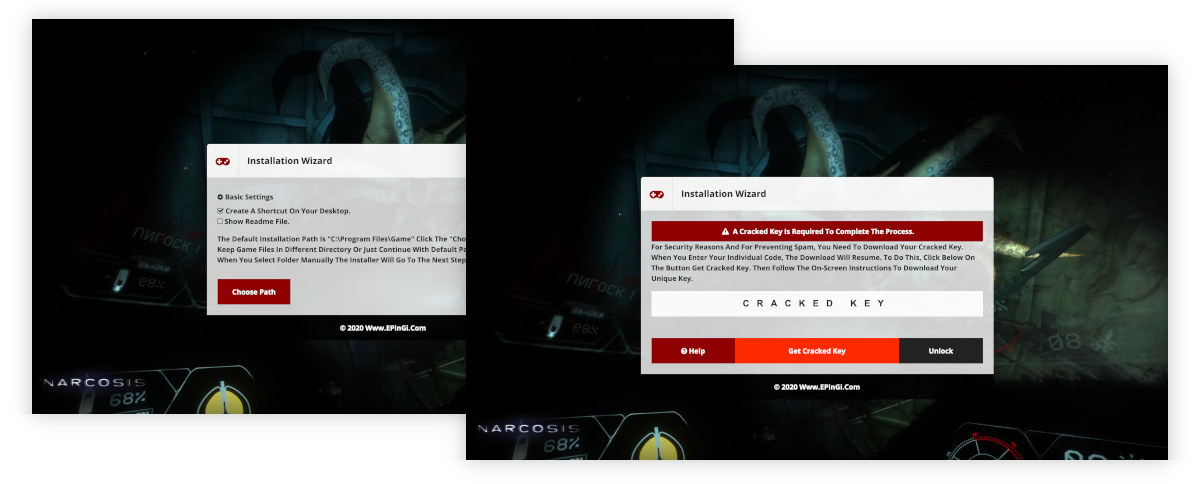 How to avoid being scammed by Epingi.com
It's best to just avoid pirating games. If a game is not available on any legal stores (Steam, Windows Store, Itch.io, Epic, GoG, etc.) or on the developer's website, then it's just not available. When sites like Epingi.com promise games that don't actually exist, such as Windows versions of PlayStation games, it's nothing more than clickbait.
You could use an ad blocker or another kind of malicious site blocker (some anti-malware apps can do this) to reduce the amount of malicious content that you encounter online.
Another thing to remember is what you should never do to illegally download a game or another program:
don't subscribe to any services,
don't give your phone number, payment details, or any other personal info,
don't install unknown browser add-ons, apps, and programs.
If you did download or install something thanks to ads from Epingi.com, scan your device to check it for malware. You can use antivirus apps like Spyhunter for Windows, Combo Cleaner for macOS, and others. If they detect malware, delete it.
Automatic Malware removal tools