We must warn you about Enhanced Protection Mode scam which was noticed to be actively working in the end of July under ESET Smart Security Enhanced Protection Mode, Avast Enhanced Protection Mode, Norton AntiVirus Enhanced Protection Mode and other names. To be more precise, it's a Trojan.FakeAV.LVT which leads computer into total damage just after it gets inside the system through insecure downloads and PC networks. By disabling legitimate anti-virus applications and displaying misleading alerts, Enhanced Protection Mode scam makes users think that their anti-virus has detected dangerous virus and stopped it. In the meanwhile, there is no virus just a fake alert and Trojan.FakeAV.LVT on your computer that disables your legitimate anti-virus and allows more illegitimate programs, like rootkits or Trojans, to get inside.
In order start displaying misleading alerts announcing about Enhanced Protection Mode and its activity, malware will modify some registry keys in order to go into safe mode on the next computer's reboot. After all this procedure, you will be lead to PC shutdown procedure and will be also brought on safe mode where you will see black screen only. After continuous modifications, Trojan.FakeAV.LVT boots on normal mode and starts its misleading campaign with such alert:
(Your anti-virus name)

ENHANCED PROTECTION MODE

Attention!
(Anti-virus name) operates under enhanced protection mode. This is a temporary measure necessary for immediate response to the threat from a virus! No action is required from you.
The scariest thing is that your legitimate anti-virus which is installed on PC for protection is disabled and hackers become capable to download more dangerous applications into your machine. Scammers simply start downloading various malwares, Trojans or even rootkits that can be predetermined to start ripping you off and swindling your money.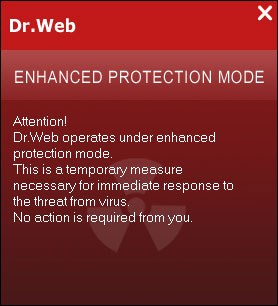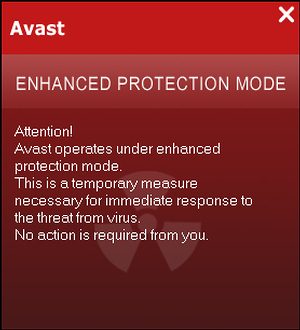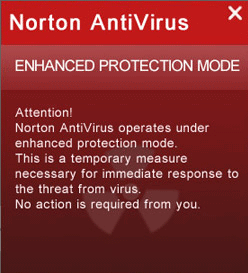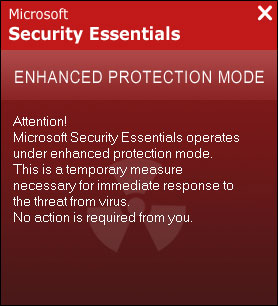 Keep in mind that you must remove Microsoft Security Essentials Enhanced Protection Mode or other version of this Enhanced Protection Mode scam. As we have tested, this virus tends to disabled legitimate security applications found but can be easily removed with alternative anti-virus and anti-spywares, like spyhunter or Malwarebytes Anti-Malware. Here is the full list of names used by Enhanced Protection Mode scam to fool computer users:
Agava Firewall, Microsoft Security Essentials, Avast, Kaspersky Internet Security 2009, Kaspersky Internet Security 2010, Kaspersky Internet Security 2011, AVG Anti-virus, Avira AntiVir, Kaspersky Internet Security 7, Kaspesky Antivirus 7, Comodo, McAfee, Microsoft Defender, ESET NOD32 Antivirus, ESET Smart Security, Norton AntiVirus, Dr. Web, Kaspersky Anti-virus 2009, Kaspersky Anti-virus 2010, Kaspersky Anti-virus 2011, Outpost Firewall, Panda Antivirus.
There were couple other regular antivirus impersonators since 2011, However Enhanced mode parasites were discontinued.
Automatic Malware removal tools