If you see new browser tabs being opened with promoted content, Ecleneue.com might be the site responsible. Ecleneue.com is part of a web of malicious websites used to push promoted pages aggressively. It uses the Adf.ly advertising network. Ecleneue.com is almost invisible, immediately forwarding people to Adf.ly, gloyah.net, or another site that displays a promoted page. But its influence on your browsing is undeniable.
Ecleneue Com Redirects quicklinks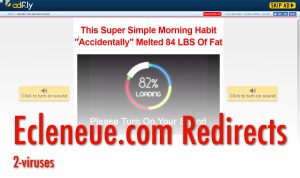 Ecleneue.com — adware?
This Ecleneue.com site is categorized as a URL shortener. Shorter URLs are useful for plenty of legitimate and innocent purposes. But scammers abuse URL shortening (and redirection) to make it harder for them to get around web security measures. URLs can be blocked, but shortening can be used to create new addresses and get around the problem. By the way, besides intrusive advertising, shortened URLs are also used in phishing scams and crypto mining.
Ecleneue.com is quite suspicious since it seems like the only thing it's used for is redirecting you to gloyah.net or other sites that show various sponsored pages. Being constantly redirected to sites that you didn't ask for is a sign of an adware infection, though not the traditional type. Traditional desktop adware could infect your computer and hijack any browser, but creating a whole program and then distributing it is a lot of work. Why do that when it's possible for Ecleneue.com to function like adware — a program with the single purpose of showing ads — by just messing with your browser.
Ecleneue.com is not a pioneer here and is very similar to Substand.pro, Pertonthati.info, and other ubiquitous but invisible sites that forward you to random promoted content.
What does Ecleneue.com mean for you?
A full browser tab with a page that you didn't look for is opened. The page is created by some advertiser to promote their product.
Mostly normal companies that don't look suspicious use Ecleneue.com, and though it's disappointing, these advertisers might not know what unethical methods are used by the network that they partnered with. That's not a great excuse, though. People should look into the ad-network before using it.
Some payday loan companies, weight loss supplement sellers, betting and gambling sites use Ecleneue.com to reach people. A lot of mainstream, legitimate advertising networks reject these types of ads to avoid subjecting ad viewers to fraudulent products and excessively harmful practices.
Ecleneue.com also regularly opens malicious adware sites that, if you accept notifications from them, start constantly showing pop-up ads on your browser. These websites also open promoted pages if they're visited, just like Ecleneue.com. Browser hijackers, too, are advertised on Ecleneue.com, though if you're unfamiliar with them, they look like regular pdf converters, package trackers, and music streamers. Adware promoting adware is a very common thing.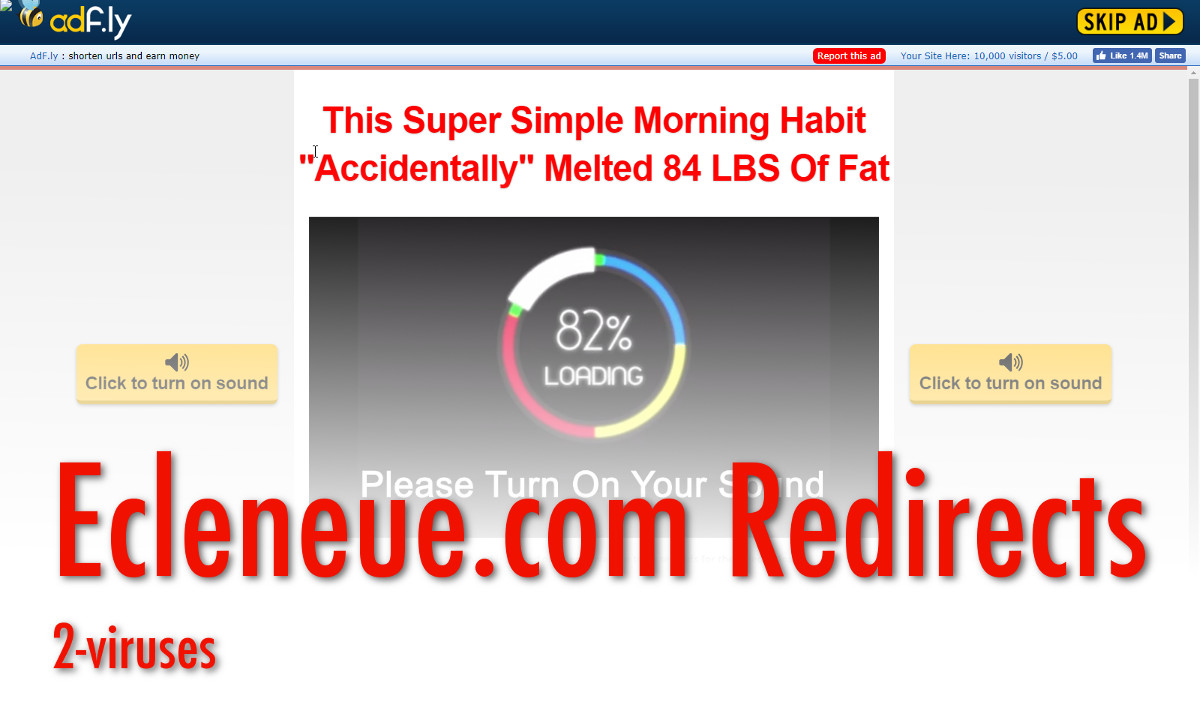 How to avoid Ecleneue.com
Ads that take you to Ecleneue.com are displayed on normal websites and there isn't a good way to tell if an ad is safe. Besides, many of the websites that publish ads to Ecleneue.com might trigger them randomly, forcing Ecleneue.com to open. The best thing to do then is to close the opened tab or window. Though it's not a sure thing, it might be safer to avoid sites like TonOfFunGames or Youtubemp4.to — browser gaming, pirated content, video converter pages that are known for dangerous ads.
You might also want to check your programs to see that you don't have adware installed. Especially if new tabs and pop-up ads are opening without you even doing anything on your browser, or if you think that you see more ads than usual online. An adware program could open Ecleneue.com which would then to deliver ads. Adware programs are usually installed by you — the user — thanks to false advertising, bundling, or deceptive spam. They can be installed without the user's knowledge and be disguised as a legitimate program. This makes some malicious programs very difficult to find and remove, but you can use automatic tools, like Spyhunter, or another trusted antivirus application.
If unwanted pop-ups are intruding and you want to disable them, you might be interested in this guide on how to disable notifications. Online pop-ups are usually displayed by taking advantage of the notification system.
Automatic Malware removal tools