Driver Support is a software product for the Windows operating system that should help users update their drivers, optimize performance, and perform a few other utility functions. It's also a program that appears on people's computers unexpectedly and starts displaying error pop-ups and performing unwanted scans.
Driver Support quicklinks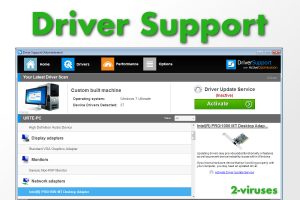 Drivers are little interfaces that allow your operating system to control your hardware. Installing the wrong driver could make your hardware to stop working or be unable to use certain functions. Some people whose device isn't working correctly look for a fix and hope that the third-party program called Driver Support can help them. Because this program is similar to a few unsafe applications, like DriverUpdate, DriverAgent Plus, Driver Restore, it should be viewed with suspicion.
While it's not malware, it is annoying how Driver Support shows up out of nowhere on people's computers and starts scanning their computer and showing constant pop-ups. A few have been seeing errors even after removing it. The truth is that regular Windows Updates take care of most people's driver needs, so a third-party application should not be needed for most users.
In fact, Driver Support can be classified as a PUP — potentially unwanted program — and is not needed for most people.
Problems with Driver Support

Installed without warning or consent
Exaggerates problems it finds
Takes up computer resources for unnecessary scans and notifications

What is Driver Support

Third-party driver-updating utility
Cost — $9.99/month
PUP (potentially unwanted program)

Avoid accidental installations

Download programs from reputable, official, first-party sources
Carefully check the Setup Wizard's every page for optional add-ons
Check your list of installed programs after each installation to catch unexpected inclusions

How to remove the PUP

Use the Control Panel
Scan your device for other problematic software (SpyHunter)
Issues with Driver Support
This program is clearly not a virus, as it's only listed as a PUP by a single engine (VirusTotal report). However, there might be a reason why some consider Driver Support to be potentially unwanted. There have been reports about questionable distribution.
There have been reports about the software being installed on people's computers without their consent. That doesn't mean that Driver Support "infected" computers like a virus. Rather, its distributors were probably using bundling as a promotion. Though legal and legitimate, bundling is very easy to exploit and trick people, even unintentionally, to install a program that they don't want. Inevitably, at least a few people were not careful enough and accidentally allowed Driver Support to be installed. Hopefully, the company has ceased this practice after they realized why so many see bundling as unethical and how it's so easy to abuse.
Of course, you can download Driver Support from the official website, too. But you had better read the fine print because that's the only way to know that the program isn't going to "fix" your drivers until you've subscribed for a $9.99 monthly fee. Although the pricing information is stated on the program website's front page, unclear information about how payments work has lead a few people to lose more money than they were willing to commit. Quite a few were surprised that the fee was recurring rather than one-time, which indicated that Driver Support needs to improve how they inform people a little better to avoid these misunderstandings.
Another complaint that a saw online — pop-ups after Driver Support was uninstalled. This happens with other professional software, too, but that doesn't make it okay. It is difficult and tedious to hunt down and remove the files that Driver Support left behind that are causing the distracting pop-up ads.
Finally, a few people have complained about Driver Support overstepping its bounds and trying to sell them expensive antivirus solutions through unsolicited contacts. These complaints were from a few years ago, though, so, hopefully, they're not relevant anymore.
A lot of the above problems can be chalked up to careless customers, but that doesn't mean that they should. At least, it's good to be aware of the problems that users of Driver Support have had. Luckily, the developers of the PUP seem to be willing to refund dissatisfied customers.
Do you need Driver Support?
There is also the question of whether you need a costly program to update your drivers. Device drivers are not the only problem which might cause your hardware to misbehave. The settings in your operating system might cause problems too, as well as drivers that are not fit. Device managers can cause more problems than they solve by downloading and installing drivers that don't mesh with your hardware, and then you need to spend time and effort fixing everything. A few people have experienced this with Driver Support, and though there was no malice from Driver Support here, it's a risk you should be aware of.
I really doubt that a driver manager is necessary. Sure, it's good to use specific drivers for your exact device, and often Windows provides generic drivers instead. So you might need to find the website of your hardware manufacturer, find the exact driver that you need, then install it yourself — or use a driver manager like Driver Support. On the other, there's absolutely no need to obsess over having the newest drivers: after all, your hardware isn't changing, is it? Other than the graphics card, new drivers won't really improve your PC's performance, but having an unnecessary application like a driver-updating utility running could have a negative impact on it.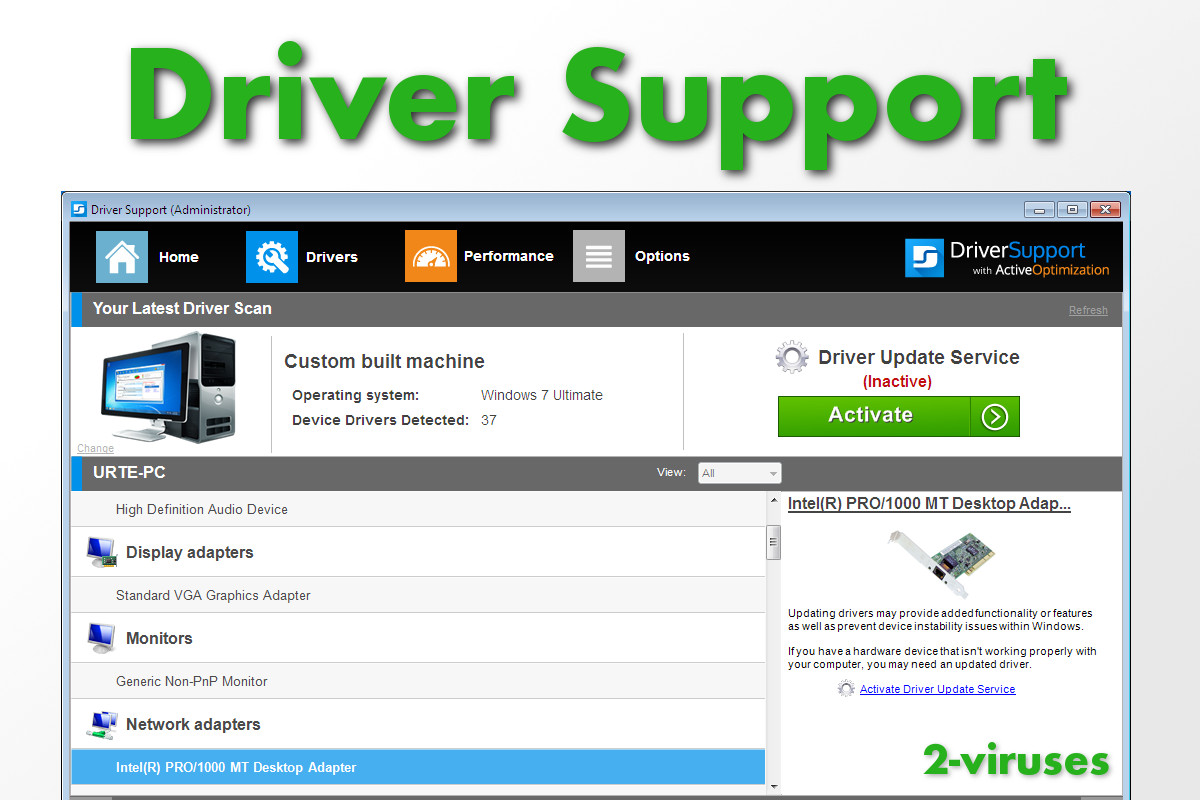 How to uninstall Driver Support
If you have installed the program and are happy with it, there should be no problems with continuing to use it. Like I said, Driver Support is not a virus, even though it is a bit problematic with its stealthy distribution and frequent notifications. But if you want to uninstall it, just go ahead and use the Control Panel. The instructions with screenshots are below this article.
If you have Driver Support but don't remember installing it, likely you have another PUP or two that were all part of a software bundle. Check the Control Panel to see which programs were installed at the same time. Think about whether you want to keep those applications, research them to see if anyone has had any problems with them. If you're unsure, the worst PUPs (and malware) are detected by some anti-malware programs, like Spyhunter. So, try scanning your computer with an antivirus application, see if anything is detected.
When it comes to subscription services, make sure to monitor your bank account for unexpected charges. And never reveal your credit card data to people you don't trust.
Automatic Malware removal tools
How to remove Driver Support using Windows Control Panel
Many hijackers and adware like
Driver Support
install some of their components as regular Windows programs as well as additional software. This part of malware can be uninstalled from the Control Panel. To access it, do the following.
Start→Control Panel (older Windows) or press Windows Key→Search and enter Control Panel and then press Enter (Windows 8, Windows 10).
Choose Uninstall Program (if you don't see it, click in the upper right next to "View by" and select Category).
Go through the list of programs and select entries related to Driver Support . You can click on "Name" or "Installed On" to reorder your programs and make Driver Support easier to find.
Click the Uninstall button. If you're asked if you really want to remove the program, click Yes.
In many cases anti-malware programs are better at detecting related parasites, thus I recommend installing Spyhunter to identify other programs that might be a part of this infection.