Dictionary is an extension designed to fit Mozilla Firefox web browser. It is categorised as an adware because after the installation you will be experiencing much more advertisements that will be delivered by this malware.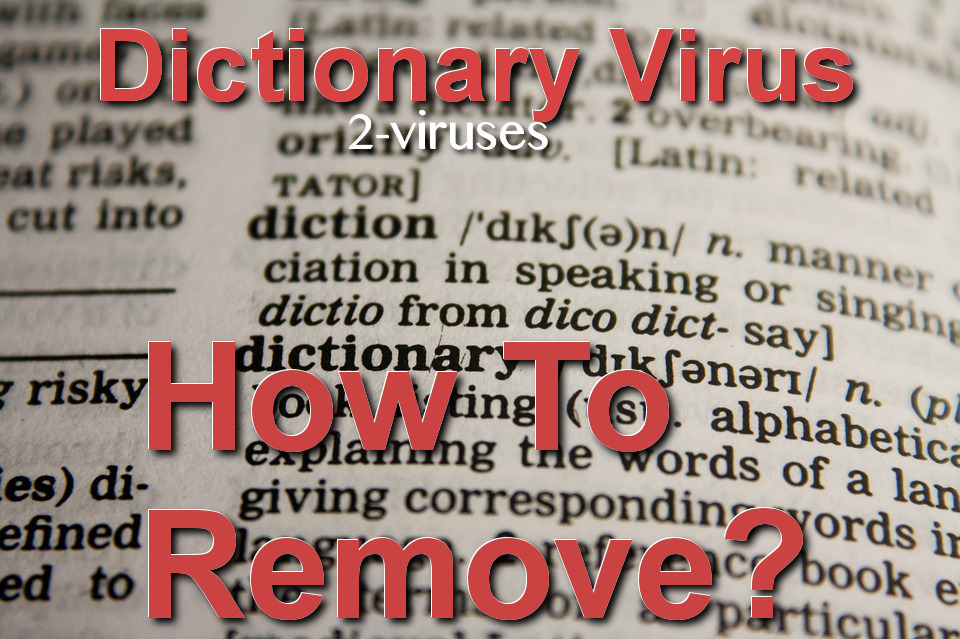 It is dangerous and annoying at the same time, thus we suggest to eliminate it from your computer right now. Even though it might seem that removing Dictionary virus is not complicated since it is a browser extension, a lot of users fail to do that because it's not as easy as it looks.
This article is dedicated to assist you through removal process of Dictionary adware as well as provide you with some tips on how to protect your system from malware in the future.
Ads by Dictionary virus
If you are familiar with term "adware" you should know that it's not the most dangerous virus of them all – the main goal of such malware is to display various advertisements on random websites and monetise the audience as well. We have seen adware viruses like FF Safe Checker  or Memory Game do exactly the same.
You might think that there is nothing wrong about that – advertisements are displayed on the web anyway. However, that's not true – ads displayed by Dictionary are annoying and can even lead you to dangerous websites, therefore they are malicious. By the way, if you want to stop not only ads from Dictionary virus, but also advertisements on various websites, we recommend to get yourself AdBlock extension.It is a free tool designed to fit all most popular web browsers that will block ads while you are browsing the Internet. For instance, if AdBlock is active on your web browser, you won't have to watch advertisements before or in the middle of YouTube videos – that's really helpful.
Another red flag about Dictionary extension – it is distributed using deceptive methods. Developers of this tool use misleading advertisement claiming that you must update your Firefox browser, but instead of an update you get this malware.
After the installation, it will automatically inject javascript code on websites your are visiting. As a result, various advertisements will be displayed to you. Those ads can come in all kinds of different forms, such as pop-up, pop-under, in-text, new tab, new window or banner advertisements.
Also, various redirects to other websites might be cause by this malware. It is also possible that Dictionary malware will collect your personal information, so there is a danger that it can be leaked.
Fast removal of Dictionary adware
To eliminate Dictionary virus from your computer and Firefox web browser, you have to disable the extension and then eliminate the files that are related to this infection.
If you have no idea how to remove malicious extension from Mozilla Firefox extension, please scroll down below this article and follow manual removal instructions.
it is not enough to remove the extension to completely eliminate this virus. You also have to clean your computer. The best way to do that – scan your computer with reliable anti-malware application, such as Spyhunter. Either one of these tools should be able to detect and automatically remove all files related to Dictionary adware virus.
TopRemoving Dictionary Adware Virus from Firefox
Click on the menu button on the top right corner of a Mozilla window and select the "Add-ons" icon (or press Ctrl+Shift+A on your keyboard).

Go through Extensions and Addons list, remove everything Dictionary Adware Virus related and items you do not recognise. If you do not know the extension and it is not made by Mozilla, Google, Microsoft, Oracle or Adobe then you probably do not need it.

(Optional) Reset your browser's settings If you are still experiencing any issues related to Dictionary Adware Virus, reset the settings of your browser to its default settings.
Click on the menu button on the top right corner of a Mozilla Firefox window. Click on the Help button.

Choose Troubleshooting Information on the Help menu.

Click on the Reset Firefox button.

Click on the Reset Firefox button on the confirmation box. Mozilla Firefox will close and change the settings to default.

If you cannot reset your browser settings and the problem persists, scan your system with an anti-malware program.
Automatic Malware removal tools