FF Safe Checker malware is a double threat to your computer – it acts both as an adware and a miner trojan, therefore it will cause harm to your web browsing experience and overall performance of your computer.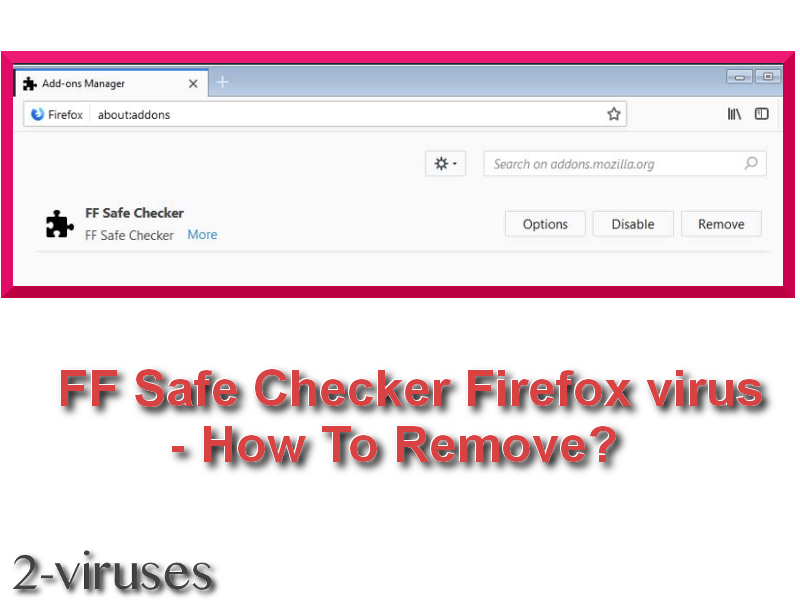 This infection is only relevant to Mozilla Firefox users since it is operating as browser add-on and it can be only added to this particular web browser.
Even though most of the malware like this is travelling as a bundle to other free software, FF Safe Checker usually gets installed on computers when user clicks on deceptive advertisement online. Every time you see an ad that suggest to update some software on your computer or some kind of commercial offer that looks too good to be true, think twice before clicking on it. Most of the time such click would lead to the installation of unwanted program or malware.
However, if it is already too late and your computer is infected with FF Safe Checker, please proceed reading this article – we will provide you with detailed instructions how to remove it efficiently, as well as with basic information about this malware.
Malicious traits of FF Safe Checker
It's funny, but this add-on is described as free security tool that will help you to protect Mozilla Firefox web browser and your personal data. Instead of that, you will get a whole bunch of various problems. First of all, it will display various advertisements while you are browsing the Internet.
Ads delivered by FF Safe Checker might appear in all kinds of different forms, such as pop-up, in-text, banner or contextual advertisements. They are not only annoying, but might also lead you to malicious websites, therefore we suggest to stay away from them. The best idea is to protect yourself with a tool like AdBlock – this way you won't see any of those ads.
From this standpoint, FF Safe Checker reminds of an adware like SimplyWatch.  However, there is the other side as well – this infection employs Monero miner from devappgrant.space and use the power of your computer. It will be mining this cryptocurrency while you are browsing the Internet and the biggest problem is that all money from this activity will land on their accounts, not yours.
It is reported that this miner used by FF Safe Checker adware can use up to 50% of your CPU and GPU resources, so you will definitely notice a decrease in the performance of your computer. Various apps and browsers can freeze and crash and all tasks will take much more time to be completed. In addition to that, you should receive a slightly bigger electricity bill at the end of the month – all due to this malware.
Last but not least, FF Safe Checker can be difficult to remove. Usually it's enough to disable malicious extension and remove it from extensions list, but in this case, FF Safe Checker might close extensions tab in order to stop you from removing it. Also, it might upload some files to your computer that will be used to restore the infection later on.
That being said, you should use anti-malware application to remove FF Safe Checker from your computer, because there is no easy way to do it manually. Scan your system with Spyhunter – either one of those programs should be able to detect and remove files associated with FF Safe Checker in no time.
After that, you should be able to open Mozilla Firefox extensions list and remove FF Safe Checker from there. If you need any further help, feel free to contact us in the comments section below.
Automatic Malware removal tools