"Youtube Reward Center" scam is presented as a page, belonging to Youtube. It claims that every Tuesday, exclusive Internet/communication companies randomly select a number of lucky users from the US. This message is similar to a bunch of other hoaxes we have discussed: "Amazon Rewards Event" or "Google Rewards Centre".
If selected people do not want to miss out on a chance to win new iPhone X, they have to quickly respond to a short survey. However, these promises of expensive prizes won't be fulfilled as "Youtube Reward Center" pop-up has nothing to do with Youtube owners. It belongs to vicious scammers, hoping to trick you with this seemingly legitimate message. Researchers have explained that online adverts you see online will never actually give rewards for downloading software or answering a couple of questions (How to spot a Free iPhone scam).
This "Youtube Reward Center" deceptive message could infect your OS with malicious software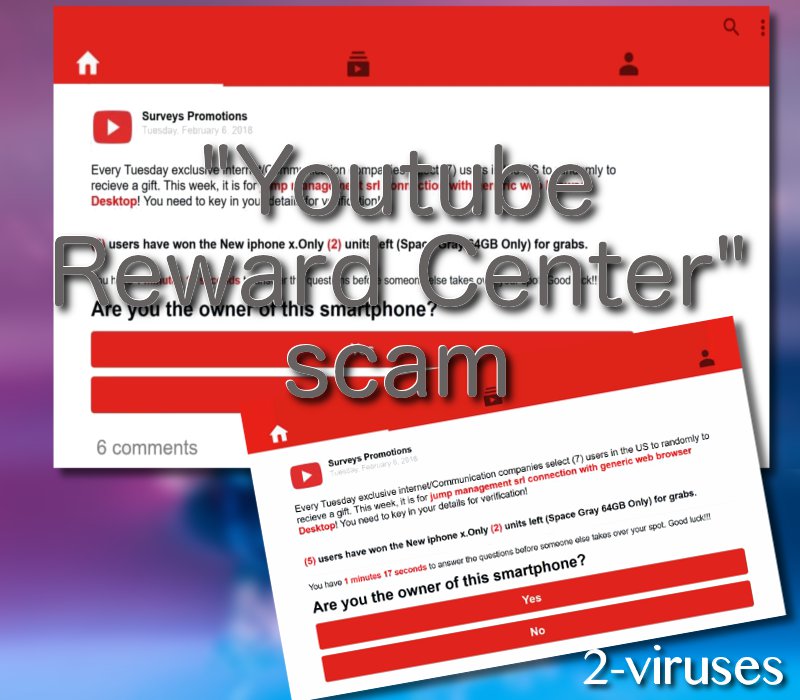 Fake promises to give users the new iPhone X for free have hit many social media platforms (Scam warning as hundreds of fake accounts promising a free Apple iPhone X and iPhone 8). Of course, such scams are old: hackers pretend to offer users lotteries, surveys, but actually, they secretly install malware or steal personal information. There is a variety of messages, similar to "Youtube Reward Center" scam: "2018 Annual Visitor Survey" is one of them. Do not fall for these deceptive alerts, especially when they are presented in websites called Promo2.c-rewards.com.
In order to participate in the "Youtube Reward Center" scam, you might be required to reveal some personal information about yourself. This might mean that you will have to give away your name, last name, email address, physical address, zip codes and other private details (Phishing). Furthermore, a scam could easily ask for your online banking account information. If you are a cautious user, you should know that revealing this information to a suspicious pop-up is wrong.
Hackers could automatically bill you for various types of rogue services that you actually did not order. On other cases, a scam like "Youtube Reward Center" pop-up could have been designed for the purpose of infecting people with Malware or spyware. Without your knowledge, a malicious file might be placed somewhere in your operating system. After that, your browsing, online transactions, conversations, passwords, files could be stolen, encrypted, deleted or leaked.
There is no reason to believe that "Youtube Reward Center" scam might be a legitimate message. This strategy is classic for hackers: they have been creating prize scams for too long for it to be interesting. Nonetheless, some people still fall for them: we hope that after reading this article, you will not respond to similar messages.
"Youtube Reward Center" scam can be a sign of an adware infection
"Youtube Reward Center" pop-up could be shown on your computer screen because your operating system has become infected with a malicious program. For this reason, you might be noticing more promotional content and the latter scam is just one of the problems. Malware is a very serious problem and we hope that you won't hesitate to take care of it as soon as possible.
Furthermore, "Youtube Reward Center" scam might be featured in other rogue websites as an online advertisement. Therefore, it is recommended that you would stop visiting unknown domains, especially the ones that offer questionable services.
As for the removal of an adware parasite, we can present you with a couple of possibilities. First of all, do you recall installing a freeware tool recently? If yes, it might be that this program is considered as an adware parasite. Remove it from Control Panel. However, if you cannot find the source of ads on your own, we offer some back up. Install Spyhunter anti-malware tool and the malicious software will be presented to you. Of course, you will be offered to remove it without any issues.
How to remove "Youtube Reward Center" scam using Windows Control Panel
Many hijackers and adware like
"Youtube Reward Center" scam
install some of their components as regular Windows programs as well as additional software. This part of malware can be uninstalled from the Control Panel. To access it, do the following.
Start→Control Panel (older Windows) or press Windows Key→Search and enter Control Panel and then press Enter (Windows 8, Windows 10).
Choose Uninstall Program (if you don't see it, click in the upper right next to "View by" and select Category).
Go through the list of programs and select entries related to "Youtube Reward Center" scam . You can click on "Name" or "Installed On" to reorder your programs and make "Youtube Reward Center" scam  easier to find.
Click the Uninstall button. If you're asked if you really want to remove the program, click Yes.
In many cases anti-malware programs are better at detecting related parasites, thus I recommend installing Spyhunter to identify other programs that might be a part of this infection.
Automatic Malware removal tools