DealPly - How To Remove?
DealPly is an add-on, especially designed to be implanted into Chrome, Explorer and Firefox browsers. A small icon of "dp" will be placed beside the three-dot menu, found next to the address bar. Application was introduced as an e-commerce shopping platform in 2011 and obtains most of its visitors from Israel, United States, India, Brazil and Netherlands.
More details about this ad-based browser app
It is not that the service is not legitimate and has not earned some intense web traffic, together with certain recognition over the years. However, the "recognition" is not entirely positive. DealPly ad-network has been labeled with titles like "potentially unwanted program (PUP)" or as an adware parasite. The service has explained the manner in which advertisements are to be displayed to clients:
As you browse online shopping sites, DealPly may detect the product or service you are browsing for and automatically present you with exclusive shopping offers that are relevant to you. Such offers will be presented to you at the bottom of the webpage you are viewing, and they will be provided by third party vendors, enable you to make use of such offers – as further explained below.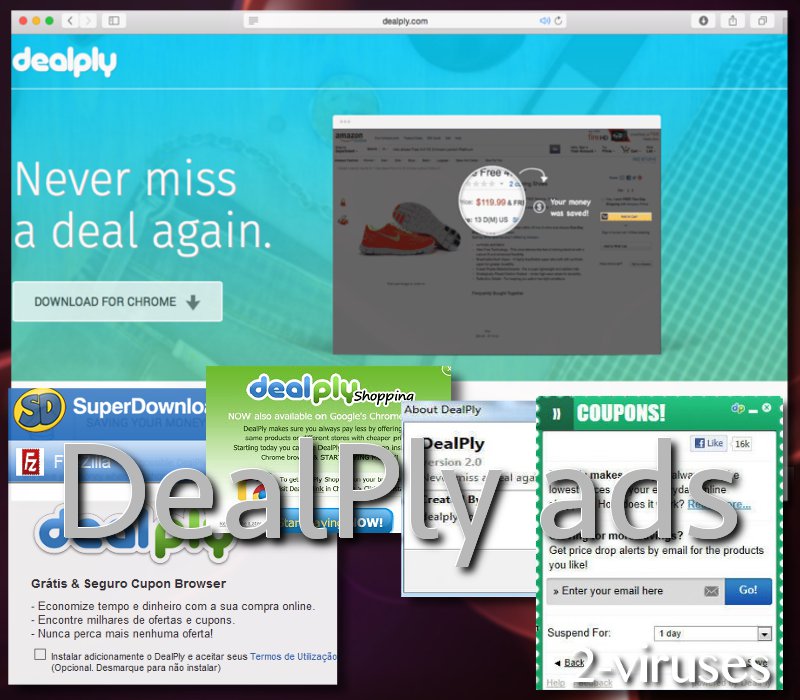 If a person has no intention of finding certain advertisements during browsing, the fact that prices from rivalry services will be presented might not be estimated as a valuable addition. DealPly extension can be distributed with a bunch of different third-party software. The ad-platform will be implanted if users do not properly review their installation process. Such tools like "Video converter" and "Image Editor" incorporate propositions to install the application we are warning you about.
Furthermore, the streams of ads can be very aggressive, since every ad that gets people to purchase something, leads to a certain commission to DealPly Technologies Ltd. If you find this application uncomfortable, we suggest you not to delay its removal.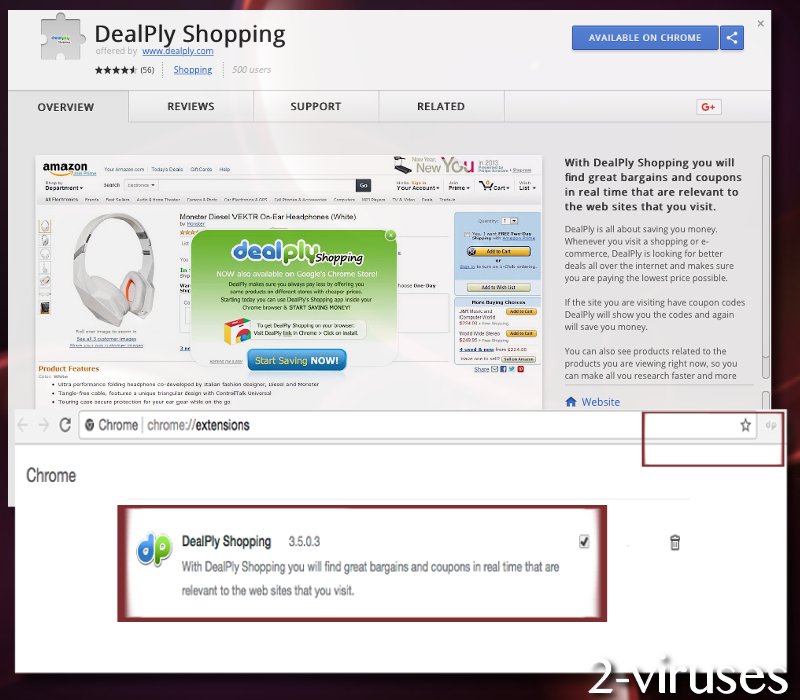 DealPly is an adware that is installed to Internet Explorer, Mozilla Firefox or Google Chrome while you are downloading some other software from the Internet. It is one of those applications that you can choose whether to download or not at one of the last steps of other software installations. You are usually asked to select which other components you wish to install. The trick that distributors use is marking additional programs to be added by default and all you need to do to agree is not to take the check boxes off. If you skip this step and leave the ticks on, Dealply will be downloaded automatically.
In some cases trojans aka programs disguised to perform useful function are used to distribute DealPly. e.g. on June 2013 we saw some fake download sites that distributed "downloader" for various software. The latter did not perform its function, but distributed Dealply only. All downloads magically stopped at 30% of completion, but the adware was still installed on PCs.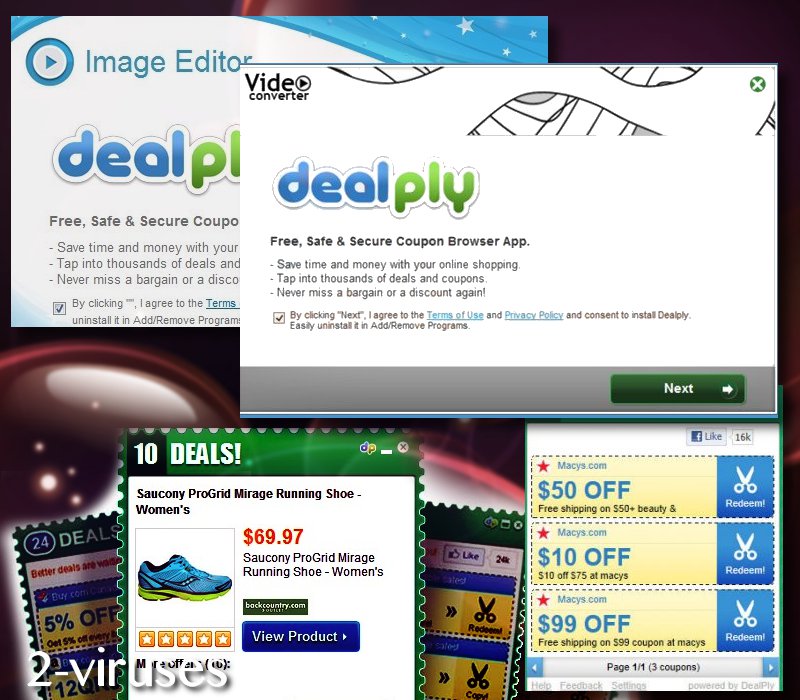 Once inside, Dealply starts displaying ads on some popular websites that you are visiting, for example, Amazon, eBay, Walmart and others. These ads contain coupons for various services. If you click on them, you will see some advertisement saying that it was brought by Dealply. This kind of promotions are not really fair as they are pushed by force.
Besides, DealPly collects information about your browsing habits and later uses this data for various marketing purposes.  Additionally, it may redirect you to malicious websites that are full of infections and that could cause harm to your system. It's clearly an unwanted program and you should remove it without any hesitations.
Try looking for anything related to DealPly in Windows Control Panel and uninstall it from there. If you don't find anything there or the same ads still bother you after uninstalling the application, we recommend scanning your system with a reputable antispyware program. Please note that not all of antimalware tools have the feature of detecting such type of applications. We recommend using Spyhunter for several reasons. It will not only detect and remove DealPly automatically, but it will also scan your computer and locate any other unwanted applications that might have come to your system with it.
Automatic DealPly removal tools
We might be affiliated with some of these programs. Full information is available in disclosure
Manual removal
Important Note: Although it is possible to manually remove DealPly, such activity can permanently damage your system if any mistakes are made in the process, as advanced spyware parasites are able to automatically repair themselves if not completely removed. Thus, manual spyware removal is recommended for experienced users only, such as IT specialists or highly qualified system administrators. For other users, we recommend using Reimage or other tools found on 2-viruses.com.
Processes:
Files:
External decryptor:
DealPly screenshots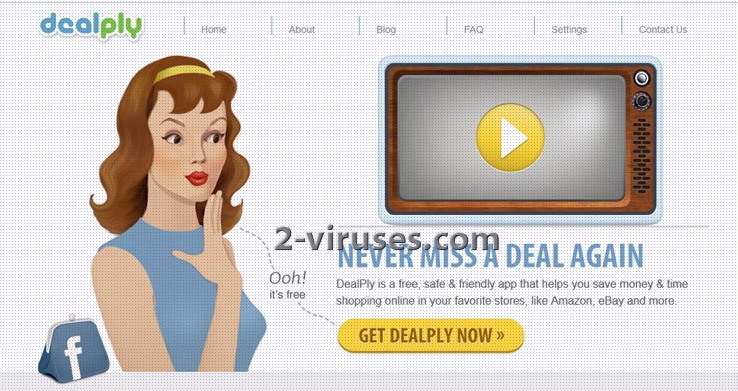 About the author