CRaccoon looks like a simple PC optimizer. It deletes cookies, temporary files, empties the bin, etc.
But CRaccoon has some problems. First, it gets installed without permission. Second, it can be hard to uninstall.
Because of these issues, CRaccoon gets flagged by a few antivirus programs. CRaccoon is not malicious, but it can be considered to be potentially unwanted.
Craccoon quicklinks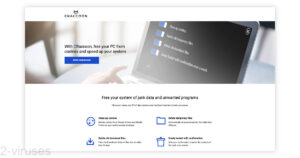 CRaccoon in short:
Classification
PC optimizer,

potentially unwanted program.

Problems with CRaccoon
Its features are redundant,

it may be installed without permission and together with other potentially unwanted programs.

How it gets installed
It's bundled with free programs that can be downloaded from freeware sites,

it may be downloaded together with other potentially unwanted programs.

How to uninstall CRaccoon
If needed, stop the CRaccoon process from running,

uninstall the program manually,

use Malwarebytes to find and remove CRaccoon and other potentially unwanted programs.
Problems with CRaccoon
CRaccoon is a PC optimizer
CRaccoon is a program that offers to "optimize" your Windows PC by deleting some unnecessary files and thus freeing up space. Here's what its home page says:
CRaccoon offers to delete cookies from web browsers as soon as they're closed. (This is something that you can set up your browser to do for you, but anyway.)
It also offers to delete temporary files after 2 days.
It can also automatically delete 14 days old download files.
And it can empty your trash.
These features might seem useful, but I believe that they're very unnecessary. Windows already has tools to help you optimize your storage. Browsers let you manage your data, too. PC optimizers are just unnecessary.
Besides, a little bit of free space isn't going to improve the performance of your computer. If anything, CRaccoon is going to hurt it by accessing files too often and running in the background all the time.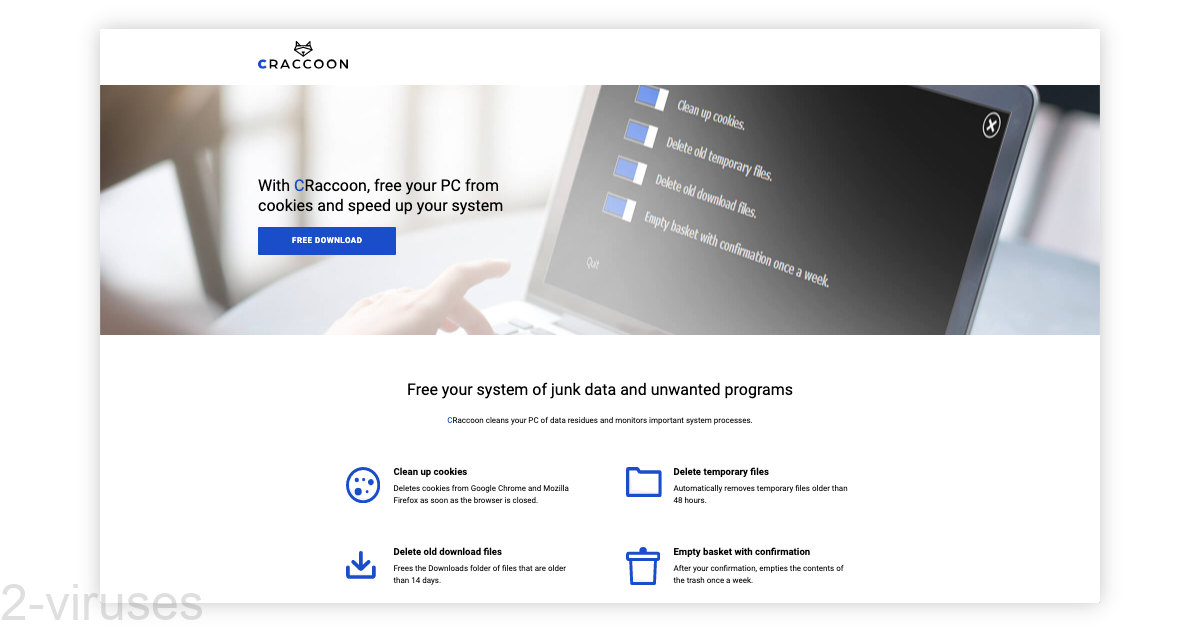 CRaccoon gets installed without permission
However, CRaccoon being unnecessary is not the real problem.
A couple of anti-malware programs flag CRaccoon. You can see this on this Virustotal.com page. Why does this happen? Is CRaccoon dangerous?
There are some complaints online about users being unable to remove CRaccoon (aka CRX or Craccoon.ch) from their computers. That's concerning, but it gets worse.
The same people say that they never meant to install CRaccoon. They speculate that CRaccoon came bundled with unrelated programs downloaded from freeware sites like Chip.de.
It's true, potentially unwanted programs often come bundled with free programs – usually from freeware download sites. This can easily result in unknown, unwanted apps getting installed on your PC.
CRaccoon getting installed without permission is a real problem. Unwanted installation is why CRaccoon gets flagged by some anti-malware programs, even if it's not a harmful program.

How to uninstall CRaccoon
First, I want to note that if one program got installed without your permission, there might be others like it – other unwanted programs (such as WebBar, WebDiscover) that also snuck in via bundling. You could use an anti-malware app to scan your device and check for those other programs.
I recommend using Malwarebytes since this is one of the few scanners that actually detects CRaccoon. It can also help you remove this program.
If you can't seem to get rid of CRaccoon, you might need to quit the program first as it might be running in the background. Even if you didn't run CRaccoon yourself, it runs on startup. While it's running, it might refuse to be removed. You can use safe mode – it stops unnecessary third-party programs. Or you can or quit CRaccoon via Task Manager. Once CRaccoon is no longer running, try to uninstall it again.
To delete CRaccoon manually, check your Raming folder in C:]Users\[username]\AppData\Roaming. You might need to show hidden files and folders.
To avoid having unknown programs installed on your computer, you might want to avoid free software download sites. Download programs from developer sites. Always keep your antivirus running and don't ignore its security warnings.
Automatic Malware removal tools
How to remove CRaccoon using Windows Control Panel
Many hijackers and adware like
CRaccoon
install some of their components as regular Windows programs as well as additional software. This part of malware can be uninstalled from the Control Panel. To access it, do the following.
Start→Control Panel (older Windows) or press Windows Key→Search and enter Control Panel and then press Enter (Windows 8, Windows 10).
Choose Uninstall Program (if you don't see it, click in the upper right next to "View by" and select Category).
Go through the list of programs and select entries related to CRaccoon . You can click on "Name" or "Installed On" to reorder your programs and make CRaccoon easier to find.
Click the Uninstall button. If you're asked if you really want to remove the program, click Yes.
In many cases anti-malware programs are better at detecting related parasites, thus I recommend installing Spyhunter to identify other programs that might be a part of this infection.