Convert2mp3 are websites that serve as video and audio converter platforms. They enable users to download content from the internet. They are monetized with ads, however, you should avoid those ads if possible. Many of the ads are unsafe and potentially harmful, leading to sites that spread scams and malware.
Not all Convert2mp3 sites are equally dangerous, but do not let your guard down on any of them.
Convert2mp3 Ads And Redirects quicklinks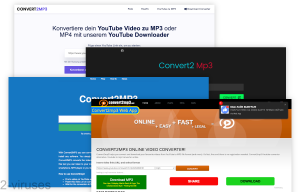 About Convert2mp3 ads:
Threat type
Adware,

browser hijacker.

How Convert2mp3 works
Convert2mp3 extracts audio or video files from links to media online,

it is supported with advertising,

it works as a website but you can also install an app version.

Problems and dangers
It shows dangerous ads that sometimes lead to scams and malware.
How to remove Convert2mp3 ads
Block ads on unsafe sites,

disable notifications from sites that abuse them,

use antivirus tools (Spyhunter for PC, Combo Cleaner for Mac, others) to find and remove malware.
Problems with Convert2mp3
Download sites
Convert2mp3 is a collection of sites that offer to extract audio or video from links to videos. These sites include:
Convert2mp3.net
Convert2mp3.club
Convert2mp3.online
Convert2mp3.tv
Convert2mp3.cc
Convert2mp3.ws
People use these sites because, for a lot of them, converter sites offer the most convenient way to download audio and video from the internet. No need to install software, to create an account, or to register anywhere (though the Convert2mp3 sites do offer apps that can be installed).
But there's a problem with converter sites – they tend to show a lot of unavoidable advertisements, some of them are potentially dangerous and could cause security problems. The same is true for Convert2mp3, as well – or at least some versions of it.
So, be careful when you visit Convert2mp3. If you're not, you could catch a cyber infection.
Unwanted and dangerous advertisements
Convert2mp3 shows a lot of ads, and they are almost impossible to avoid.
At first glance, the Convert2mp3 sites look really neat, however, when the time comes to download your files, things change. Convert2mp3 starts randomly opening new tabs with unwanted sites in them. It also shows ad banners that are made to look like Download buttons.
Sites like Convert2mp3 make money from advertising. This is how pirating sites work. However, not all advertising networks want to work with pirating sites. Those who do are often a little… dubious.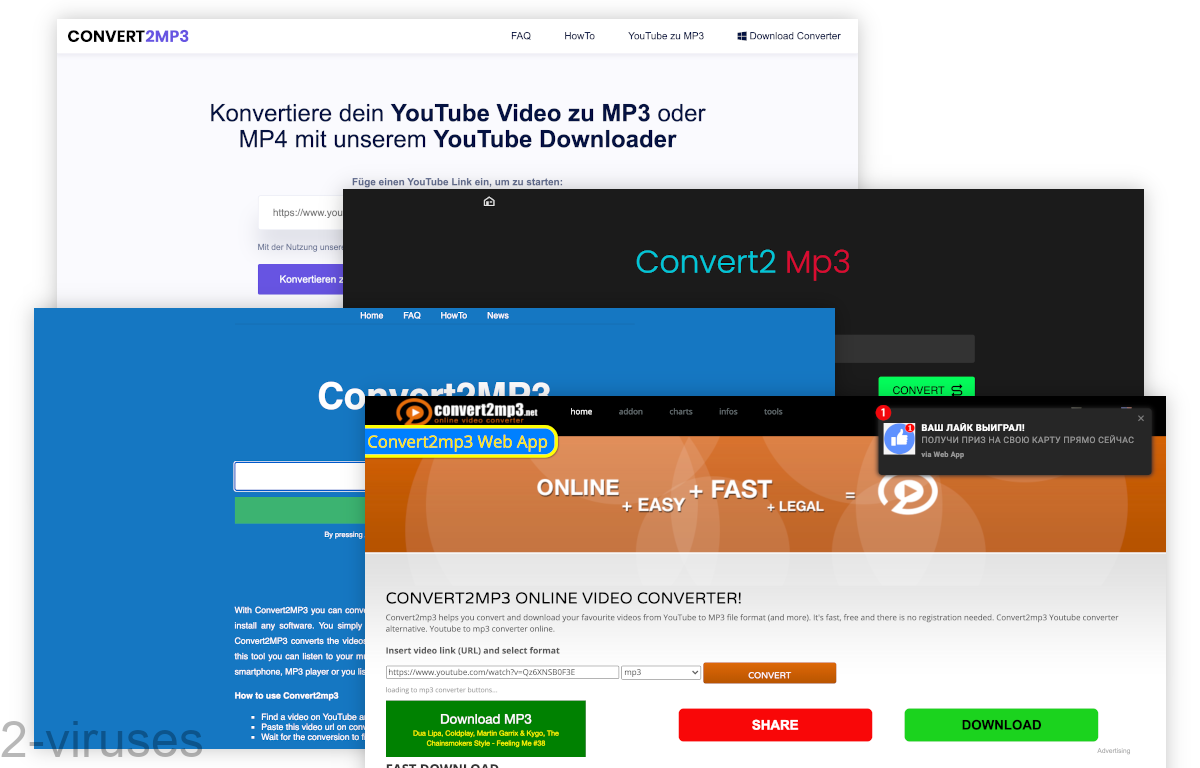 Dangerous ads found on Convert2mp3
The ads should be avoided, as many of them are potentially dangerous. Some of them lead to scams and malware:
Ads for optimizers and fake antivirus programs that try to sell you unneeded software by showing deceptive security warnings.
Tech support scams, like the Error # 268d3-xc00037 scam.
Gambling and betting sites that may not be suitable for children but are nevertheless shown with no age checks or warnings.
Fake surveys and giveaways, such as the $1 phone scam.
Browser hijackers, like the various Myway extensions.
Phishing scams.
Some of these ads use manipulation and lies to trick people into giving their credit card info and other personal information to cybercriminals. This does cause real harm to people.
The Convert2mp3 sites also want you to subscribe to their notifications so that they can send ads directly to your screen. Pop-up ads from Convert2mp3 in your web browser.
Dynamics of Convert2mp3 and malvertising
Not all Convert2mp3 sites are the same. In my experience, Convert2mp3.tv, which is aimed at German-speaking users, was pretty good. Convert2mp3.net was also relatively tame. These sites still showed unwanted ads, of course, but they weren't as bad as some other sites.
Convert2mp3.online, Convert2mp3.cc, and Convert2mp3.ws were broken for me, while Convert2mp3.club showed some truly dangerous ads – the Like of the Year phishing scam and the Prize Email scam.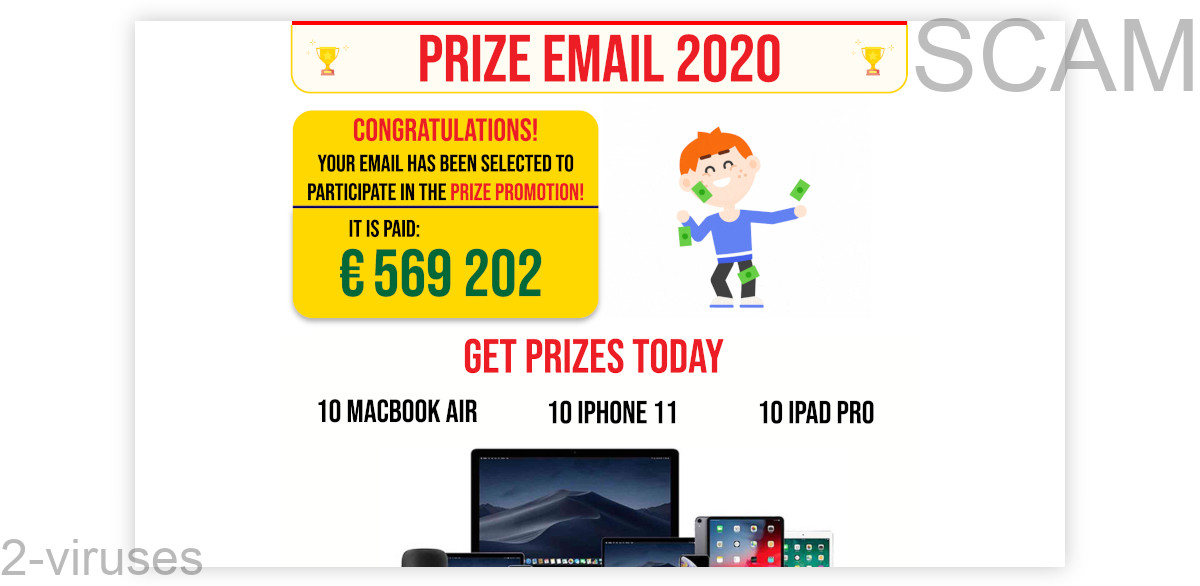 But this can all change. With time, sites that used to be good start using really shady tactics to make money. And vice-versa, scammy sites make more money and begin to offer a good user experience.
The point is, be careful on Convert2mp3 or any other converter site. These websites do not care if they infect some of their visitors with malware through low-quality ads.
While most of Convert2mp3's ads are such that they cannot hurt you as long as you don't interact with them, there's been a case where an MP3 converter site displayed ads that spread file-encrypting ransomware through an exploit (Zdnet.com), allowing malware to be downloaded automatically.
How to remove Convert2mp3 ads
Scan your computer with antivirus programs, such as Spyhunter for Windows, Combo Cleaner for macOS, and others. If potentially unwanted programs and browser extensions are found on your computer, remove them.
Use an ad blocker while browsing to avoid some of the ads shown on the Convert2mp3 sites.
Recognize malicious ads. Most importantly, protect yourself from phishing attacks never ever give your payment information to unknown sites.
Finally, check your browser settings to disable notifications that are being sent by unwanted sites:
Chrome – open Settings, scroll down to Site settings (under Privacy and security), click on Notifications.
Edge (Chromium) – open Settings, click Site Permissions, Notifications.
Safari – in the Safari menu, choose Preferences, Websites, Notifications.
Firefox – open Settings, Privacy & Security, scroll down to Permissions, and click on Settings next to Notifications.
Or just click on a notification pop-up and block the ads from there: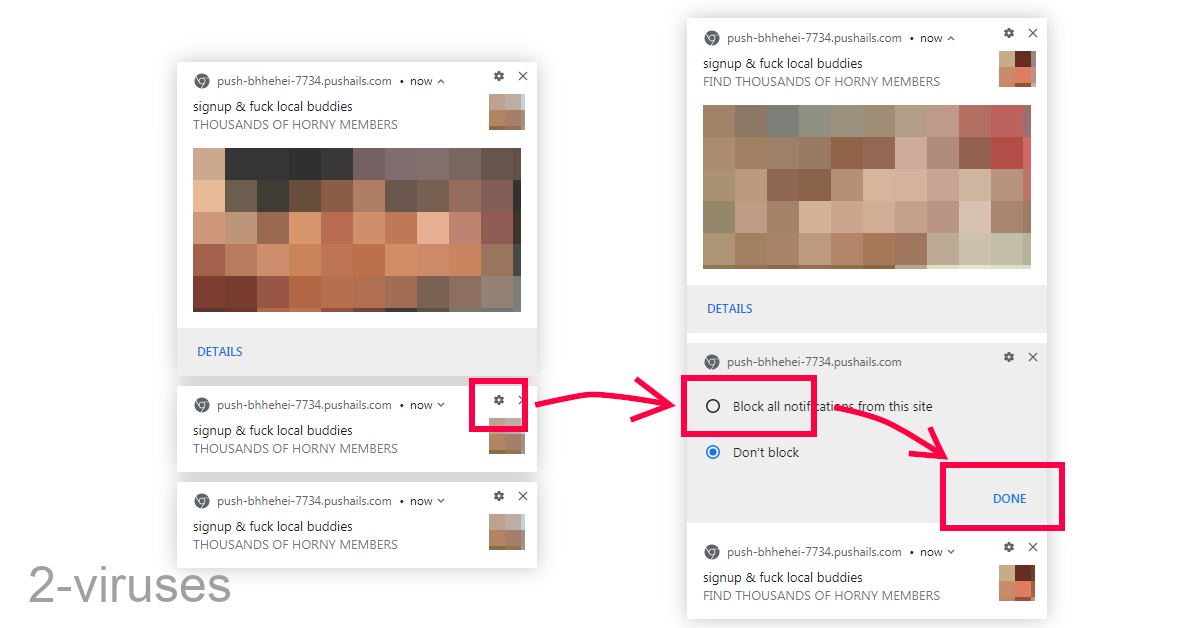 If you've installed the Convert2mp3 extension through TamperMonkey or if you installed the Web App, consider removing them. Browser add-ons that are supported with ads often take the chance to spy on your browsing history and other
Automatic Malware removal tools