Apple.com-fasting.live is a very dangerous website related to online scammers. The people who stand behind it are directly involved in distributing absolutely faulty information with the purpose of deceiving users and tricking them into downloading potentially unwanted software. Currently, a lot of fake system optimization utilities are distributed this way, for example, MacEntizer, Mac Cleanup Pro and CleanupMy-Mac.

Com Fasting Online Scam quicklinks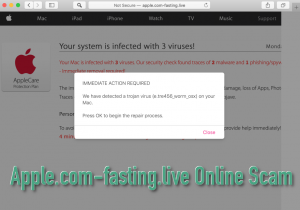 Apple.com-fasting.live pop-ups only attack Mac computers and its associated browsers, such as Safari, Google Chrome, and Mozilla Firefox. There are many similar websites involved in this dangerous scheme of tricking people into downloading potentially unsafe programs that are not worth paying attention to. In order to make users obey their misleading guidelines, apple.com-fasting.live pop-ups normally present a lot of faulty and frustrating information about the condition of the attacked operating system.
Apple.com-fasting.live pop-up analysis
Technically speaking, apple.com-fasting.live is not a virus, even though some people speak of it this way. The alert hijacks the browser, sometimes by switching it into the full-screen mode. It delivers the following misleading statement:
Your system is infected with 3 viruses!
Your Mac is infected with 3 viruses. Our security check found traces of 2 malware and 1 phishing/spyware. System damage: 28.1% – Immediate removal required!
The immediate removal of the viruses is required to prevent further system damage, loss of Apps, Photos or other files. 
Traces of 1 phishing/spyware were found on your Mac with MacOS 10.14 Mojave. 
Personal and banking information is at risk.
To avoid more damage click on 'Scan Now' immediately. Our deep scan will provide help immediately!
 4 minutes and 15 seconds remaining before damage is permanent.
The message quoted above may indeed be quite frustrating news for many people, especially those who do know much about the names of the viruses that could be mentioned in the alert. In fact, these viruses simply do not exist. Their names were invented by online frauds to trick users into obeying their malicious guidelines.
Apple.com-fasting.live alert forces users to click on the "Scan Now" button. This will initiate a fictitious scanning of the affected Mac with the subsequent fake scan report given. Finally, the alert gives the instructions for users to download and install a certain tool in order to get these fake viruses removed. Installing the tool actually injects MacEntizer, Mac Cleanup Pro or other PUPs mentioned above.
How did apple.com-fasting.live attack your Mac
There is a high probability that apple.com-fasting.live pop-ups are delivered in your browser as a result of adware active within your Mac. We are not trying to scare you into anything, but the adware may be fully or partially in control of your browser settings. It may produce a great number of similar pop-ups and cause browser redirections to random websites. The apple.com-fasting.live alert could be just one of many other suspicious resources to which the adware could forward you.
Apple.com-fasting.live scam may also appear in your Mac browser as a result of you clicking on some suspicious links through spam emails, social networks, or simply by visiting and interacting with the website that was not safe and contained dangerous links that could cause the redirections to third-party resources.
Is your Mac clean
It's definitely a good question. On the one hand, the message delivered by apple.com-fasting.live online is fake and must not be trusted. The viruses that may be quoted in the alerts are invented and not real. On the other hand, the adware could perform its malicious activity within your Mac and keep causing the aforesaid problems. So, it definitely needs to be identified and deleted.
If you experience problems trying to close the apple.com-fasting.live pop-up windows, use Command-Option-Esc hotkey to open the Force Quit Applications tool. Find your hijacked browser, make it highlighted and force quit it. Then check the Applications of your Mac computer. Identify the programs that are not safe and remove them right away. Additionally, check suspicious extensions in your Mac browser. If you discover the add-ons that are not familiar to you, disable and delete them. Finally, we recommend that you scan your Mac computer with Spyhunter to identify other Mac-related problems and to fix them professionally.

Automatic Malware removal tools