Click-now-on.me redirect virus commences a disturbing display of click-bait websites and other deceptive content. We noticed this threat is being reported by users of Android operating systems, and these concerned people explained that they were automatically redirected to Click-now-on.me virus for a couple of months. Recently, Android users were also bothered by a devious message, claiming that "You have been randomly selected to spin and get 1 unclaimed reward". Notifications from Click-now-on.me website are not reliable. For instance, if you are urged to download a protection tool for your Android or another type of software, we hope that you will immediately exit your browser. Android users are reporting malicious content more and more often; therefore, you should be careful not to click on suspicious ads (Malicious Web Ad Infecting Android Phones).
Click-now-on.me redirect virus redirects users of Androids and computers to deceptive content
According to the analysis we completed about the Click-now-on.me virus, this redirect is the most active in Indonesia, United States, Thailand, Peru and Colombia. This virus could also lead you to websites like Special-offers.online, Check-now.online and Malware.opendns.com. Furthermore, we detected that multiple advertising companies are serving online adverts for this suspicious website. Advertisers from Adcash, Propeller Ads Media, AdsTerra, PopCash and Voluum are all delivering their ads thru this Click-now-on.me redirect virus. Even though the majority of the reports about this infection come from Android users, we are not convinced that users of computers might not also be exposed to this redirect.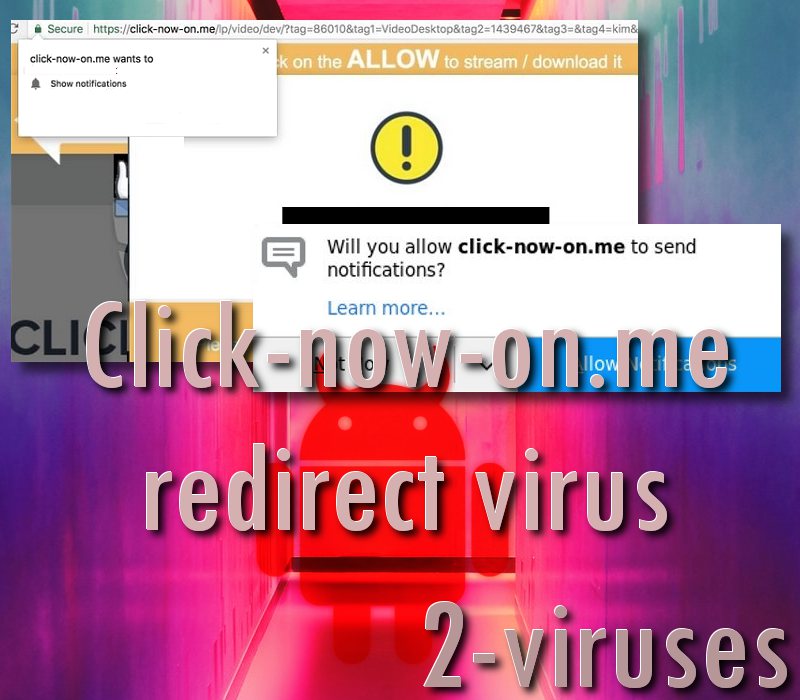 We noticed that desktop users will notice such message during browsing "Click-now-on.me wants to show notifications". Whatever you do, you should not click on the button "Allow Notifications". However, even if you resist this button, the smallest interaction with the website could also cause repetitive streams of deceptive content. In one case, we noticed that Click-now-on.me virus introduced people to websites that urged users to "click on the ALLOW to stream/download it".
If you do allow this Click-now-on.me virus to make modifications in your computer or Android, it will presumably cause more issues in your device. Your personally-identifiable information could be put at risk, together with your browsing activities (Your Personal Information: Protecting it From Exploitation). Since this redirect displays advertisements, it could be that information about your preferences will be used for the purpose of selecting more personalized online adverts. On the other hand, this data-collecting might also gather your full name, used apps and information from them.
If you encounter this Click-now-on.me redirect virus, please close your browser without interacting with the messages that the website displays. In Androids, it is usually the middle button that shuts down the currently active program. In computers, you can open your Task Manager and kill the process of the affected browser. In the following paragraphs, we will discuss the ways that this message can be prevented from ever appearing on your screen.
Reasons why Click-now-on.me redirect virus is bothering you
For Android users, we have rather clear-cut instructions to follow in order to remove the Click-now-on.me virus. They should follow this chain of actions: Settings>Apps>Chrome>Storage>Clear data. However, some people said that this redirection issue was solved after they cleared their browser history and cookies. Therefore, it is recommended that you try this option.
For computer devices, the Click-now-on.me redirect could be a sign of an adware infection. Adware parasites display a great deal of online advertisements that are offensive, deceptive and malware-laden. If you remember installing any unknown freeware tools or browser extensions, we urge you to remove them from Control Panel. If you do not find any suspicious software yourself, we have an easier option for you. Simply run a scan with Spyhunter and these anti-malware programs will reveal all potentially malicious files. Of course, you will be able to get rid of them without any hassle or disturbances. Once you get these tools, run regular scans to make sure that your computer won't be affected by any type of malware.
Automatic Malware removal tools