CleanMyPC is a relatively well-reviewed PC optimizer that nevertheless is flagged by many anti-malware programs as Adware, Riskware, and even a Trojan (Virustotal.com).
It's fine to use CleanMyPC if you like it, but it's also worth considering why it's considered so risky to use. The reasons for CleanMyPC's detections include misleading scan results, constant and unnecessary scans, registry cleaning, and a lacking free trial.
Cleanmypc By Macpaw quicklinks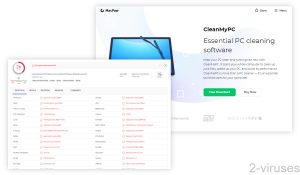 About CleanMyPC:
Type of threat
Potentially unwanted program,

adware.

Problems with CleanMyPC
It misrepresents the state of your PC by making it seem in more danger than it really is,

it offers to make the computer run faster by "cleaning" your registry,

its installation might be unwanted.

Alternatives
Windows features like resetting and Storage Sense.
How to remove CleanMyPC
You can uninstall it manually,

you can check for malware with an antivirus scanner (such as Spyhunter or Malwarebytes).
Problems with CleanMyPC
Potentially unwanted program
CleanMyPC being detected by antivirus scanners doesn't really mean that it is malware, but it's meant to bring your attention to some of the behavior of CleanMyPC is such that can negatively affect your PC experience.
You should consider these things:
Did you install CleanMyPC intentionally?
Does it make your computer run better? Does it overall help you and improve your experience?
CleanMyPC is considered to be suspicious by quite a lot of antivirus vendors. It didn't use to be like that – for instance, a few months ago, CleanMyPC was only detected by 5 scanners on Virustotal. Now, the same file is detected by 26 scanners.
Redundant features
The main issue with CleanMyPC is that it's a PC optimizer. Optimizers in general are looked down on because they seem very unnecessary.
CleanMyPC is presented as helping speed up your computer by deleting unnecessary files, and sure, if you have little space left on your drive (less than 20%), you might benefit from cleaning it because having too little space can slow down some operations of your PC (such as defragmenting). But while CleanMyPC offers to remove clutter and free up space on your drive, so does Windows with the free to use Storage Sense and Disk Cleanup.
CleanMyPC also offers to manage your startup items, which is easy enough in the Task Manager -> Startup or in Settings -> Apps -> Startup.
Speaking of features already present on Windows, CleanMyPC's reviews on the Macpaw.com site imply that CleanMyPC helped with a user's fragmented drive, which is confusing because CleanMyPC modern Windows computers defragment drives regularly, in the background.
CleanMyPC can be helpful in some cases to some users, but it is not a must-have and it's not "essential".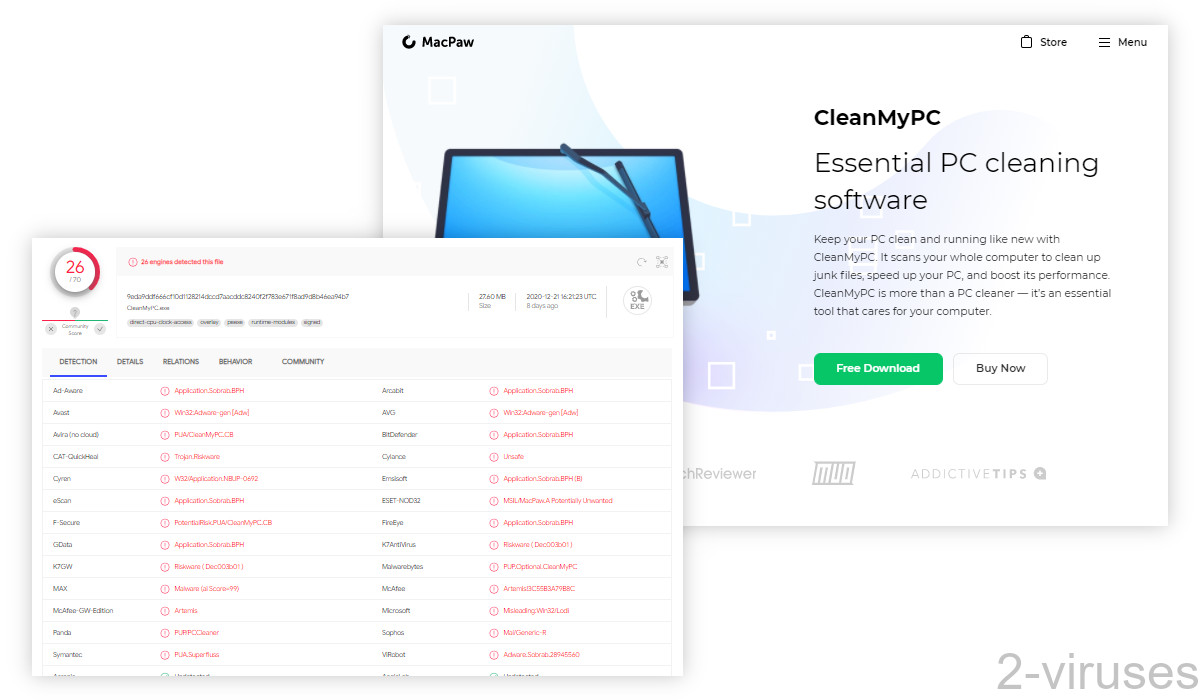 Registry cleaner
CleanMyPC is also a registry cleaner. Its promotional material implies that having unnecessary entries in your registry can cause problems for your Windows and for your various programs. It also implies that cleaning your registry will speed up your computer or keep it from slowing down. But it's generally agreed that registry cleaners don't do much, if anything at all, for the performance of modern Windows PCs. In addition, Microsoft refuses to support registry cleaners. Microsoft recommends that you only change your registry entries if you know what you're doing.
In fact, registry cleaning is often called snake oil.
Registry cleaners can be helpful if you have very, very little memory and have been using the same Windows installation for years and years, but I'm skeptical about how useful regular scans could be. Especially when it's so easy and free to reset your PC while keeping your files and it achieves the same thing.
How to remove CleanMyPC
If you installed CleanMyPC purposely, if you find it helpful, then know that it's up to you to decide whether you wish to keep using it. If your antivirus program keeps flagging CleanMyPC as dangerous, then you can make an exception for it.
But if you didn't install CleanMyPC yourself and/or if you'd rather use the free alternatives provided by Windows, you can remove CleanMyPC by going to your Settings, Apps, Apps & features or in your Control Panel.
If you want to check your computer for problems related to malware and adware, then you can use an antivirus or anti-malware scanner, like Spyhunter or Malwarebytes.
Luckily, CleanMyPC can't be compared to something like PCCleaner – CleanMyPC is much safer and more reputable. But it is still a potentially unwanted program that anti-malware vendors want to warn their users about.
Automatic Malware removal tools
How to remove CleanMyPC by MacPaw using Windows Control Panel
Many hijackers and adware like
CleanMyPC
install some of their components as regular Windows programs as well as additional software. This part of malware can be uninstalled from the Control Panel. To access it, do the following.
Start→Control Panel (older Windows) or press Windows Key→Search and enter Control Panel and then press Enter (Windows 8, Windows 10).
Choose Uninstall Program (if you don't see it, click in the upper right next to "View by" and select Category).
Go through the list of programs and select entries related to CleanMyPC by MacPaw . You can click on "Name" or "Installed On" to reorder your programs and make CleanMyPC easier to find.
Click the Uninstall button. If you're asked if you really want to remove the program, click Yes.
In many cases anti-malware programs are better at detecting related parasites, thus I recommend installing Spyhunter to identify other programs that might be a part of this infection.