Chrome-tab.com virus is a browser hijacker by an unknown developing company. It is named "New awsome tab" and the main interface features a time and date, few shortcuts, and settings for the background image. We have seen quite a number of browser hijackers, featuring beautiful background settings: Search.handy-tab.com is one of them.
However, none of them are suitable for regular usage as they will show a lot of sponsored content. Another disturbing feature is that these platforms for searching could be assigned as users' home pages, new tab pages and default search providers without permission (http://www.elkhornvalleybank.com/News/post/browser-hijacking).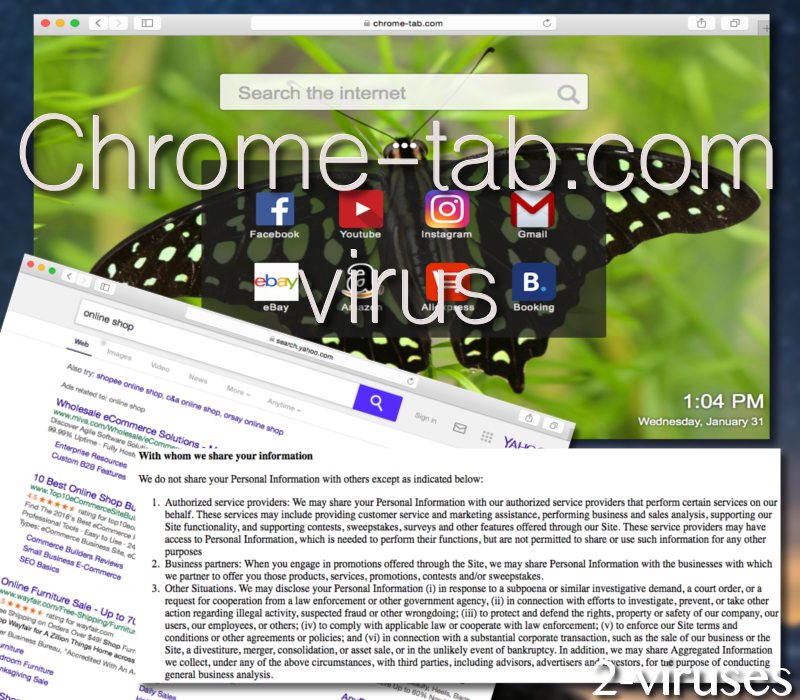 According to the analysis of web traffic, Chrome-tab.com virus is very active in United States, Brazil, Australia, Spain and Vietnam. However, people from other regions could also become bothered by this suspicious platform.
Chrome-tab.com malware parasite will take control of your browsers' settings
Before results to entered search queries are presented, Chrome-tab.com virus will quickly display Searchwhole.com link. After a couple of seconds, results will be shown in Search.yahoo.com. This small details means that during generation of links, corresponding with your search query, this hijacker will re-arrange the results in order to inject sponsored content/advertisements. Therefore, results from Chrome-tab.com malware might be different from the outcomes you get when searching straight thru the Yahoo search.
Because of this promotional material, owners of Chrome-tab.com browser hijacker will profit from pay-per-click schemes. This unknown search platform might be installed into your Google Chrome without your knowledge. We also have little knowledge about its creators, partners or etc. The search engine does feature EULA and Privacy Policy, but the conditions in them are also suspicious.
For instance, this Chrome-tab.com malware parasite will collect personal and non-personal information about its clients. This data can be shared on multiple occasions. The most disturbing one is that the hijacker will share personal info with its authorized service providers that perform certain services on the website (https://www.intego.com/mac-security-blog/how-a-cyber-criminal-steals-information-off-your-computer/).
This can include third-party advertisers that will serve promotional content for the search engine. This could include malware-laden, objectionable, offensive and in other ways unacceptable content. Furthermore, controllers of Chrome-tab.com virus take no responsibility for the content they push to their clients. You could be exposed to material from Cartwise or pop-ups from deceptive websites like Goldoffer.online.
From the looks of it, Chrome-tab.com virus should come in a form of a Chrome extension. Please look at the list of active add-ons. Now, search for toolbar that you did not install yourself. In fact, you should not get too many extensions as most of them can turn out to have hidden side effects. For instance, a seemingly harmless add-on could secretly mine crypto-currency, show ads or steal information about you.
How to stay away from browser hijackers like Chrome-tab.com parasite?
As we have mentioned, you might have installed Chrome-tab.com virus as an extension for Google Chrome. However, the toolbar could have also come together with other freeware programs. During installations of software, you should always select advanced/custom modes. Then, try to refuse all offers to install additional toolbars, add-ons, system optimizers, video players or etc. Never agree to try out a free trial: you might be tricked and lose money.
There are two methods that you could apply in order to get rid of this annoying parasite. First of all, you could try to remove this Chrome-tab.com hijacker manually, by repeating the steps we have enumerated at the end of this article. However, you are also welcome to get an anti-malware tool which will protect you from future malware infections. Spyhunter is an excellent candidate to secure and optimize your operating system. All you have to do is take a leap of faith and download it. After that, run regular scans, use automatic removal and enjoy safe browsing!
TopHow To remove Chrome-tab.com virus from Google Chrome:
Click on the 3 horizontal lines icon on a browser toolbar and Select More Tools→Extensions

Select all malicious extensions and delete them.

Click on the 3 horizontal lines icon on a browser toolbar and Select Settings

Select Manage Search engines

Remove unnecessary search engines from the list

Go back to settings. On Startup choose Open blank page (you can remove undesired pages from the set pages link too).
If your homepage was changed, click on Chrome menu on the top right corner, select Settings. Select Open a specific page or set of pages and click on Set pages.

Delete malicious search websites at a new Startup pages window by clicking "X" next to them.

(Optional) Reset your browser's settings
If you are still experiencing any issues related to Chrome-tab.com virus, reset the settings of your browser to its default settings.
Click on a Chrome's menu button (three horizontal lines) and select Settings.
Scroll to the end of the page and click on theReset browser settings button.

Click on the Reset button on the confirmation box.

If you cannot reset your browser settings and the problem persists, scan your system with an anti-malware program.
Automatic Malware removal tools