Goldoffer.online is a fake notification, claiming that online surfers have won or have a chance of winning expensive prizes. This scam is similar to Certifiedwinners.today hoax. The newly-detected message could contain a short survey, asking you to fill out specific blank spaces.
You might be required to reveal your email address, first name and last name, physical address and other personal information. Goldoffer.online rogue alert will promise to award people with iPads, iPhones, Macbook Air, or other types of pricy products (https://www.consumer.ftc.gov/articles/0199-prize-scams). However, we stress out that the messages from this website should not be trusted as you will not receive any of the promised goods.
Goldoffer.online pop-up is fake: it wants your personally-identifiable information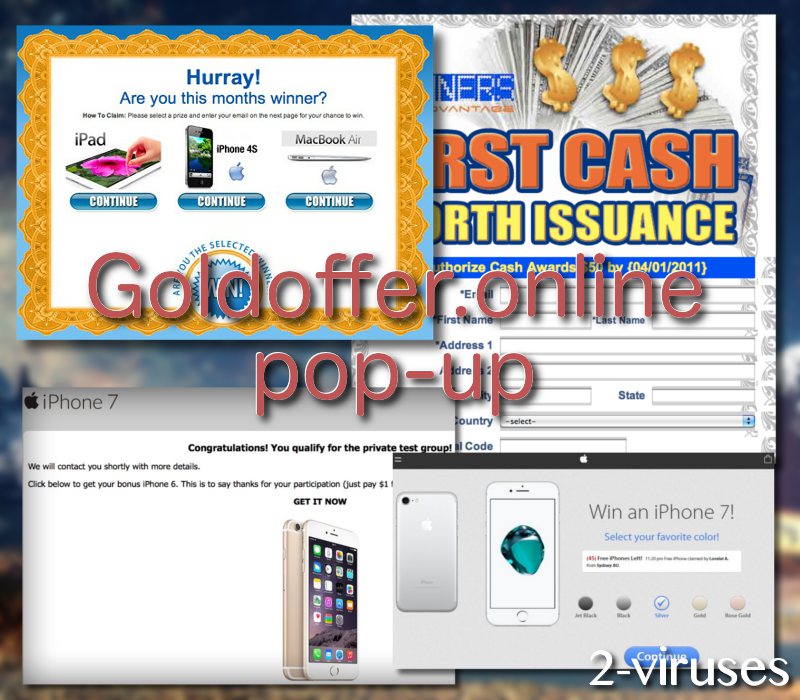 The purpose of the fake messages in Goldoffer.online pop-up is to steal users' personal information. All of the supposedly legitimate lotteries will require some type of user participation. It might be the earlier-mentioned survey, asking for more information about you.
However, a rogue lottery can also ask you some seemingly-pointless questions about your browsing habits or likes/dislikes. While you are answering the required questions, your computer device could become compromised by malware parasites.
In fact, if you are noticing Goldoffer.online pop-up, it is very likely that your computer is already in danger. Some unknown adware parasite could be tracking your online activity and trying to trick you into exposing personally-identifiable details (http://blog.productcentral.aol.com/2012/09/06/computer-adware).
We do not know which ad-based program is triggering this unwanted outcome. Displays of objectionable advertisements could be caused by malware parasites like Facebook AdBlock or Shopperify. Therefore, it is important to check whether any unknown/suspicious tools are not running in the background.
According to our analysis, Goldoffer.online pop-up is reported by people from Japan, Korea, Ukraine, Syrian Arab Republic and Croatia. Nevertheless, this does not mean prevent this rogue message from appearing in front of a random online surfers. If you notice messages from this unreliable domain, please consider the possibility of having a malware-infested computer device. Our group of researchers believes that no one wishes to have their browsing habits monitored by unknown sources and used for rogue monetization strategies.
Additionally, we noticed that owners of Goldoffer.online pop-up incorporate advertisements from other ad-networks into their domain. For instance, people might notice rogue online content from Adf.ly, exoClick and TrafficHunt ad-servers. If you assume that adverts are harmless, you are wrong.
In fact, many ads are regarded as signs of malware infections, and others are generated for the sole purpose of spreading malware parasites. You should also never believe pop-ups like "Important! Your Browser(Chrome 65) Is Missing A Privacy Extension".
Options to stop this Goldoffer.online fake message from appearing
In order to make sure that the deceptive Goldoffer.online pop-up would no longer appear during browsing, we advise you to remove unknown programs from your computer device. This can be done manually, by following the guidelines below. They will help you to remove all suspicious software from your Control Panel.
Nevertheless, it might be that the constant generation of online advertisements compromised your operating system even further. Therefore, it would be best to run a scan with anti-malware tools and find everything that is wrong with your computer. During manual removal it is impossible to find all security issues. Tools like Spyhunter will leave no stone unturned. After all malware parasites are detected, this security program will offer quick and efficient removal.
How to avoid adware parasites, generating content like Goldoffer.online pop-up?
In order to avoid suspicious programs, it would be best to stop installing unknown software. Also, do not install seemingly legitimate programs from other than their official sources. Third-parties might have modified a legitimate program and hidden some unwanted perks. For instance, a malicious program could track your online activities, show ads or initiate key-logging. Also, during installation processes, always select advanced/custom modes. Read EULA document as well.
How to remove Goldoffer.online pop-up using Windows Control Panel
Many hijackers and adware like
Goldoffer.online pop-up
install some of their components as regular Windows programs as well as additional software. This part of malware can be uninstalled from the Control Panel. To access it, do the following.
Start→Control Panel (older Windows) or press Windows Key→Search and enter Control Panel and then press Enter (Windows 8, Windows 10).
Choose Uninstall Program (if you don't see it, click in the upper right next to "View by" and select Category).
Go through the list of programs and select entries related to Goldoffer.online pop-up . You can click on "Name" or "Installed On" to reorder your programs and make Goldoffer.online pop-up easier to find.
Click the Uninstall button. If you're asked if you really want to remove the program, click Yes.
In many cases anti-malware programs are better at detecting related parasites, thus I recommend installing Spyhunter to identify other programs that might be a part of this infection.
Automatic Malware removal tools