Yet another fake warning message – "Chrome Security Warning" is trying to convince users that there is something wrong with their computers and that they should immediately call provided phone number in order to fix the problem. This is a cheap attempt to sell unwanted technical support. You know why it is unwanted? Because most of the time there is no problem that needs to be solved either they are not able to solve them.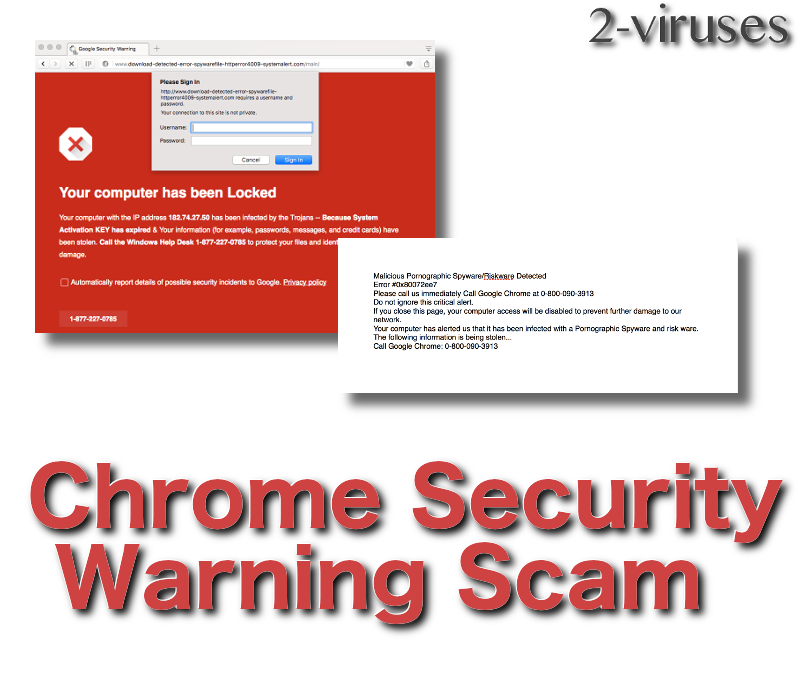 While technically it is not a computer virus (it is just an advertisement on some particular websites). You might have heard of ransomware infections, which encrypt files on computers and then ask for a ransom to unlock them. There are also Scareware infections, that only claim that they have locked files, but in reality they don't have the technology to do that. Those viruses usually features a lock screen and drops some files directly on your computer. In this case, Google Chrome Security Warning Scam is just a fake message that can pop-up on your web browser, so it is unlikely that it will install something on your computer, unless you actually click on the advertisement or call that 0-800-090-3913 phone number.
If you have seen "Google Chrome Security Warning" message just once, there is probably nothing to worry about – simply leave the website, don't follow instructions provided there and don't click on any buttons there. Still, it is recommended to scan your computer with reliable anti-malware tool, just to make sure that there are no security issues. If you don't have one yet, check our reviews section and pick the one that fits your needs the best.
Things are much more serious if you are being redirected to this website constantly. Here's how it looks like:
Malicious Pornographic Spyware/Riskware Detected
Error #0x80072ee7
Please call us immediately Call Google Chrome at 0-800-090-3913
Do not ignore this critical alert.
If you close this page, your computer access will be disabled to prevent further damage to our network.
Your computer has alerted us that it has been infected with a Pornographic Spyware and risk ware. The following information is being stolen…
Call Google Chrome: 0-800-090-3913
Cyber criminals behind this scam attack pretends to be representing Google Chrome as a company and claim that you have visited websites with pornographic content and this might lead to your Internet connection being disabled.
However, that's just one version of this scam. It can also approach you in a completely different way and display you this message:
SECURITY WARNING

Error Code 022-023-251

Do not ignore this critical alert.
If you close this page, your PC access will be disabled to prevent further damage to our network.
Your PC has alerted us that it has been infected with a virus and spyware. The following information is being stolen…
Facebook Login
Credit Card Detail
Microsoft Account Login
Photos stored on this PC.
You must contact us immediately so that our engineers can walk you through the removal process over the phone. Please call Microsoft within the next 5 minutes to prevent your PC from being disabled.

Chrome Security Warning
Attackers currently on your browser might attempt to install dangerous programs on your computer that steal or delete your information (for example , photos , passwords, message and credit cards).
As you can see, those crooks are trying to scam you by providing you with false security report. It's a common scare technique used by various scam campaigns, such as Windows Product Key Failure or Browser Blocked Based On Your Security Preferences scam.
What to do if you encounter scam pop-up like this?
There are 2 possible scenarios why are you seeing this notification. First one, and most likely one, is that you just accidentally visited a website that was hijacked or intentionally displays this advertisement to make money. In this case, you should just ignore the warning, close the advertisement and make sure not to visit that website ever again.
Now, if this scam message hits you constantly from time to time, there is a chance that your computer is infected with some kind of malware that is causing this problem and you should take care of that. Since we do not know particular infection that is operating on your computer, it should be best if you just scan your system with anti-malware tool that can detect the cause and deal with it – Spyhunter should do the job.
You are also welcome to ask any questions regarding this topic in the comments section below.
Automatic Malware removal tools