Braviax is a family of rogue anti-malware programs that was first discovered in early 2008. They have released many versions of rogue applications, but some of their behavior doesn't change: the malicious files are added to the registry as an auto-start process and they load on system startup. Braviax programs also achieve persistence by editing system settings. At first, the infection was mainly associated with System Defender. The program used to alert users that their system is infected and that the threats can be removed with the help of System Defender software for $49,95 – getting users to buy a program they don't need and that doesn't work.
Braviax quicklinks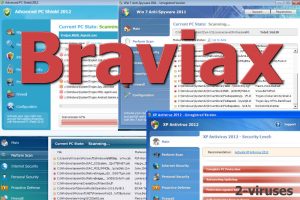 Braviax – Rogue Antivirus
Multiple Windows systems targeted
Since the very beginning of Braviax, things have changed dramatically. As mentioned, these malicious applications were first noticed in 2008, however, the rise of Braviax family has started in early 2010 when it started releasing multi-name rogue applications. It has released a bunch programs that have different names based on the version of Windows that a targeted computer is running, such as Vista Antivirus, XP Security, Win 7 Protection, etc.
All of these applications are able to change Windows Registry settings in order to be started every time you launch Windows. Then it supposedly runs a full system scan and reports completely false scan results. Your system may be completely fine, except for that Braviax rogue, but it will claim that you have multiple issues that must be solved as soon as possible. On top of that, you will not be able to run your normal Windows applications, as the rogue will terminate them stating that your computer is infected. You will constantly see alerts warning you about virus attacks, too. Obviously, the next step is suggesting the user purchase its full version.
Braviax removal
In short about Braviax programs:
Classification

PUP (potentially unwanted programs)
Scareware
Rogue Anti-Spyware
Scam

Problems with Braviax tools

Misleading or fake detections
Scaring the user into buying the program
Redundant or useless features

Distribution
Braviax removal

Delete malicious applications (SpyHunter)
Uninstall Braviax programs
You should never follow what Braviax rogues are trying to make you do. The best solution is scanning your system with a real and reputable anti-malware program, such as Spyhunter, and eliminate the rogue program for good. You can also try to remove it manually, though it can be hard to find all the malicious files and settings that need to be removed.
A flood of fake antispyware
The success of multi-name rogue infections was so great that the same year Braviax family came up with several other versions. It has added 2010 and 2011 endings to the previous names, for example, Vista Antispyware 2010, XP Home Security 2011, Win 7 Anti-Virus 2011, etc. All of these applications work identically to their previous versions, they even share the same interface and also choose the name according to the version of Windows a targeted system is running.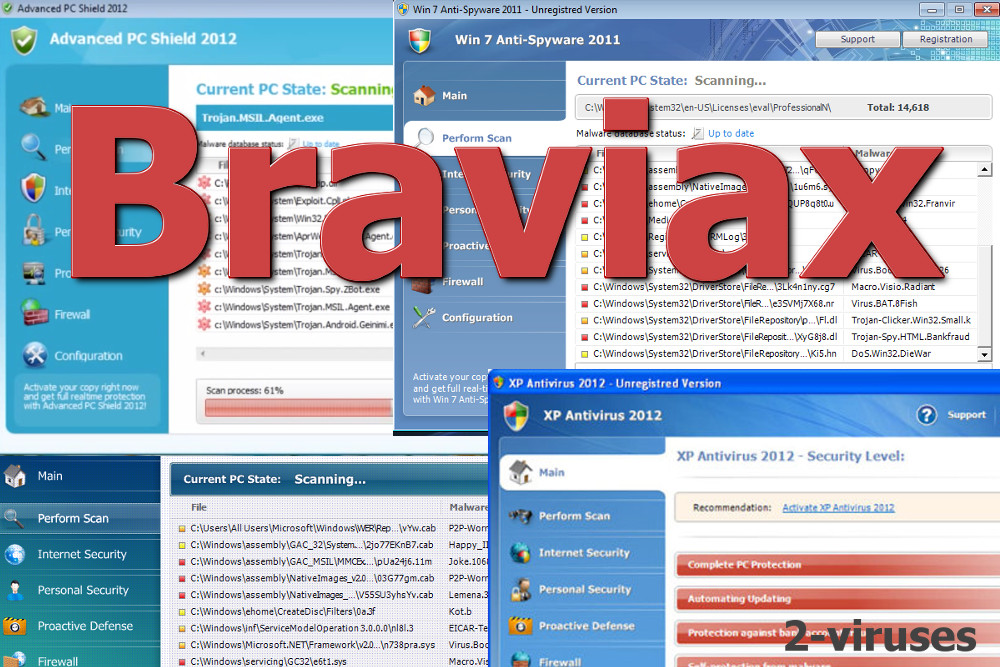 Do you think Braviax had stopped here? No. In the summer of the following year, another version of the multiname was released and, unsurprisingly, the only thing that makes these programs different is again the year in their names. Vista Security 2012, Vista Internet Security 2012, XP Antivirus 2012, XP Total Security 2012, Win 7 Defender 2013, Win 7 Antispyware 2012, etc. were trending in the summer of 2011.
At the end of 2012, Braviax has released another batch of infections: Vista Total Security 2013, Vista Antivirus 2013, XP Antispyware 2013, XP Security 2013, Win 7 Internet Security 2013, Win 7 Home Security 2013, etc. It is also worth mentioning that in 2012 Braviax had the greatest success infecting systems, especially throughout the month of April, but the whole year was really profitable for these cybercriminals.
In 2013, the Braviax family was still distributing the same rogue and in 2014 they have challenged computer users again with the new versions. This is the time when Rango, Sirius, Zorton and AVbytes versions were introduced to the world. Braviax came up with such names as Rango Win 7 Antivirus 2014, Sirius XP Protection 2014, Zorton Win 7 Protect 2014, AVbytes Win 7 Antivirus 2014, etc. 2014 are also know as the year that Braviax were infecting systems running Windows 8 more and more often, therefore, you were also able to see names involving Win 8, such as AVbytes Win 8 Protection 2015, Win 8 Protection 2014, etc.
Automatic Malware removal tools
Manual removal