BoostSpeed is a PC optimizer and a potentially unwanted program. It promises to help make your computer run better, but this is unlikely to materialize. Many of BoostSpeed's features are redundant or unlikely to be helpful.
It might be better to remove BoostSpeed from your computer. At least, it's important to be aware of the controversies of this program and of alternatives to it.
Boostspeed Unwanted Program quicklinks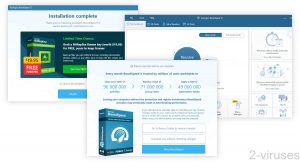 About BoostSpeed in short:
Classification
Potentially unwanted program.
How BoostSpeed works
It offers to delete files, manage memory, and change settings in order to make your computer run faster.
Problems and issues
Many of BoostSpeed's features are redundant and completely unnecessary,

some antivirus vendors consider the program to be unnecessary.

How to remove BoostSpeed
Uninstall it manually or use an antivirus tool, such as Spyhunter.
How does BoostSpeed work?
Features offered by BoostSpeed
BoostSpeed by Auslogics is a PC optimizer for Windows 10 machines. It promises to help you "optimize" your personal computer and make it run faster. It offers these features:
disabling startup programs,
"cleaning" your registry,
defragmenting drives,
deleting unnecessary files and programs.
BoostSpeed offers to delete unnecessary files like browser cache, logs, etc. to save space on your computer and to improve your privacy. It also offers to reduce glitches and errors by fixing the registry.
To improve the performance of your computer in real-time, BoostSpeed wants to run all the time. It scans your device regularly and does maintenance on times that are convenient to you. It also offers to manage your memory.
Problems with BoostSpeed
Despite all the promises to help your computer run better, BoostSpeed is considered by some antivirus vendors to be potentially harmful.
Here are the scan results of the installer for BoostSpeed: Virustotal.com.
And here's one of the executables of the program: Virustotal.com.

In addition, the software ethics watchdog AppEsteem has some problems with BoostSpeed's conduct.
None of this means that BoostSpeed is dangerous or malicious. It's just supposed to warn you and to tell you to be careful.
PC optimizers are often dismissed as placebo and as snake oil because they aren't as helpful as they are presented as. Other PC optimizers and utilities, such as DriverTuner, SSD Fresh, etc. have the same problems – they're not dangerous, but antivirus vendors warn about them being potentially unwanted.
Unnecessary features
A lot of the features that BoostSpeed promises are very unnecessary.
For instance, defragmenting – this is something that Windows does automatically. It's strange that BoostSpeed would do something that Windows does already.
Another is memory management. Windows, as an operating system, is built to manage memory to make your apps run efficiently. It's strange that the developers of an app like BoostSpeed think that they can do a better job than the developers of Microsoft Windows.
Cleaning the registry is also a controversial feature. Microsoft doesn't advise users to use registry cleaners. It's considered a risky endeavor to allow a third-party program like BoostSpeed to touch your registry and remove entries.
Disabling apps from auto-running and deleting unnecessary files and programs are things you can also do yourself. It might seem daunting if you've never done it, but it's easy enough. Especially because you don't need to do these optimizations nearly as often as BoostSpeed does it.
In fact, BoostSpeed might promise to make your PC run better, but it also uses computer resources to run. It keeps deleting files and messing with your computer's memory, which itself consumes PC resources and makes it run slower.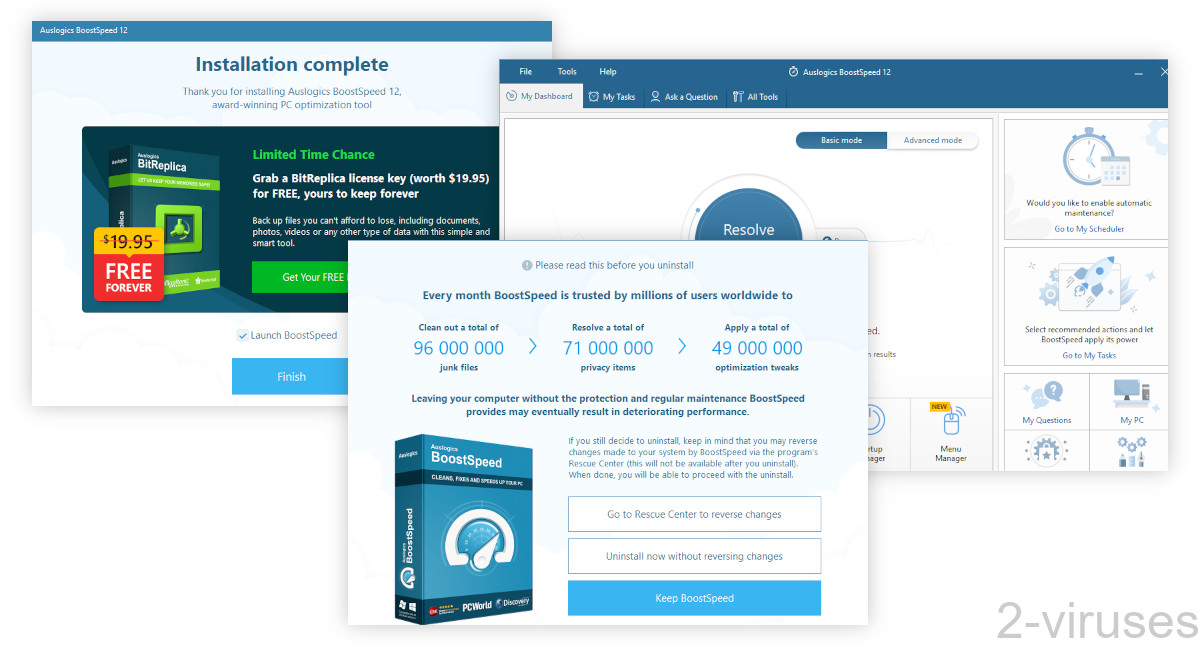 How to remove BoostSpeed
If you like BoostSpeed, then go ahead and keep using it. But keep in mind that it might not be as helpful as it's presented.
Uninstall it manually or use an anti-malware program, such as Spyhunter.
It's recommended to use anti-malware tools because they can help you check for other potentially unwanted programs. Depending on how you downloaded BoostSpeed, there might have been other apps included in the installer – apps that you might have failed to notice.
When uninstalling BoostSpeed, you're offered to reverse the changes that BoostSpeed made to your system by restoring backups. You can also choose to uninstall BoostSpeed right away.
Automatic Malware removal tools
How to remove BoostSpeed Unwanted Program using Windows Control Panel
Many hijackers and adware like
BoostSpeed Unwanted Program
install some of their components as regular Windows programs as well as additional software. This part of malware can be uninstalled from the Control Panel. To access it, do the following.
Start→Control Panel (older Windows) or press Windows Key→Search and enter Control Panel and then press Enter (Windows 8, Windows 10).
Choose Uninstall Program (if you don't see it, click in the upper right next to "View by" and select Category).
Go through the list of programs and select entries related to BoostSpeed Unwanted Program . You can click on "Name" or "Installed On" to reorder your programs and make BoostSpeed Unwanted Program easier to find.
Click the Uninstall button. If you're asked if you really want to remove the program, click Yes.
In many cases anti-malware programs are better at detecting related parasites, thus I recommend installing Spyhunter to identify other programs that might be a part of this infection.