BoostMyPC is an optimiser for machines running the Windows operating system. It promises to increase a computer's speed, free up space, faster web connection, as well as help users accomplish such tasks as uninstalling software, ending processes, finding information about their system, and managing startup apps (all of which can actually be done on your own, without installing BoostMyPC).
Boostmypc quicklinks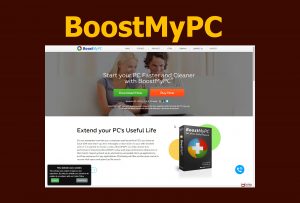 What does it do?
After installation, BoostMyPC scans your system and without fail finds numerous problems that need to be fixed immediately (even when there actually aren't any such problems). Then you are encouraged to buy the BoostMyPC paid version to fix all the issues.
BoostMyPC is scareware. It scans your system for free and finds hundreds of errors, even on a brand new installation of Windows — that is dishonest and unethical, and calls into question the intentions of the developers of BoostMyPC. No wonder that BoostMyPC is considered to be a potentially unwanted program (PUP) and detected by multiple antivirus programs.
The functions that BoostMyPC advertises it can do are already available to PC users.
Task Manager, Startup Manager — Windows already has a Task Manager, the interface is user-friendly, and it allows you to stop processes, check exactly how the resources are being used by each process, open the location of the running programs, set which apps start when Windows starts… The fact
Internet optimizer — not sure what it does, internet browsers already try very hard to make internet browsing as speedy as possible without compromising your security.
Uninstall Software Manager, Service Manager, Tweak System Manager — these functions are also available to Windows users. Really not sure why a third party application would be needed here, especially when some of these functions would require Administrator privileges.
System Information — already freely available in Windows settings.
File/Data Shredder — this function, if it works properly, could maybe be useful for users of magnetic hard drives, but if there are viruses that hunt deleted files, they're very rare. Not to mention that it's likely that the deleted files will be overwritten naturally, as you use the computer.

On the same site a "Windows Defrag Disk Doctor" is being advertised as a "Fast defragmentation engine" — which is strange because Windows already defragments its disk automatically, usually once a week. Additionally, Windows already has tools for freeing drive space, which you can use to get rid of unwanted files automatically.
The truth is that the last thing that will improve a computer's performance is more bloatware in the form of a shady PC optimiser like BoostMyPC. Microsoft has been trying to make Windows user-friendly and there are many guides online to help PC users accomplish whatever they wish.
How is bloatware distributed?
BoostMyPC can be directly downloaded from its website. This is also where its sister application Disk Doctor is advertised. When people are wondering if their computer can be made to run faster and more smoothly, they might find BoostMyPC on their own.
Software bundling: some free software comes with installers which include additional applications. The problem is that these applications are included in advanced options or on the side of a window, being installed by default. A lot of times people will install them without even knowing that they're doing it.
Dishonest advertisements: some ads online pretend to be system warnings, urging you to download a suspicious antivirus app, or to call a phone number (it's usually tech support scams). It is important to recognise that websites have no way of knowing about the state of your computer as they cannot read the files on it.
How to remove BoostMyPC
If you decide to uninstall BoostMyPC, you can either do it manually or scan your machine with an antivirus program. We recommend Spyhunter or another professional and trusted app. Some antivirus programs do detect potentially unwanted applications — including BoostMyPC — and warn you about them. Due to the way that PUPs are distributed it is likely that there is other malware installed on your computer, so look carefully at the warnings and remove malicious software form your installed programs.
Automatic Malware removal tools
How to remove BoostMyPC using Windows Control Panel
Many hijackers and adware like
BoostMyPC
install some of their components as regular Windows programs as well as additional software. This part of malware can be uninstalled from the Control Panel. To access it, do the following.
Start→Control Panel (older Windows) or press Windows Key→Search and enter Control Panel and then press Enter (Windows 8, Windows 10).
Choose Uninstall Program (if you don't see it, click in the upper right next to "View by" and select Category).
Go through the list of programs and select entries related to BoostMyPC . You can click on "Name" or "Installed On" to reorder your programs and make BoostMyPC easier to find.
Click the Uninstall button. If you're asked if you really want to remove the program, click Yes.
In many cases anti-malware programs are better at detecting related parasites, thus I recommend installing Spyhunter to identify other programs that might be a part of this infection.