"Safari can't verify the identity of the website Stags.bluekai.com" pop-up is an annoying message that hundreds of Internet surfers have reported. People are encountering this deceptive message on Safari browsers. More specifically, the message is displayed on the eBay online shop, but can be noticed on other websites as well. eBay has been a target for hackers for years, but Stags.bluekai.com is NOT seen because of crooks.
Users are reporting that Safari browser has become unusable because of this rogue message. Very few recommendations are helping users get rid of this annoying pop-up, but we promise to enumerate the best removal options for you.
What is Stags.bluekai.com pop-up and the BlueKai data platform?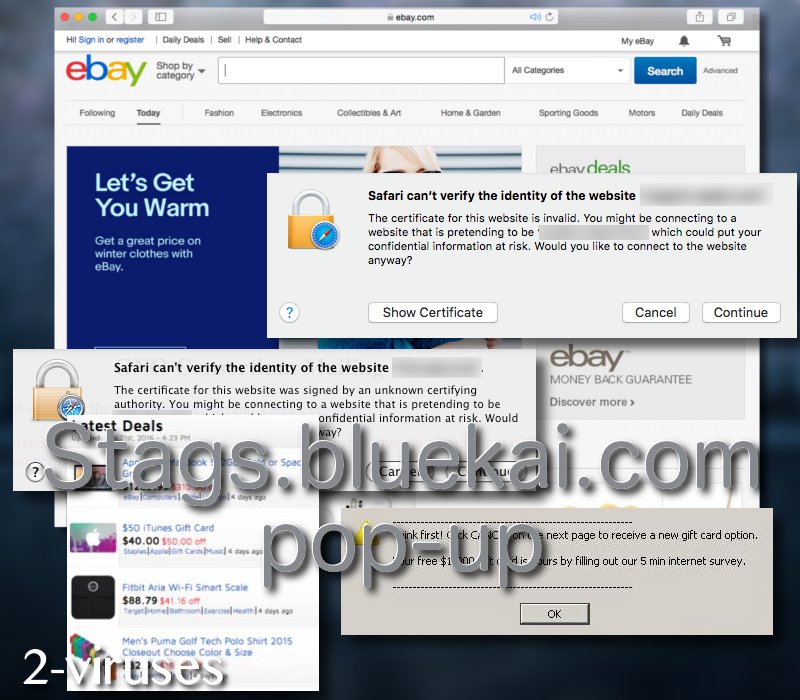 BlueKai is one of the biggest aggregators of consumer browsing behavior data. They sell this gathered information to various advertisers in order for these ad-companies to display targeted ads. A tracker is installed into people's computers after they visit a website in BlueKai's network. The latter service is supported by Oracle company which acquired BlueKai in 2014 (Oracle and BlueKai).
One reason for the Stags.bluekai.com pop-up to be displayed is the recent change of the advertising relationship between eBay and BlueKai. This left the BlueKai tracking scripts unverified. As a consequence, surfers are noticing this annoying notification during their time on eBay. BlueKai is a legit company, but people have expressed controversial opinions about its possibly unethical behavior because its cookies are inserted into computers automatically and without users' permission(BlueKai, Online Tracking, and Your Privacy).
Is Stags.bluekai.com messages generated by a malware parasite?
The Stags.bluekai.com pop-up is an annoying message that raises a lot of questions for Internet surfers. The biggest concerns that we have encountered: is this pop-up a sign of a malware infection? However, most of the features and facts around this tracking service suggest that it is not a sign of a malicious software, installed into your computer. A better explanation is that the certificate for this website is no longer valid.
However, some people have also encountered Stags.bluekai.com pop-up on online banking websites. Security researchers and bank representatives are stating that this message is not malicious and should not be seen as a threat. This should calm down some users, but they are probably still looking for a way to stop these annoying pop-ups from appearing during browsing. Gladly, we will enumerate all of the possible methods that have worked for other online surfers.
How do you stop this Stags.bluekai.com pop-up from being displayed on your screen?
One of the preferred recommendations is to remove all cookies, related to BlueKai. You can do this by cliking on Safari→ Preferences → Privacy Tab. Under the Privacy Tab, you will see "Cookies and other website data". Click on "Details" and remove everything that is associated with BlueKai. Then, quit Safari and relaunch the program. The issue should be solved. For better results, we also recommend removing Safari cache.
The option number two indicates that this issue is very persistent for macOS Maverick 10.9.5 users. Researchers indicate that upgrading macOS to macOS High Sierra 10.13 should remove Stags.bluekai.com pop-up for good. However, some people are against this option: they explain that upgrading their OS is making their computers run slower. On the other hand, this upgrade for macOS is very likely to solve this issue with BlueKai. For reassurance, back up your Mac before installing the upgrade.
Even though this issue is not specifically related with malicious software, we still feel an urge to help users reach the truth about suspicious and annoying pop-ups they encounter online. Researchers are also stating that getting an anti-malware tool might also help. Spyhunter is not only meant to serve Windows OS users: it is perfectly capable of securing macOS as well. Or you can try Combo-Cleaner Therefore, we hope that you won't hesitate to protect your computer from any type of unwanted activity in your operating system. If not, you might be face more severe issues than Stags.bluekai.com pop-up.
Automatic Malware removal tools