Barosearch.com is a website that works like a search engine. It's possibly promoted by some browser hijackers and misleading ads and it redirects search queries to a few different websites. While Barosearch.com doesn't seem malicious, it's also not all that trustworthy.
Barosearch Com Hijacker quicklinks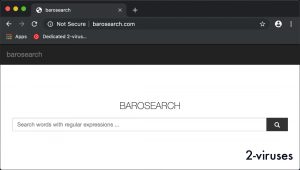 Barosearch.com is monetized like most search engines: it collects your data and shows you personalized ads. In exchange for that, it allows you to search the web. However, Barosearch.com doesn't seem to deliver the search results. Instead, it sends your query on a chain of redirects, eventually landing in an assortment of websites, including Bing, search.anyquestion.wiki, Searchnewworld, YouTube, and Google Maps – sites with their own privacy policies. I'm not even sure Barosearch.com can be counted as a real search engine.
Barosearch.com is somewhat similar to SearchMine, WeKnow.ac, Geofoxip.com — other pages that allow you to search the web. They also use redirects and misleading ads to install a browser extension to set the search engine as your default.
Barosearch.com short description
Symptoms
Barosearch.com set as your home page,

Barosearch.com set as your default search site.

Problems
Is promoted by malicious ads,

Redirects search queries to other websites.

Type of threat
Browser hijacker,

Adware.

Solution
Remove all adware from your computer,

Manually uninstall suspicious browser extensions,

Remove Barosearch.com from your browser settings.
Barosearch.com — browser hijacker
If you set Barosearch.com as your default search engine and/or your new tab page intentionally, that is totally fine and you can use it, just be careful of misleading ads.
However, browser hijackers often get installed without the user's consent, usually with the help of a browser extension, so a lot of Barosearch.com's users likely didn't install it voluntarily.
There are many browser extensions out there that mostly only do two things:
Set your home page and search engine to the ones promoted by the extension.
Use their access to your browser to track your activities and inject content into webpages.
It's easier and quicker to get a web user to install a browser add-on than to get them to change their settings. Besides, an add-on has the ability to peer into what you're doing on your browser on other websites, and even modify how those other sites are displayed.
How Barosearch.com gets installed
Almost nobody seeks out a website like Barosearch.com on purpose. This page doesn't have any more functions than mainstream search engines and still advertises to you liberally.
So, Barosearch.com might employ misleading ads in order to get more users. It uses pages like "Flash SD App required" that always promote some kind of browser hijacker.

Extensions associated with Barosearch.com are installed by the Vvallor.xyz page. This site is one that misleading ads redirect to, usually from various streaming, converting, pirating, or filesharing sites, but also any other websites that show extremely aggressive ads. It's not a coincidence that Vvallor has a prominent "Download" button and no refusal button — it's to trick visitors to click it out of inertia. Adware viruses might also promote this type of page.
It's easy to install the Barosearch.com hijacker and not even realize it. In Chrome, the Barosearch.com hijacker's icon isn't visible next to the search bar, where all extensions usually place their icons. And many web users aren't familiar with browser add-ons and how to manage them.
It's important to be very careful online before agreeing to anything or downloading anything. Chrome has been fighting malicious extensions for years and has done a lot to make it harder for them to get installed, but they're still a real problem. Some extensions are much worse than just setting Barosearch.com as your search engine.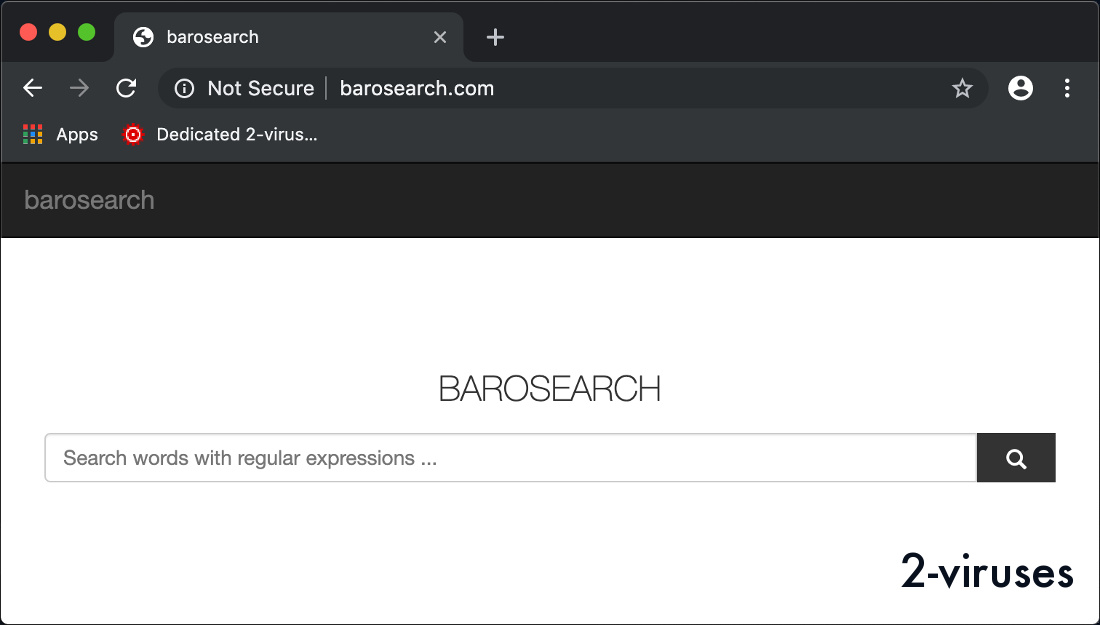 How to remove Barosearch.com
Since Barosearch.com can be promoted by adware, scan your computer and remove it, if any is found. You can use Combo Cleaner (Mac OS), SpyHunter (Windows), or another competent anti-malware tool. If an adware virus was injecting ads into your browser, it should be gone now. If a potentially unwanted program, a bundler, was on your computer, the anti-malware tool should warn you.
Review your browser settings, such as what the default search settings are. If Barosearch.com is set here, you can change the setting. However, if a browser hijacker is installed in your browser, that will need to be removed first.
Check what extensions you ave installed and remove the ones that are suspicious. Any extension that it's installed by default with your browser should be scrutinized. They don't have to have "Barosearch.com" in their name — any extension you aren't using regularly can probably be removed.
Automatic Malware removal tools
TopHow To remove Barosearch.com Hijacker from Google Chrome:
Click on the 3 horizontal lines icon on a browser toolbar and Select More Tools→Extensions

Select all malicious extensions and delete them.

Click on the 3 horizontal lines icon on a browser toolbar and Select Settings

Select Manage Search engines

Remove unnecessary search engines from the list

Go back to settings. On Startup choose Open blank page (you can remove undesired pages from the set pages link too).
If your homepage was changed, click on Chrome menu on the top right corner, select Settings. Select Open a specific page or set of pages and click on Set pages.

Delete malicious search websites at a new Startup pages window by clicking "X" next to them.

(Optional) Reset your browser's settings
If you are still experiencing any issues related to Barosearch.com Hijacker, reset the settings of your browser to its default settings.
Click on a Chrome's menu button (three horizontal lines) and select Settings.
Scroll to the end of the page and click on theReset browser settings button.

Click on the Reset button on the confirmation box.

If you cannot reset your browser settings and the problem persists, scan your system with an anti-malware program.