Auslogics Anti-Malware is a program that's supposed to enhance the security of your computer. However, it gets flagged by some browsers and antivirus tools as dangerous or potentially unwanted. This doesn't mean that Auslogics Anti-Malware is dangerous, but it has a few problems that you should know before you use the program.
Auslogics Anti Malware quicklinks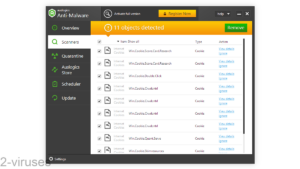 About Auslogics Anti-Malware in short:
Classification
Potentially unwanted program
Problems with Auslogics Anti-Malware
It might come bundled with other programs and be installed without the user's permission,

it promotes

it presents minor issues too seriously.

How PUPs get installed
Downloaded from the developer's website,

downloaded from freeware sites,

bundled with other programs.

How to remove Auslogics Anti-Malware
Uninstall it manually,

check your device for PUPs with reputable anti-malware tools (such as Malwarebytes).
Is Auslogics Anti-Malware safe?
Suspicious installation
Auslogics Anti-Malware is an anti-malware program by the company Auslogics. It's a potentially unwanted program. Some antivirus vendors consider it to be a little dishonest, so they flag it as a PUP (potentially unwanted program) or PUA (potentially unwanted application).
A lot of Auslogics programs have this problem. BoostSpeed, OptiSpeed, Driver Updater, etc. Consistently, they or their installers get flagged by a few reputable anti-malware tools with the labels "Unwanted" and "Auslogics" (the name being a warning on its own).
Currently, this setup file for Auslogics Anti-Malware gets flagged by 5 scanners on Virustotal.com. Some web browsers, like Google Chrome, also block the installer, saying that the file is dangerous.
The installer, or the installation process, seems to be a very common problem with programs like Auslogics Anti-Malware and other Auslogics products. This setup file gets detected a lot more than the program itself. This is because the installer might bundle additional, unwanted offers. As a result, you might accidentally install programs you didn't know about and didn't want. Bundling like that is enough for some anti-malware vendors to flag a program as potentially unwanted.
Antivirus tools don't mean to say that Auslogics Anti-Malware is dangerous, only to warn their users to be careful. They warn users about these programs in case they were installed without the user's knowledge.
Features of the anti-malware
Auslogics Anti-Malware is presented on the Auslogics site as a security program that detects malicious files. It offers to detect cookies, suspicious startup items and scheduled programs, registry entries, and browser extensions. Auslogics Anti-Malware says that it's meant to supplement your system's protection. It's not a standalone antivirus solution.
It detects some cookies. I didn't test Auslogics Anti-Malware to see if it's good at detecting real malware, but the people at AppEsteem say that it's not. Even as a supplemental anti-malware tool, it should detect well-known malware items.
Downloading Auslogics Anti-Malware opens a page that congratulates you on beginning to improve your PC's performance. On the same page, the BoostSpeed program is promoted. Both programs seem to have a lot of overlap (scanning the registry, deleting cookies, etc.), so I wonder if installing both of them would actually improve your performance. It's different for each user, but these optimizers also require resources to run and this can slow down your machine (PC Cleaning Apps are a Scam: Here's Why). And you need to pay for them separately. Just be careful of getting too many redundant optimizer programs.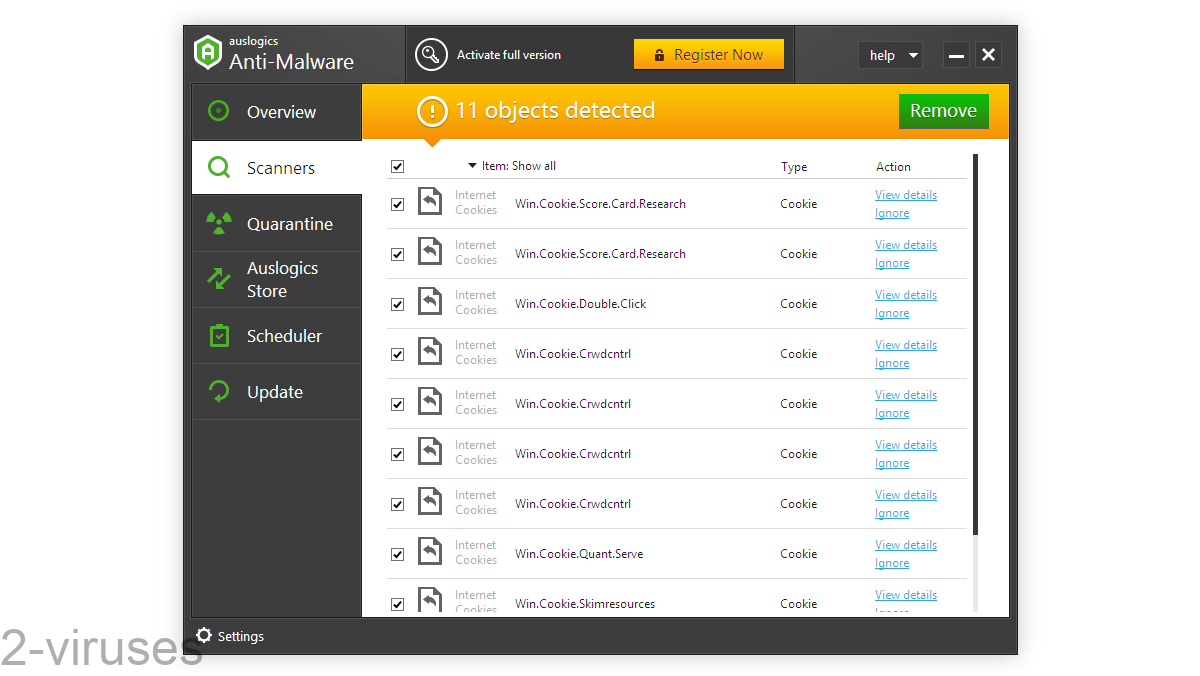 How to remove Auslogics Anti-Malware
If you like Auslogics Anti-Malware and want to continue using it, there's nothing wrong there. It's important that you yourself downloaded and installed it and are using it intentionally.
If you want to uninstall it, you can do it manually as described in the instructions below. Just remember that, if you paid for it, it's most likely on a yearly auto-renewal. If you don't use the program anymore, then you should cancel the subscription.
Since Auslogics Anti-Malware gets detected by anti-malware programs, you might want to check your device for other potentially unwanted items. More reputable anti-malware applications, like Malwarebytes, could help. Malwarebytes is very aggressive about potentially unwanted programs and bundlers, so it's a great tool to use when you want to stay safe against such threats.
Automatic Malware removal tools
Manual removal instructions
How to remove Auslogics Anti-Malware using Windows Control Panel
Many hijackers and adware like
Auslogics Anti-Malware
install some of their components as regular Windows programs as well as additional software. This part of malware can be uninstalled from the Control Panel. To access it, do the following.
Start→Control Panel (older Windows) or press Windows Key→Search and enter Control Panel and then press Enter (Windows 8, Windows 10).
Choose Uninstall Program (if you don't see it, click in the upper right next to "View by" and select Category).
Go through the list of programs and select entries related to Auslogics Anti-Malware . You can click on "Name" or "Installed On" to reorder your programs and make Auslogics Anti-Malware easier to find.
Click the Uninstall button. If you're asked if you really want to remove the program, click Yes.
In many cases anti-malware programs are better at detecting related parasites, thus I recommend installing Spyhunter to identify other programs that might be a part of this infection.