Artemis is a dangerous file or process. It could be a potentially unwanted program, an adware virus, spyware, etc. It's difficult to tell because Artemis trojans are not specific threats but a label used by antivirus programs (McAfee) to mark programs and processes that behave in a suspicious way. It is used to label an unspecific threat, one that can't be categorized as part of a known malware family, but that looks suspicious and potentially dangerous.
Artemis Trojan quicklinks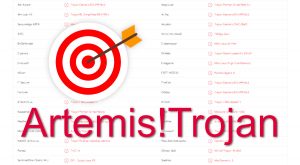 In short about Artemis trojans:
Classification
Trojan.
Types of programs detected
Optimizers and other potentially unwanted programs,

browser hijackers.

Possible threats posed by Artemis trojans
Ad injection and spam,

stolen personal information,

slow computer, annoying interruptions.

How to remove Artemis trojans
Use your antivirus program (such as Spyhunter for PC) to find and remove malicious files and programs.
What programs get detected as Artemis?
Files and programs that are detected as Artemis also get the labels Trojan.Generic, Trojan:Win32, Malicious, Unsafe, and other similarly unspecific detections. Here are a couple of examples on Virustotal.com: this file only has a few detections and appears to be a pirated installer for a mail client; another file is much more widely detected.
Some Artemis detected signify real, dangerous trojans and spyware infections. They may get disguised as legitimate programs or use drive-by downloads to spread.
However, a lot of instances of Artemis are just PUPs (potentially unwanted programs) and other mild threats, like adware, search hijackers, etc.
PC optimizers like Super Tuneup, Powzip, and WinThruster get detected as Artemis. Such programs are not always dangerous, but they're almost always unwanted. Some use deceptive ads, such as fake virus detection warnings, to convince people to install them. Then they scan your computer, find a bunch of issues, and claim that only they can fix them.
And, occasionally, a safe and harmless item gets labeled as "Artemis", too. False alarms do happen. In the cases where you suspect that the Artemis detection is just a false alarm, you should check with the developer of the program or with the support staff of your antivirus program.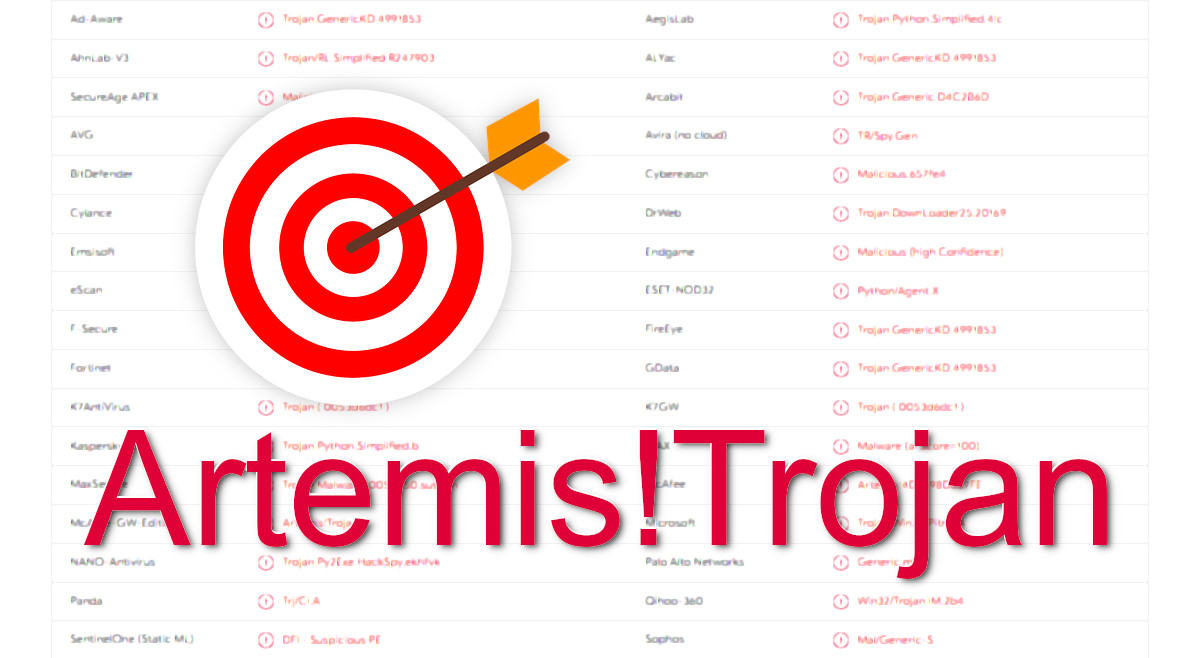 What dangers do Artemis trojans pose?
McAfee gives the name "Artemis" to unknown possible risks (Community.mcafee.com). "Artemis" is a generic detection name used by McAfee's behavioral analysis machine.
This means that even though an Artemis trojan is dangerous, it's not obvious why. All that an Artemis detection means is that a program or a process was behaving in a suspicious way – a way that is common for malicious programs.
There's one specific threat that's named "Artemis" – a Mac trojan that hijacks network settings. But this is a coincidence. Artemis antivirus detections don't refer to it, but to an unspecific threat.
With that in mind, here are some possible effects that an Artemis trojan could have:
Spyware – a trojan that logs user information, including clipboard contents, small files, screenshots, and credentials saved in your browser.
Adware – a program that injects advertisements into your browser and opens new browser tabs. Some might also cause search redirects.
PC optimizers and registry cleaners – programs that scan your computer and label harmless items as issues and problems that need to be fixed.
Some of these effects are pretty scary. But, as long as your antivirus program detected the Artemis trojan, you should be safe.
How does malware infect computers?
In general, people don't intentionally download and install viruses. So, how does an Artemis trojan get on your computer?
One way is through malicious ads and drive-by downloads. Fake download links in pop-up ads, malicious redirects, and automatic downloads can cause malicious files to be downloaded accidentally.
Another is by being advertised in a misleading way. Common for PC optimizers and fake antivirus programs.
Included in the installers of other programs, adware bundles. Common for files that you can get on download sites.
Downloaded in pirated files and programs.
Artemis trojans tend to trick people into downloading them. In addition, your antivirus program might not pick Artemis up at first. As Artemis is a behavioral detection, the threat might only be discovered once the malicious program is run.
How to remove Artemis trojan
Use your antivirus program to remove the Artemis trojan. Perform an in-depth scan of your device to look for other malicious items.
Any good-quality antivirus program (such as Spyhunter) should be able to detect and remove most threats. Use an antivirus program that you're comfortable with and protect your computer.
Besides removing the Artemis trojan, it is also important to find out how it got on your device. Did you download it yourself? Did you get it on the official site, or on a software repository? Was it a normal program, or was it pirated?
Depending on how Artemis got on your device, there could be other threats on your computer – or there could be a way for new threats to arrive. In order to avoid future infections, it's important to find out what your security hole was and to plug it.
Automatic Malware removal tools