If "search.approvedresults.com" is unexpectedly present in your address bar and if you did not install ApprovedResults intentionally, then your browser can be considered hijacked. You might be interested in knowing how to deal with browser hijackers and redirects which install themselves without permission in order to direct you to specific sites and show you ads. Malicious browser plugins are nothing new, after all.
Approvedresults Redirect quicklinks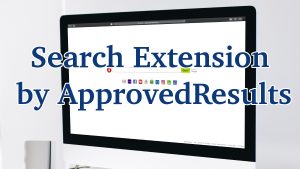 The Search Extension by ApprovedResults plugin is developed by Vested Ventures. This extension directs your search queries to approvedresults.com, watches your browsing habits, and displays a high number of ads to you in the search results. It's not any different from Lijit.com, Maxsearch.live, and other search sites promoted by adware and installed as browser plugins.
What ApprovedResults wants
Approvedresults.com does not look like much: all that it does is change your search settings and makes you use the website as your search engine. Indeed, many extensions, even ones developed by established and trusted companies, do the same. While it's simple to change your search engine manually in your settings, extensions that are installed just to perform this simple function are plentiful. More often than not, they're considered to be unwanted and suspicious browser hijackers, a type of browser malware.
Besides redirecting your search queries, approvedresults.com can read your browsing history and see and change all your data on some search websites. This allows approvedresults.com to track your search queries and share that data with advertisers to help them know which ads to show you.
According to its Privacy Policy, data collected by approvedresults.com includes:
Your IP address
Keyword queries
Search results clicked
Data that's been collected by third parties
Extensions like approvedresults.com are generally created for advertising and directing traffic. While not entirely malicious, they are somewhat dishonest. Various different online companies advertise to us and provide some useful functions in exchange. approvedresults.com only makes people's life harder by unexpectedly changing their browser settings, forcing them to use a slow, unattractive, ad-filled search engine that's inferior to every mainstream search website. The only way that a website like approvedresults.com gets a substantial number of users is by tricking them to install approvedresults.com dishonestly.
How browser hijackers get installed
The main ways that approvedresults.com is promoted are these three:
Malicious ads
Adware
Bundling
Dishonest ads are the type usually shown on sites that partner with poor-qualify ad-networks: triggered randomly, hiding behind unrelated thumbnails, opening on a new window in the background. An adware virus is some software that forces ads, often dishonest ones, on you by opening new tabs, pop-up ads, and redirecting you to pages. Adware like Zoomify and m.news-page.net can hijack your browser to display ads, some of which promote other adware.
A lot of the pages that those ads promote are browser plugin installation pages. Some of those plugins bundle approvedresults.com with a screen like this: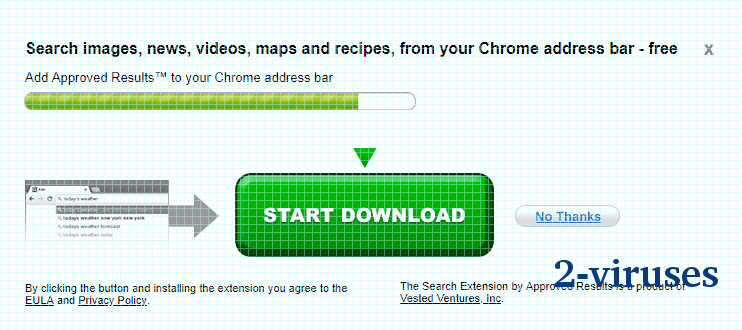 Hijackers do also use legitimate ads to promote, but that's less common than adware. Generally, mainstream ad-networks ban adware from advertising with them — and browser hijackers like approvedresults.com are widely considered adware.
Sometimes hijackers are also bundled with desktop software. If you frequent freeware sites, you must know that some of them bundle additional software and how careful you need to be to notice the offers and refuse them. Sometimes you might still miss some of these offers and have to find them and remove them. If approvedresults.com was installed without you knowing, then it's possible that it was bundled with some free program. Such applications are considered to be risky because bundling is used to spread much more serious malware.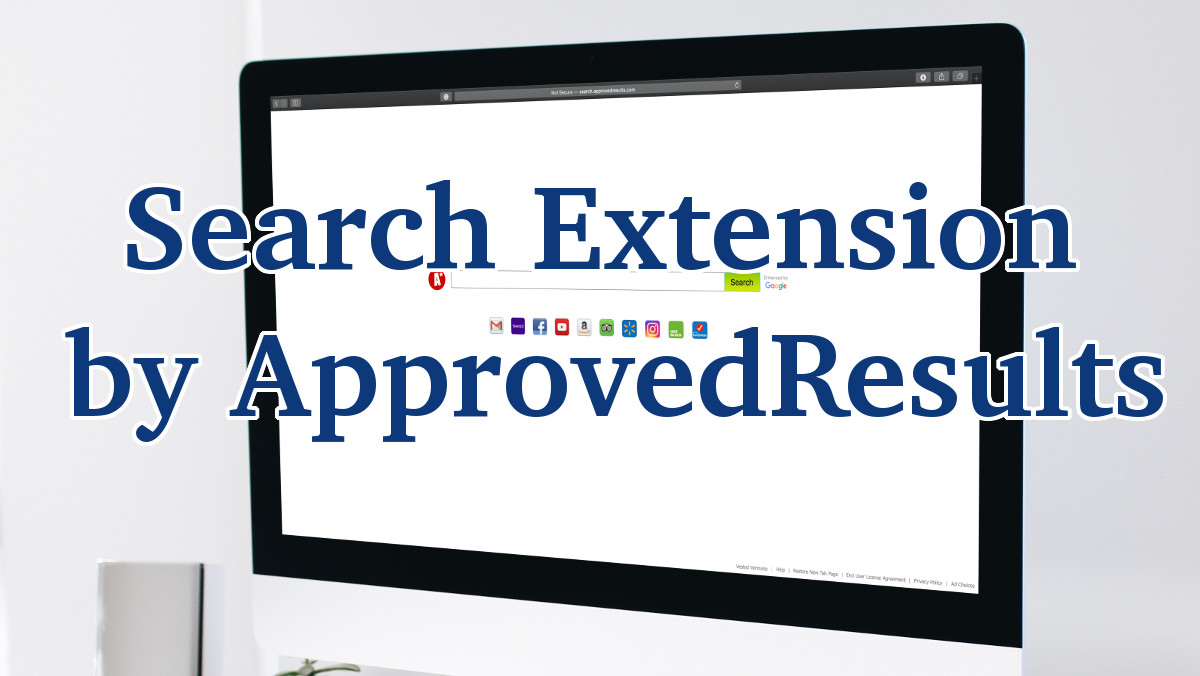 How to stop approvedresults.com redirects
approvedresults.com can be removed manually and, if it was installed on its own, it should stay removed. However, it's often the case that a hijacker is installed by a virus and keeps being reinstalled in the background. In that case, you need to scan your computer and remove that virus. If you have other adware infecting your machine, a scan might help there, too. And if adware is infecting your browser and you don't see the responsible extension, try blocking notifications — they're used by some malicious websites to deliver pop-ups.
Update your usual antivirus and turn on PUP detection if it isn't on. You can also use Spyhunter, or another strong antivirus tool to scan your computer for adware and other malware. If something is found, you can remove it manually or automatically. Now try to remove approvedresults.com again.
Automatic Malware removal tools
TopHow To remove Search.approvedresults.com Redirect from Google Chrome:
Click on the 3 horizontal lines icon on a browser toolbar and Select More Tools→Extensions

Select all malicious extensions and delete them.

Click on the 3 horizontal lines icon on a browser toolbar and Select Settings

Select Manage Search engines

Remove unnecessary search engines from the list

Go back to settings. On Startup choose Open blank page (you can remove undesired pages from the set pages link too).
If your homepage was changed, click on Chrome menu on the top right corner, select Settings. Select Open a specific page or set of pages and click on Set pages.

Delete malicious search websites at a new Startup pages window by clicking "X" next to them.

(Optional) Reset your browser's settings
If you are still experiencing any issues related to Search.approvedresults.com Redirect, reset the settings of your browser to its default settings.
Click on a Chrome's menu button (three horizontal lines) and select Settings.
Scroll to the end of the page and click on theReset browser settings button.

Click on the Reset button on the confirmation box.

If you cannot reset your browser settings and the problem persists, scan your system with an anti-malware program.